BJP brings Murlidhar Rao as observer for Opposition leader poll
Back 'home' after 14 years, Marandi most likely to lead party in Assembly, says senior leader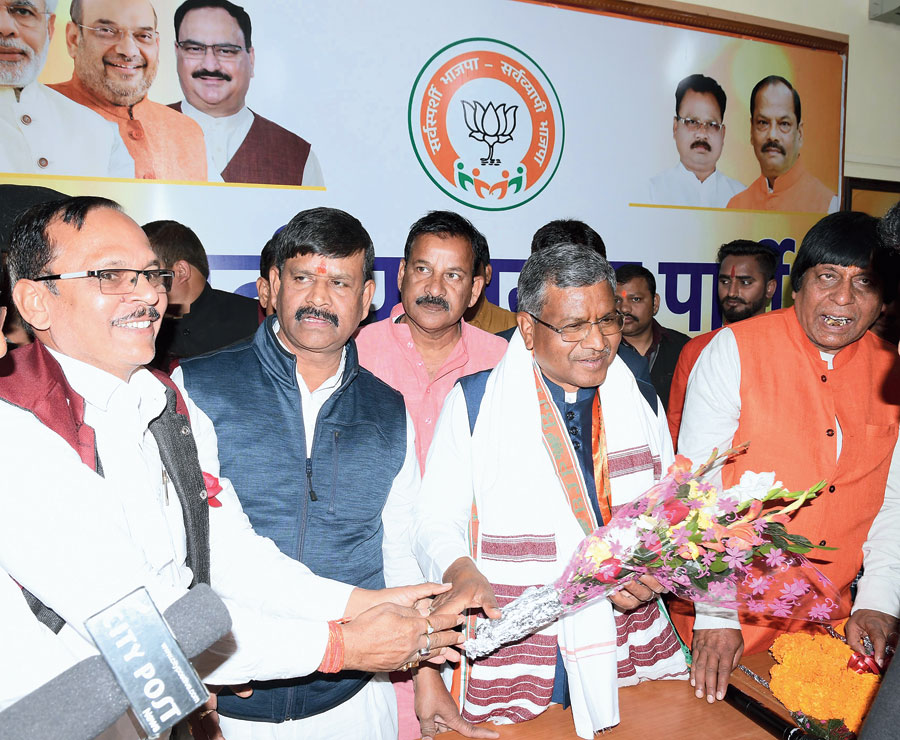 BJP workers welcome Babulal Marandi at the BJP office in Ranchi on Tuesday, a day after he joined the party.
Picture by Prashant Mitra
---
Ranchi
|
Published 18.02.20, 06:46 PM
|
---
The central BJP leadership on Tuesday appointed Murlidhar Rao, the party's national general secretary, as the observer to supervise the election of the leader of the Opposition, which is likely to be held this week.
The move comes a day after Babulal Marandi merged his party, the JVM, in the BJP, in a high-profile event attended by home minister Amit Shah.
A senior BJP leader said that it was quite likely that Marandi would be elected the leader of the Opposition, the BJP being the single-largest Opposition party.
The BJP had won 25 out of 81 seats of the Assembly. Now with Marandi's entry, the number of the BJP MLAs in Assembly stands at 26.
Marandi returned to the BJP fold after a gap of 14 years.
On Tuesday, Marandi, along with around 60 of his loyalists, formerly of the JVM, visited the BJP state party headquarters at Harmu for lunch. He reached at noon and stayed for around two-and-a-half hours.
Welcomed by party's organisational secretary Dharmpal, general secretary Deepak Prakash, Rajmahal MLA Anant Ojha, party senior Seema Sharma and a large number of BJP workers, Marandi was nostalgic and excited.
"We welcomed them. We are taking care that JVM workers don't feel they are strangers. Marandi visited the BJP office after 14 years and he was emotional and excited," said a senior party leader. Marandi had resigned from the BJP and formed the JVM in 2006. Deepak Prakash was among the leaders who had also left the BJP along with Marandi. Later, Prakash came back to the BJP.
On Tuesday, Prakash said Marandi's return was a moment that they would "cherish". "He looked energetic and we had a long talk on how to strengthen the party."
New Cong faces
Former JVM MLAs, Pradeep Yadav and Bandhu Tirkey returned to Ranchi from Delhi on Tuesday after joining the Congress. Both had been expelled recently from the JVM by Marandi for "anti-party activities".
Yadav insisted that they were the real JVM. "The real JVM was merged in the Congress," Yadav said. "Very soon Rahul Gandhi will visit Jharkhand where thousands of workers and leaders associated with the JVM will join the Congress. We are mulling to challenge merger process done by Marandi," said Yadav.