Birsa Munda Park in shambles due to poor maintenance
Most of the toilets in Dhanbad's lone picnic spot lack regular water supply facility, the primary requirement of any lavatory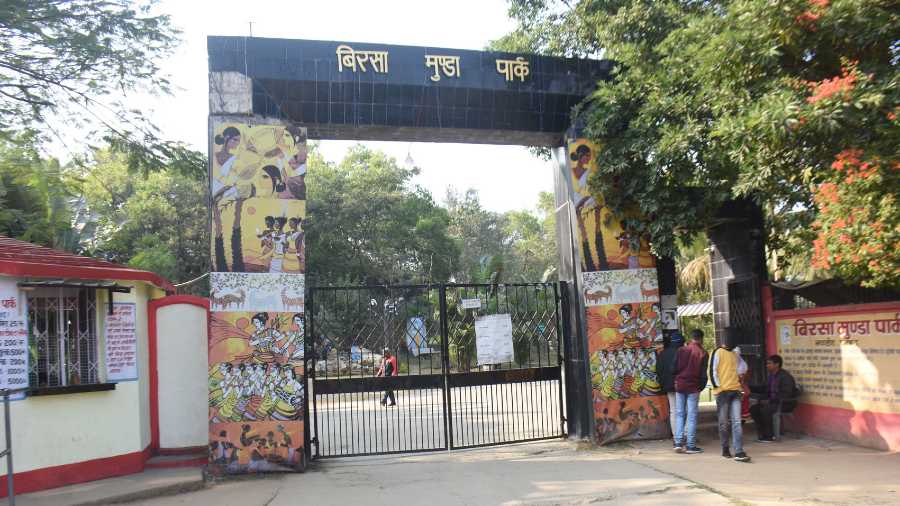 Birsa Munda Park in Dhanbad on Monday.
Gautam Dey
---
Dhanbad
|
Published 20.12.21, 09:17 PM
|
---
The picnic spots of the district are languishing in neglect owing to their poor maintenance. And as for the condition of the lavatories, perhaps the less said, the better as around a dozen toilets of the Birsa Munda Park, the lone amusement park of the district are in extremely unhygienic condition due to lack of regular cleanliness. This is just the tip of the iceberg. Most of these toilets even lack regular water supply facility, the primary requirement of any lavatory.
As regards entertainment facilities, things leave much to be desired as majority of half a dozen swings as well as the bamboo-made seating arrangements in two picnic lawns of the park are in deplorable condition.
Similar is the condition of the playing equipments for the children including jungle gym, monkey crawl, lunar slide, sea saw which are an accident waiting to happen.
Talking to The Telegraph Online, Anil Kumar, one of the regular visitors to the park, along with family, including his two children, said, "We can't fathom the reason behind the lack of maintenance of lone entertainment park during the peak picnic season when more than fife thousand visitors are visiting the park daily."
Echoing similar sentiments, Tapas Das, a teacher of Jharia, who visited the park yesterday along with family, said, "How can the authorities managing the park be so oblivious of the fact that the toilets lack even basic facility like water and where will the visitors including the children will go to answer nature's call?"
He also expressed concern over the poor maintenance of equipments including the sea saw. "Who will take responsibility if there is any accident.''
When contacted, the manager of Birsa Munda Park Niwas, Kumhkar said, "Due to irregular power supply we often face shortage of water in toilets."
Regarding the lack of cleanliness he said, "Although we daily carry out cleaning of toilets in the morning but due to increased footfall during the picnic season the condition deteriorates after a few hours and we have requested for four more sweepers from Dhanbad Municipal Corporation for the picnic season so as to ensure cleaning of toilets at least twice a day. According to him, the existing workforce of two sweepers is too inadequate to meet the cleanliness requirement of the park including the toilets.