BCCL launches plantation drive for mining areas
Coal India Limited subsidiary to also inaugurate newly-developed eco-restoration park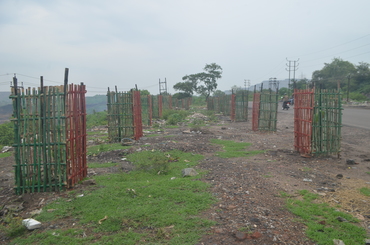 Sapling plantation by the BCCL and the forest department near Ena opencast mine at Jharia- kendua road in Jharia on Thursday.
Shabbir Hussain
---
Dhanbad
|
Published 10.07.20, 10:55 AM
|
---
Bharat Coking Coal Limited (BCCL), a subsidiary of Coal India Limited, has initiated an intensive plantation drive for the mining areas of the district to turn them green during the monsoon.
Plantation of around 1.5 lakh trees on 54 acres of land in all 12 areas of BCCL, including Barora, Block II, Govindpur,  Katras, Sijua, Kusunda,  Bastacola, Lodna, PB Area, West Jharia, East Jharia and Chanch Victoria as well as at some overburden mine heaps has already been launched.
Apart from this, the BCCL management has also decided to carry out a plantation of 20,000 plants in one go on July 23 in different collieries and residential colonies in order to celebrate Van Mahotsav.
Giving details of the drive, P.M. Prasad, the chairman-cum-managing director of BCCL said, "Out of 20,000 saplings, 6,000 will be planted by the BCCL while around 14,000 plants would be distributed among the school children and other members of the community to carry out the intensive plantation."
Divulging more details, Prasad said that the plantation of around 20,000 saplings is a completely separate programme from the ongoing drive for plantation on 54 acres of land across the 12 areas.
Elaborating about the Van Mahotsav programme, Rakesh Kumar, director, Technical (operations) at BCCL,  said, "Besides the plantation of 20,000 saplings, we will also be carrying out the online inauguration of a newly-developed eco-restoration park developed in our area on one overburden mine site".
"The newly-developed park, which is identical to Gokuldham Park situated in the Lodna area, is full of all kinds of vegetation, including the ornamental, fruity and flowering plants," said Kumar, adding that the park has been named as Parasnath Park. The name was chosen as the park is situated on the mountain of an overburden mine, giving a feeling of visiting Parasnath hill situated in the vicinity in Giridih district of Dhanbad.
"Besides the special drive to carry out plantation during Van Mahotsav, our regular drive is to turn the mines' overburden (heap of earth, soil and rock excavated from before reaching the layer of coal during mining), including the dormant overburden (meaning there is no fire in heap due to some coal part mixed with overburden) and even in some cases on active overburden (such heaps which have a presence of fiery coal content) environment friendly," said Kumar, adding that fruity plants like Amla and Jamun, etc would be planted all around the foothills of the overburden in a circular shape to give it an aesthetic look.