BCCL, CCL ramp up coal production to meet the demand of power plants
Special efforts are being made to increase production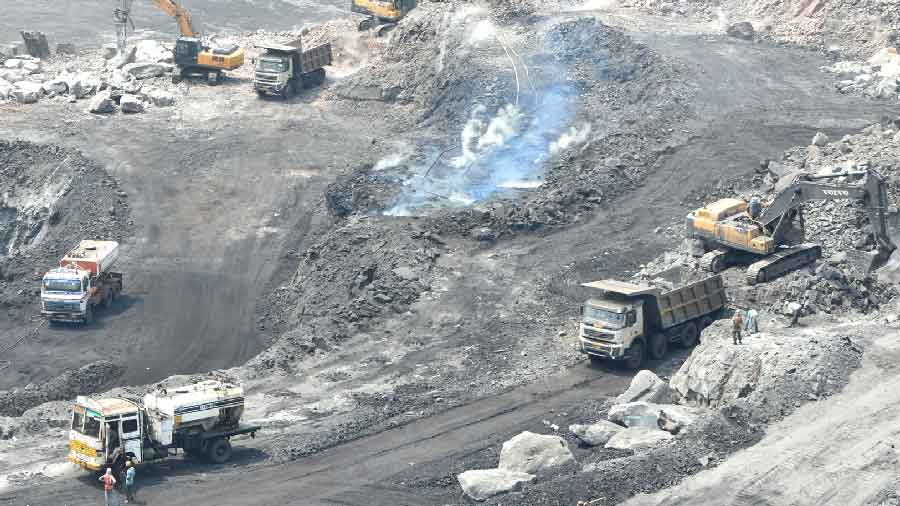 Coal production going on at a colliery in BCCL Dhanbad
Gautam Dey
---
Dhanbad
|
Published 01.05.22, 10:34 PM
|
---
As over 285 coal based thermal power plants are facing coal shortage, the Jharkhand based subsidiaries of Coal India Limited (CIL), including Central Coalfields Limited (CCL), Bharat Coking Coal Limited (BCCL) and Eastern Coalfields Limited (ECL) have ramped up both production and dispatch of coal to meet the increased demand of coal of these power plants.
Special efforts are being put up to increase the production at CCL having altogether 62 operational mines, including 22 underground and 40 open cast mines situated over Bokaro, West Bokaro, Ramgarh, North Karanpura, South Karanpura, Girdih and Hutar (Palamau).
Talking to The Telegraph Online, PM Prasad, Chairman Cum Managing Director of CCL, said, "We have increased the coal production to 2 lakh tons per day since  the last seven days from the previous production of around 1.7 lakh tons per day We have a target to further increase the coal production  to 2.2 lakh tons per day which we will achieve within a couple of days by increasing the production in such mines which have greater scope for production." 
Samiran Dutta, Chairman Cum Managing Director (CMD) of Dhanbad based Coal India Subsidiary, Bharat Coking Coal Limited said, "We are producing around 1.75-1.8  lakh tonnes per day which we further plan to increase to around 2 lakh tonnes per day in coming days. We are supplying coal to all the sectors including  those industries which are under the Fuel Supply Agreement (FSA)" further said however that the coal stock is slightly lesser than the standard practice due to increased demand but expressed hope that with the increased production  the coal stock will come to normal level soon."
The coal production in ECL mines situated at  Nirsa area of Dhanbad and Lalmatia area of Godda district of Jharkhand has also been increased to meet the demand for increased coal supply to thermal power plants.
Notably, Indian Railway has already cancelled several passenger and parcel trains across the country to facilitate the plying to coal carrying goods train to power sector and altogether 170 trains remained cancelled.