'Atma nirbhar' Ananya tames railways
Ranchi girl gets railways to run the Rajdhani for 300km with her as the lone passenger, even providing her with a Railway Police Force escort, after authorities truncated the trip citing a track agitation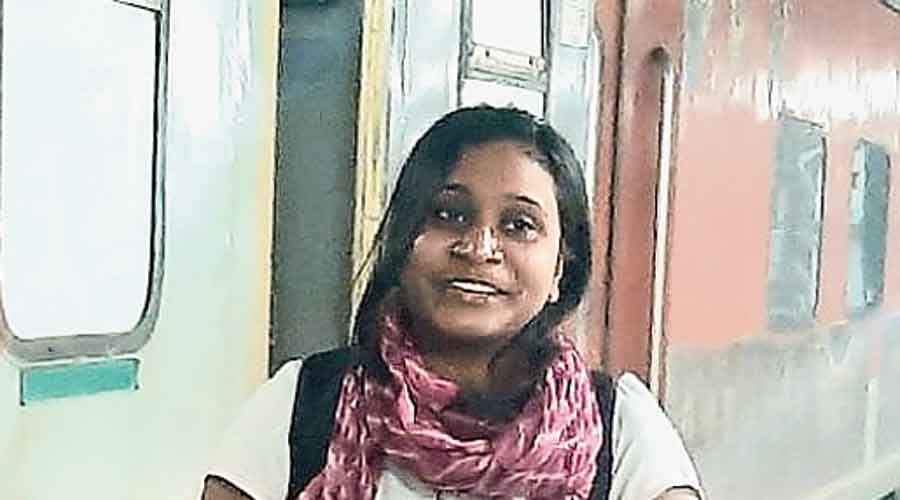 Ananya after getting off the Rajdhani at the Ranchi station on Friday morning
Manob Chowdhury
---
Jamshedpur
|
Published 05.09.20, 02:40 AM
|
---
Like generations of Indians before them, 900-odd passengers of the Delhi-Ranchi Rajdhani Express had meekly submitted on Thursday when railway authorities truncated the trip citing a track agitation and asked them to catch buses.
Except for one passenger.
Ananya Choudhary, an undergraduate law student, launched a one-woman agitation of her own, singlehandedly bending the Indian Railways to her will after an eight-hour battle of nerves.
She got the railways to run the Rajdhani for 300km with her as the lone passenger, even providing her with a Railway Police Force escort.
The 25-year-old Ranchi resident on Friday told The Telegraph that the experience had taught her to become "atma nirbhar" (self-reliant) and that the Prime Minister should be pleased.
Railway authorities played down Ananya's fight for her rights, saying the Rajdhani had to be taken to Ranchi anyway at some point so that it could start its return journey on Sunday.
The railways had terminated the Rajdhani at Daltonganj station at 6.40am on Thursday, citing a rail roko, and asked the passengers to catch bus rides for the remaining 200km to the Jharkhand capital.
Agitations and curtailed journeys being part of the Indian train traveller's life, few asked any questions. Few except the final-year LLB student of Banaras Hindu University who was returning home after sitting her exams in Varanasi — a Covid-season requirement forced by education authorities that many parents and teachers believe was as irresponsible as the railways' decision was in Ananya's eyes.
"The Rajdhani was the only train linking Delhi with Ranchi during the pandemic. Unfortunately, the railways, despite knowing in advance about the (rail roko) agitation and announcing a route diversion when I boarded at Mughalsarai (the Rajdhani stoppage nearest Varanasi), did not divert the train, causing it to get stuck at Daltonganj," Ananya said.
"I was aghast at the attitude of the railway authorities who simply told the passengers, without even apologising, that they would have to take buses to Ranchi. I wanted to fight for my rights as a citizen who had booked a Rajdhani ticket with a lot of difficulty."
So she refused to budge from her seat even when official after official derisively told her she hadn't a ghost of a chance. "Why should I travel in a bus herded with other people when I have paid for the Rajdhani? Why should I suffer for the fault of the authorities?" Ananya told this newspaper.
"When I saw people carrying their luggage and getting into packed buses in violation of all standard operating procedures for the pandemic, I decided to stand up and fight even though I was alone and all the rest had taken the easy way out. It was the best way to show our Prime Minister that citizens are becoming atma nirbhar."
She kept talking to officials and tweeting. "I tweeted almost everyone in the railway ministry, including railway minister Piyush Goyal who has a penchant for tweeting about the railways' achievements. But no reply had come till I last checked my Twitter handle this (Friday) morning."
It was 3pm when the railways gave in. An hour later, the train began rolling with Ananya as the lone passenger, taking a circuitous route to avoid the rail roko, organised by the Tana Bhagat tribal community to assert their land rights.
The route diversion increased the distance to Ranchi from 200km to 300km, and for once the Rajdhani kept giving right of way to others. Eventually, Ananya reached Ranchi around 2am on Friday — more than 15 hours after the scheduled arrival time of Thursday 10.45am.
Her father Mukesh Prakash Choudhary — a retired employee of Heavy Engineering Corporation Limited, a Ranchi-based PSU — took her on a motorbike to their home in HEC Colony, Dhurwa.
Ananya said she planned to seek compensation from the railways for the delay and mental trauma.
She added that the past few weeks had been hectic for her. "After the UGC directive (for the conduct of degree exams), BHU had suddenly announced the dates. I managed to travel to Banaras with a lot of difficulty as only one train ran between Ranchi and Delhi during the lockdown, and that too only twice a week (Thursdays and Sundays)," she said.
"My final papers were over on August 28 but I only managed to get a Rajdhani ticket for September 3."
Dhanbad railway division spokesperson P.K. Mishra said: "We had to send the bi-weekly train to Ranchi through the diverted Gomoh-Bokaro route as the train was to leave for New Delhi from Ranchi on Sunday, and before that it had to be cleaned and put through technical inspections."
He added: "If the agitation continues till Sunday, the train will again travel on a diverted route via Bokaro-Gomoh towards Delhi."
The agitation by the Tana Bhagats — which began at 5pm on Wednesday near the Tori Junction close to Daltonganj — was continuing on Friday evening.
Over 200 Tana Bhagats, a community that professes to follow Gandhian principles, were squatting on the tracks protesting successive governments' act of charging land rent from them despite the Chotanagpur Tenancy Act purportedly granting them ownership of their land.
More than 750 of Ananya's fellow passengers were taken to Ranchi on private buses arranged by the district administration, while over 150 preferred to rent private cars.