Artistic triumph for Dhanbad children at card-making workshop for Independence Day
40 youngsters get creative and focus on social issues, three-day exhibition to show their work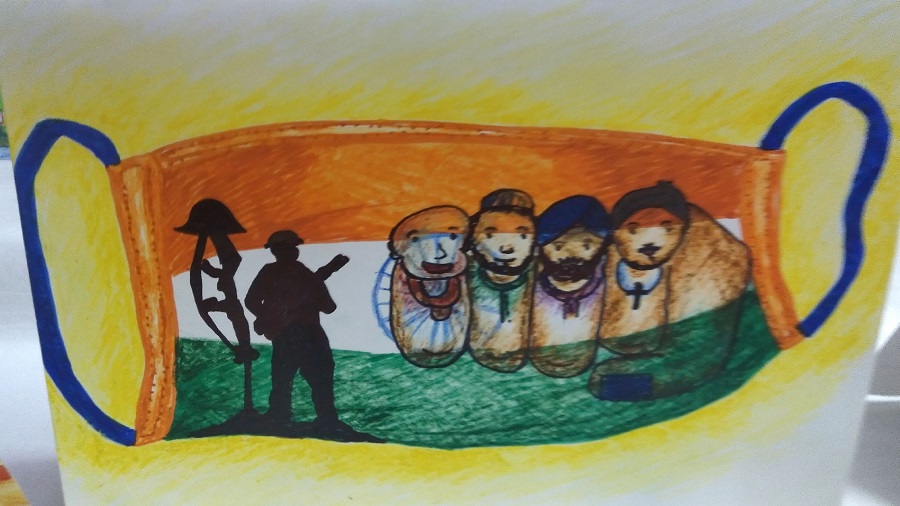 ---
|
Dhanbad
|
Published 14.08.20, 08:02 PM
---
As many as 40 youngsters from Dhanbad and other parts made Independence Day-themed cards as part of the annual 4th Creative Card Making workshop organized by the Institution for National Amity, led by Jharia-based private tutor Pinaki Roy.
The number included around 20 children of coal pickers of underground fire affected areas of Jharia.
The cards focussed on issues including the significance of observing social distancing norms and wearing masks, besides the need for special education among children of daily wage earners of underground fire affected areas.
Talking to The Telegraph Online on Friday, Roy (50) who also runs free of cost tutorials for coal pickers under the banner of Coalfield Classes said 35 groups of children participated in the workshop held under the guidance of Sanjay Pandit, an art teacher and member of the Institution for National Amity.
"They a submitted their cards made on themes like patriotism and other issues and most of the participants used the colours on the Indian tricolour as part of their work," he said.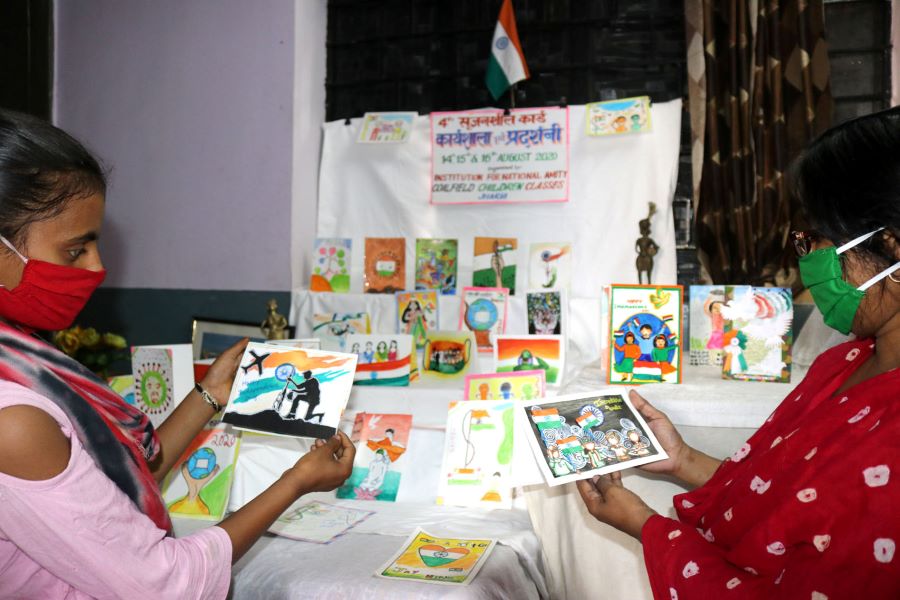 "The size of these cards is 5x7inches. On the front page, participants have to design the theme and explain their theme on the last page" said Roy.
"21-year-old Suman Kumari from Kendua , a BA first year student and daughter of a daily wage earner, made a card where Mother India can be seen fighting against the Covid pandemic. Another girl from a coal picker family, Sapna Kumara (13), a Class VIII of Gujrati School Jharia, emphasised the educational development initiative of the government for children like her, who pick coal to support their families," he said.
A major part of the workshop was held online and paintings made have been displayed at his home in Jharia as part of a three-day exhibition from August 14 to 16.
"Some paid tribute to the soldiers of the country who gave up their lives defending the borders of our country from aggressors," said Roy, an alumnus of Vishva-Bharati University, Bolpur.
Participants included Tulika Sharma (23) a student of LLB of Dhanbad Law College, and BIT-Mesra student, Bhavi Rathore (22).
Roy said that some of the students who participated in the workshop live in other metropolitan cities, but are staying here due to lockdown
"The aim of organizing the workshop since for the last four years on Independence Day is to develop creative thinking among school-going students and youth," said Roy, who also imparts free of cost English and Mathematics lessons to around 80 children of the underground fire-affected areas of Dhanbad regularly in Jharia and at Gansadih in Kendua.