App scan on dirty Birsa Munda Bus Terminus
RMC hopes to be able to better monitor the cleanliness aspect at the bus terminus from June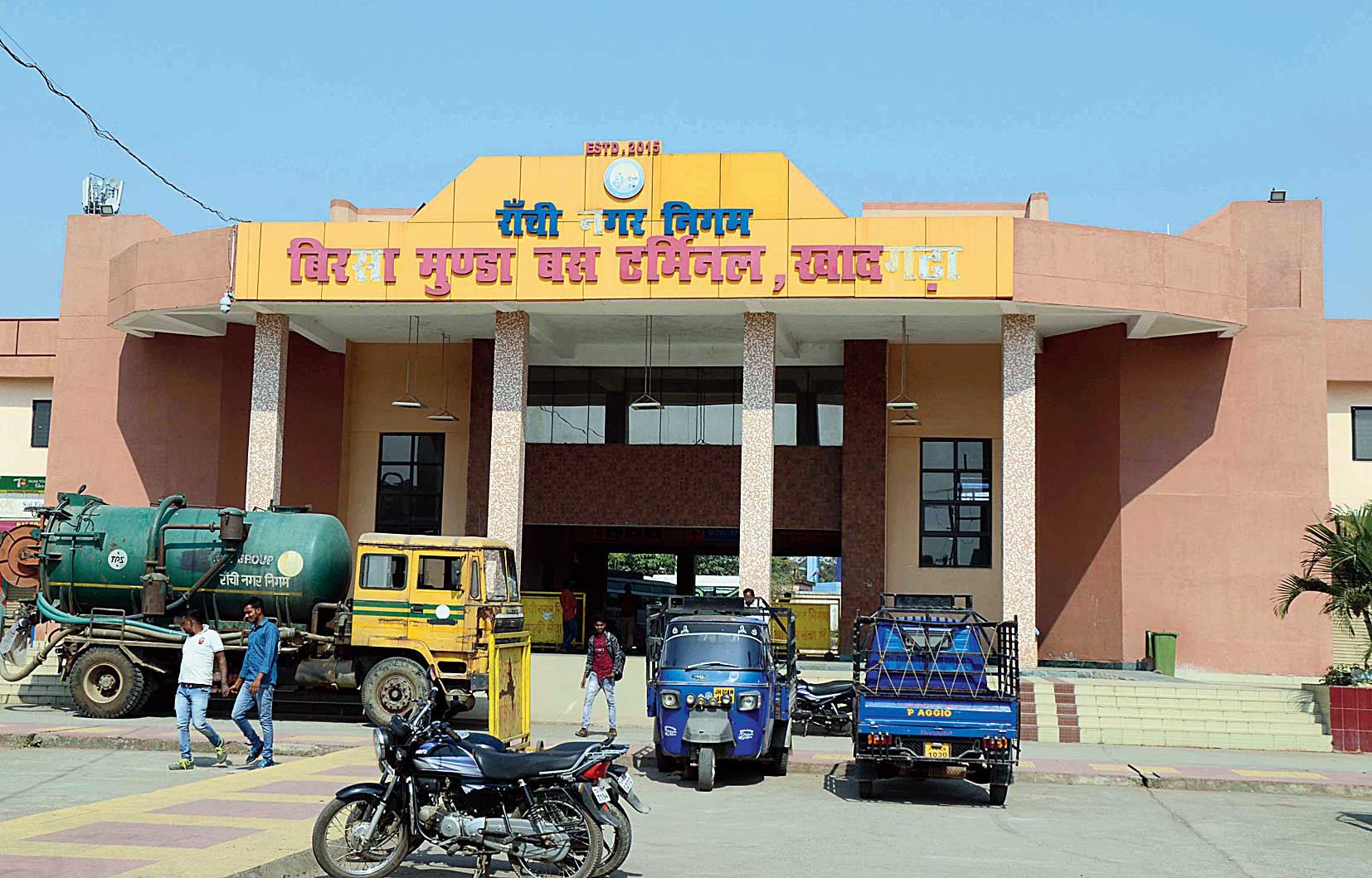 ---
---
Garbage littered across the state's biggest public bus hub, the Birsa Munda Bus Terminus at Khadgarha, will, hopefully be an inconvenience of the past with Ranchi Municipal Corporation (RMC) deciding on an app for better monitoring.
RMC, which is developing the mobile app in association with a software firm, hopes to be able to better monitor the cleanliness aspect at the bus terminus from June.
"The mobile app will be functional within a month and would be used by the end of May or the first week of June. The private firm that is maintaining the terminus will have to upload pictures every hour. These will be monitored by RMC officials," said RMC city manager Sourabh Kumar Verma.
Verma, who looks after transport, explained that the objective was to ensure that the civic authority was abreast of the cleaning exercise being carried out at the terminus spread across 18-acre area.
"There have been complaints that garbage was not being cleared regularly by the private agency entrusted with the task. Through the mobile app we will be able to keep tabs on the terminus every hour," added Verma.
On Friday, M/s Yusuf Khan, that has been managing affairs at the bus terminus for the last six years, won the contract once again in an auction. He shelled out Rs 2.20 crore.
"The private agency will not only have to ensure cleanliness of the bus terminus but also inform RMC about any law and order issues that may crop up in the premises. It will have to ensure that buses are parked properly and collect toll from each bus. We have decided to use the mobile app to ensure that working style of the private firm improves," added Verma.
Owner Yusuf Khan admitted the terminus has cleanliness issues, especially during the festive rush.
"I have employed six women on contract to clean the terminus through the day. During festivals people simply litter here and there. We try our best but due to the rush there are issues. The mobile app means we will have to pull up our socks,' he said.
Over 400 buses for Bihar, Uttar Pradesh, Odisha, Bengal, Chattisgarh and various districts of Jharkhand operate daily from the Birsa Munda Bus Terminus.
The two-storied terminus, which was revamped at a cost of Rs 15-crore and inaugurated by chief minister Raghubar Das in November 2015, has all kinds waste, including plastic and food, littered along bus bays.
Nearby drains are almost always overflowing and the complaint is that RMC does not monitor the functioning of the out sourced agency.
"RMC charges Rs 100 per day from each bus plying from the terminus. We understand the earning from the terminus is around Rs 1.5 crore annually. But there is little monitoring by RMC," said Krishna Mohan Singh, the president of Ranchi Bus Owners Association.
Hopefully, the new mobile app will improve cleanliness at the bus terminus.