Ailing Shibu Soren leaves for Delhi by Rajdhani Express
JMM patriarch will be taken to Medanta in Gurugram for treatment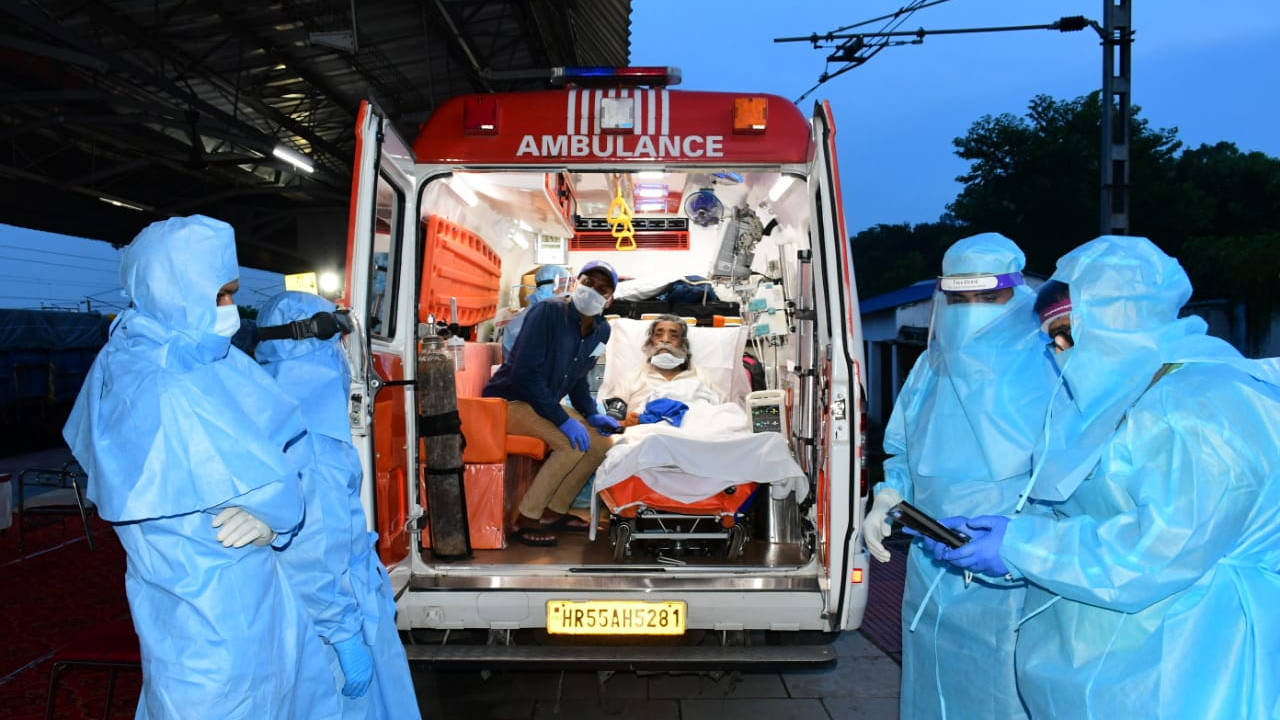 Rajya Sabha MP Shibu Soren at Bokaro Railway station before boarding the Rajdhani on Tuesday.
Telegraph picture
---
Ranchi, Bokaro
|
Published 25.08.20, 09:05 PM
|
---
Rajya Sabha MP and JMM patriarch Shibu Soren, who tested Covid positive last week, left for New Delhi on Tuesday evening by Bubaneshwar-New Delhi Rajdhani Express from Bokaro in a special coach that was attached to the train.
The 76-year-old, who was admitted in Ranchi's Medanta Hospital on Monday, will reach New Delhi on Wednesday from where he is scheduled to travel to Medanta Hospital in Gurugram by road, sources said.
Soren Senior and his wife Roopi were kept in home isolation after testing positive for the virus. However, the Soren family decided to admit Shibu in Medanta Hospital as a precautionary measure on Monday.
"Guruji undergoes his regular health check-up at Medanta in Gurugram. So, we decided to keep him under observation of doctors who have treated him so far," said JMM general secretary Supriyo Bhattacharya. "A team of doctors will assist him during the journey to New Delhi and to Gurugram from there," he added. Chief minister Hemant Soren, who was busy supervising proceedings at Medanta Hospital in Ranchi, accompanied his father to Bokaro railway station from where the train left at 7.40pm.
However, Hemant did not accompany his father and stayed back in Jharkhand.
There were as many as 15 people, including a doctor, two medical attendants, a DSP and nine security personnel, his assistant and a close aide, who accompanied Guruji in the special AC First Class coach.
Soren Senior boarded the train with the help of his attendants. Local officials, including Bokaro deputy commissioner and SP, were present at the station.
A huge number of people, including JMM cadres and political leaders, had gathered at the station, making it difficult for officials to maintain social distancing.
Hemant said after his father tested positive (on August 21), there was a backlog in his routine check-up for which he was being shifted to Medanta in Gurugram. "With your good wishes he will defeat Covid-19 and some back home soon," the chief minister said and appealed to the gathering to follow Covid-19 protocols.
"The government is taking all possible efforts to contain the Covid-19 virus," he added.
In Ranchi, Soren was treated by Dr Tapas Kumar. Doctors here found that his oxygen saturation level was 93. The former two-time chief minister has had a history of age-related ailments. He is also under medication for cardiac issues.
A donor named Lalu Kumar Yadav of Jharkhand Police, who recently overcame Covid-19 infection, was scheduled to donate blood for Shibu Soren's plasma therapy. However, the Soren family decided to shift him to Gurugram before the therapy could begin, doctors said.
Coronavirus has infected members of the political fraternity across India, and Jharkhand was no different. State drinking water and sanitation minister Mithilesh Thakur and JMM's Tundi legislator Mathura Mahto tested positive last month.
Earlier this month, health minister Gupta, AJSU Party chief and former deputy chief minister Sudesh Mahto, and Congress party's Mahagama MLA Deepika Singh tested positive for Covid-19. AJSU Party's Gomia MLA Lambodar Mahto and Bharatiya Janata Party's (BJP) Ranchi MLA CP Singh were also found infected by the notorious virus.
Chief minister Hemant Soren has been tested as many as thrice. But he has remained safe so far.