A tribal nurse who braved the odds and emerged a Covid winner
Tala Tudu recalls her fear and anxiety after testing positive for the virus, set to return to work next week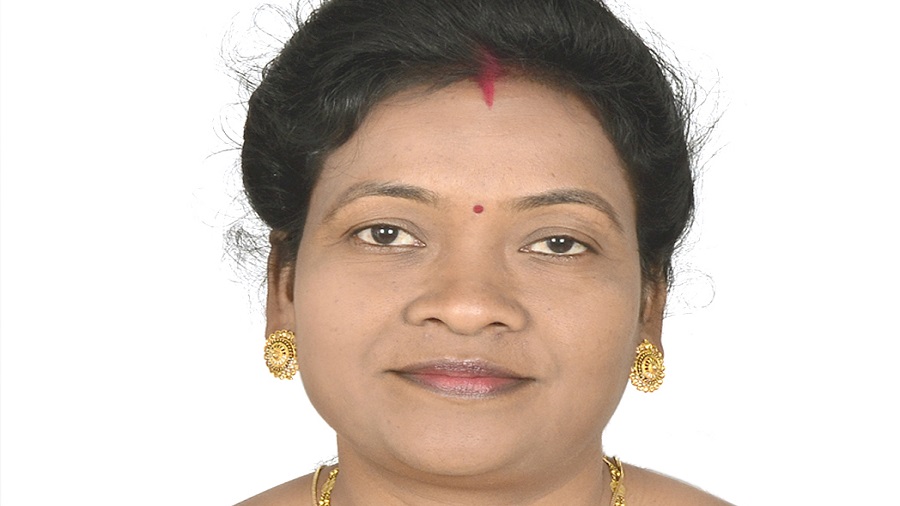 Tala Tudu
Telegraph picture
---
Jamshedpur
|
Published 31.08.20, 07:22 PM
|
---
Tala Tudu may have battled bravely with the deadly coronavirus but the thought of going back to the place from where she got the infection still frightens her.
The 48-year-old nurse at Tata Main Hospital (TMH) and Sahitya Akademi award-winning writer recalled the fear and anxiety she went through for over a fortnight while undergoing treatment.
"Fear gripped me when I heard the name of Covid for the first time. I felt like was the name of some dangerous wild animal. I didn't know how serious the infection was as I continued to nurse the patients at the Covid ward at the hospital," Tudu said.
But she felt proud to be a frontline warrior.
"I got appreciation from various quarters. This made me work with dedication. But I did not know that one day I would test coronavirus positive myself," the Bistupur N. Road resident said.
Speaking to The Telegraph Online, Tudu said she was on duty at the hospital's Covid ward from July 28 to August 11 and tested positive on August 12.
"I was shifted to the GT 4 hostel a Covid care unit) in Kadma for treatment at around 9 pm on that day," she recalled.
"I was constantly worried about my family during my deployment. However, being a nurse I had to take the risk at a difficult time.  I was shattered after the phone call that said I had tested positive. I became worried for my family," she said.
Tudu, who is assistant secretary of the East Singhbhum unit of the All India Santhali Writers Association (AISWA), said she felt orphaned, staying away from her family because of her duty at the hospital.
"I had promised my family that I would return home on the 15th day after the rotational phase of my duty at the hospital. But I couldn't fulfil my promise. I sobbed at the thought of my daughter, son and husband," she said.
"I also cried during my treatment but managed to somehow pump up my spirits as I knew I had to fight and win the battle. I thought I have to conquer the infection and return to my family. I am grateful to the almighty who gave me strength to overcome the crisis," she added.
Tudu tested positive again on August 22 during her course of treatment at the GT4 hostel. However, she tested negative on August 27 and was discharged the same day.
Tudu said facilities at the Covid care unit were good but there is scope for improvement.
She said was still low on the immunity front but would have to return for duty at the hospital next week.
"I still feel weak and my immunity is also not in very good shape. But I have to report for duty as nurses have to work at the Covid ward on a rotation basis. I am helpless, but I am a frontline warrior who has a responsibility. I will report for duty on Monday or Tuesday," she said.
Tudu is known for her translation of Sarat Chandra Chattopadhyay's novel Parineeta into Santhali in 2015.