A chapter on reading
Why a mom left a story unfinished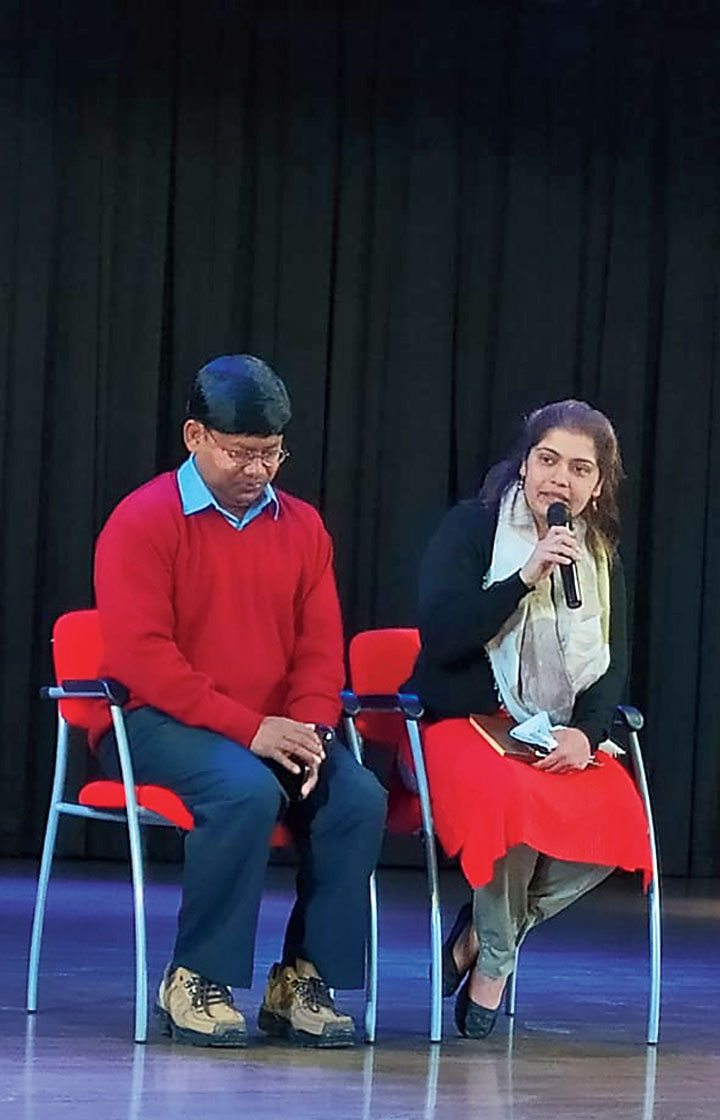 Vijaya Jadhav and Father Rosner Xalxo at St Xavier's School in Hazaribagh on Monday.
(Vishvendu Jaipuriar)
---
Hazaribagh
|
Published 06.01.20, 10:33 PM
|
---
Deputy development commissioner Vijaya Jadhav, a 2015-batch IAS officer, on Monday asked students to develop a reading habit, which she said is the "real strength" in cracking the goals of life.
Originally from Pune, Jadhav addressed students from classes IV-IX at Magis auditorium of the prestigious St Xavier's School of the town on Monday afternoon.
Jadhav narrated a story from her life, as how her mother inspired her to build on a reading habit.
"My mother was fond of reading and she used to tell her half the story from the book that she was reading and then out of curiosity to know the rest I was left with no other option but to go through it," she said, adding this is how she developed a reading habit and much later understood that her mother was doing it purposely.
Jadhav asked the principal of the school, Father Rosner Xalxo, to take students on picnics in rural areas. "In rural areas they will definitely come across facts of life," she added.
Jadhav said during her training, all IAS officers were taken to rural areas and only then she understood the difference between the lives of people from the two premises.
She told students that in school they study various subjects and also go through reading-and-writing sessions. "But you have to develop the art of listening and thinking by yourself," she said.
She asked students to visit places, as it gives them first-hand experience of life.
"When I was sent to Hazaribagh for the first time, I thought I got a posting in a backward town with no facilities. But slowly I came to know that this place is so lovely and people here are so good, leading a simple life," she said.
Jadhav said during her school days she was an introvert but opened up while working hard to crack the civil services.
"You can also achieve your target but be honest and sincere in your studies," she said.