Yogi sends buses, Arvind earns blame
BJP finger-pointing on exodus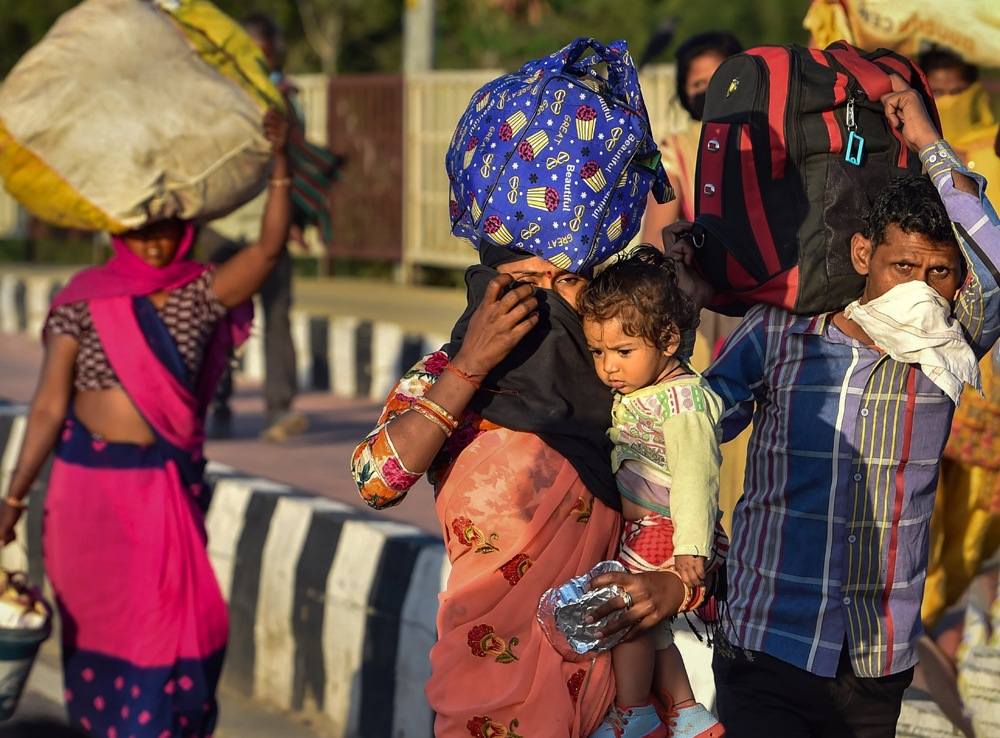 ---
---
Delhi's ruling Aam Aadmi Party is battling a BJP social media offensive blaming it for the exodus of migrant workers, all because it tried to help labourers set on leaving catch Yogi Adityanath's buses.
The Uttar Pradesh chief minister had on Saturday morning tweeted his government was arranging 1,000 buses to ferry workers home from Ghaziabad and Noida near Delhi.
On Friday, AAP ministers put out videos of them trying to persuade workers not to leave and go to the shelter homes. The Arvind Kejriwal government in Delhi is arranging early rations for over 72 lakh people and serving free meals to 4 lakh every day.
But when the exodus continued, deputy chief minister Manish Sisodia announced that 100 city buses would drop those intent on leaving at the Anand Vihar bus terminus, from where they could go to Ghaziabad.
Eventually, the frequency of Adityanath's buses at Ghaziabad proved too low to accommodate more than a fraction of the one lakh-odd who had turned up — the large crowd itself a coronavirus threat.
BJP national general secretary (organisation) B.L. Santhosh tweeted on Saturday night: "Migrant workers tell on camera that they were told that buses will be there at Anand Vihar.... DTC buses drop them to Anand Vihar.... Some forces want India to fail when #IndiaFightsCorona Nation... will not forgive them."
A barrage of tweets followed from BJP leaders accusing Kejriwal of spreading the coronavirus deliberately by transporting workers to the capital's boundaries.
While the AAP's social media handles initially tried sharing Adityanath's tweet about providing 1,000 buses, they changed tack after the Centre asked the states to prevent the movement of people.
By Sunday morning, large hoardings had come up on Delhi's roads asking migrant workers to stay back and promising them food. The AAP put out Kejriwal's video appeals for people to stay, and condemnations by MP Sanjay Singh and Sisodia of the BJP's "dirty politics" on the exodus.
Images and videos of AAP cadre and ordinary citizens helping people were posted on the party social media handles through the day.
In Noida, a case was filed against AAP lawmaker Raghav Chadha for saying the BJP government was getting migrants beaten up. An AAP source said the party social media team was constantly posting the locations for aid and meals and countering BJP propaganda.
Kejriwal told a news conference: "Yesterday, the BJP levelled false accusations against us, and some of us got entangled in the argument. If someone levels a false accusation, give an explanation and move ahead."