Yes or no? Congress does a Modi on BJP
Congress dared the BJP to categorically state its position to their minimum income guarantee scheme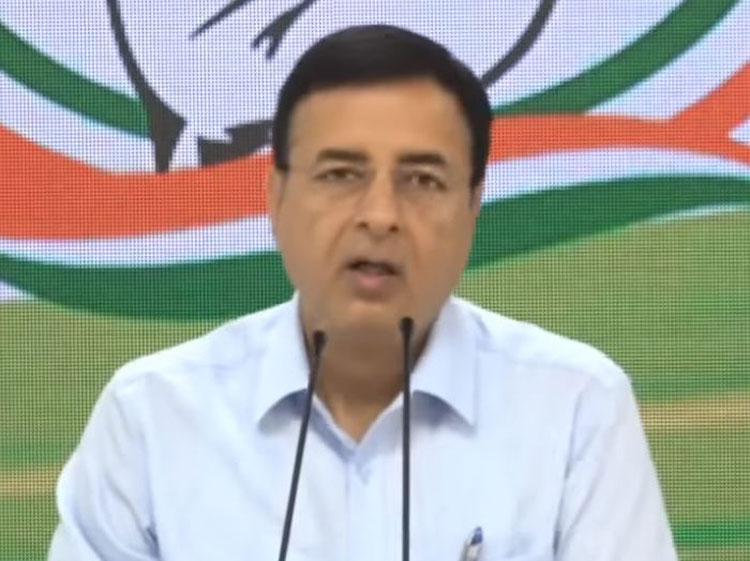 ---
---
The Congress has asked the BJP and the government to spell out in "yes or no" whether they support the Nyuntam Aay Yojna (NYAY) — the minimum income guarantee scheme Rahul Gandhi had unveiled on Monday — instead of confusing people with false arguments.
"We have a simple question: You support NYAY or oppose it?" party communications chief Randeep Surjewala said on Tuesday, objecting to "irrelevant" questions finance minister Arun Jaitley had raised about the scheme.
"The ministers and BJP supporters have come out against NYAY since yesterday and this gives birth to a genuine question: Why are you opposed to the poorest families getting Rs 72,000 every year?"
Surjewala's comments — a day after Jaitley had dismissed the income guarantee scheme as "a bluff announcement" — appeared to be the Congress's ingenious response to Prime Minister Narendra Modi's post-Pulwama question: "Whether you support the air strike or not?"
The Congress realises that the post-Pulwama war hysteria has begun to fade and the BJP's attempts to restrict the discourse to Pakistan can be confronted now by highlighting the real concerns of the masses. That may not have been easy in an emotionally charged atmosphere.Aware that the BJP would like the frame of reference frozen around terror and Pakistan, Rahul had described the income scheme as the Congress's "surgical strike" on poverty, contrasting it with crony capitalism and bank frauds.
"If Modi can give money to Nirav Modi, Mehul Choksi and Vijay Mallya, we can give to the poor. We can't tolerate extreme poverty in the 21st century," the Congress chief had said addressing a rally in Rajasthan.
"The Congress party decided to draw a line below which nobody will live. What is that line? We have decided it is Rs 12,000. Modiji and Jaitleyji say where from the money will come. We will show to the world by putting Rs 72,000 in everybody's account. In five years, Rs 3.6 lakh for every family."
Surjewala clarified this was not a top-up scheme as five crore families would get Rs 72,000 every year, come what may. "He said there is a calculation that around five crore families earn around Rs 6,000 or less every month. It is difficult to exactly calculate if it is Rs 6,000 or Rs 7,000. So there should be no confusion. These families will all get Rs 72,000 per year. The money will be directly transferred to the account of the woman head of the family."
The Congress leader insisted that families would get a uniform amount of Rs 72,000. "This will not be only for the rural poor, even the urban poor will get it. The economic survey brought out by the Modi government in 2016-17 conceded that people living below the poverty line during Independence was 70 per cent which came down to 22 per cent. After five years of Congress rule beginning 2019, that 22 per cent will be lifted out of poverty."
Surjewala dared the BJP to categorically state its position. "Gareeb se NYAY, Gareeb ko Aay (justice with the poor, income for the poor), that's what our motto is. Modi, who is a symbol of hypocrisy, should clarify why he is opposed to NYAY when he can waive off loans worth Rs 3.5 lakh crore for the rich. He allowed businessmen to loot Rs 1 lakh crore and run away but didn't waive the loans of farmers," he said.
"Modi can spend Rs 2,000 crore on his 89 foreign tours, Rs 5,000 crore on his own publicity, but asks where is the money when it is to be given to the poorest."
Surjewala countered Jaitley's arguments saying that neither would existing welfare schemes be scrapped nor subsidies for the poor reduced. "This is not a replacement for the (rural job scheme) MGNREGA or any other scheme. And there will be no scarcity of resources as giving money to the poor will expand the economy. We will also ensure the GDP grows at 10 per cent," he said.
"Modi's track record shows he is anti-poor," Surjewala added, coining the slogan "Narendra Modi Gareeb Virodhi" and reeling off a host of welfare schemes the government, he said, had targeted.
"He tried to dilute the land acquisition act, ridiculed the MGNREGA, weakened the food security act and the tribal rights act, filed an affidavit in the Supreme Court that giving 50 per cent profit plus input costs to farmers is not feasible, opposed farm loan-waivers, targeted the SC/ST (Atrocities) Act, destroyed jobs by notebandi (demonetisation) and harmed small traders with the GST," Surjewala said.