Arun Jaitley sees 'bluff' in Rahul's Nyay
The finance minister accused Nehru and Indira Gandhi of "redistributing poverty" in the name of removing it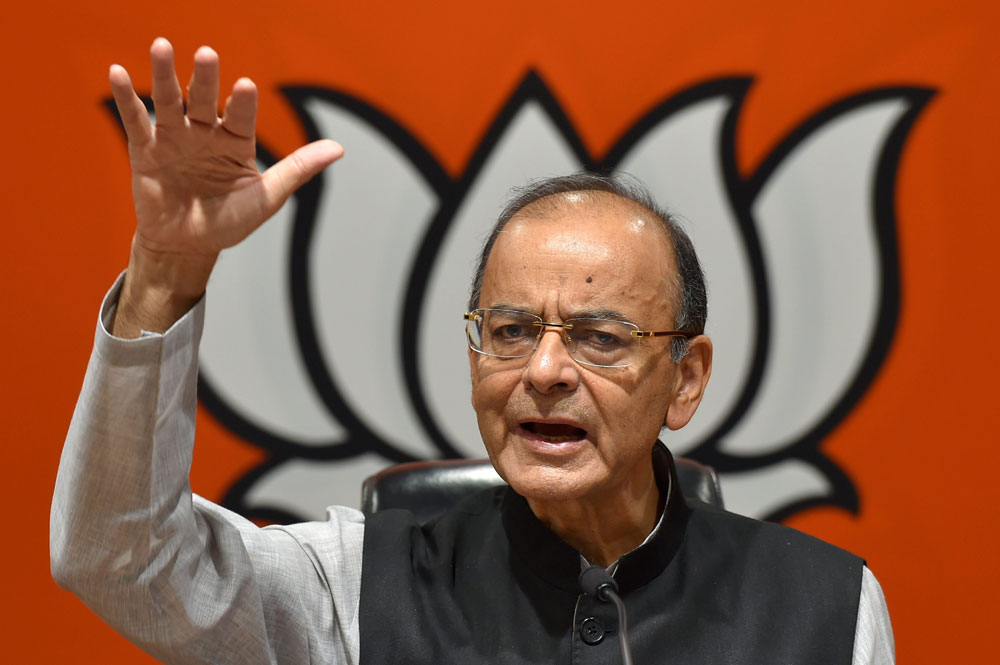 ---
---
Finance minister Arun Jaitley on Monday dismissed as "a bluff announcement" the minimum income guarantee scheme promised by Rahul Gandhi and claimed the Narendra Modi government was already giving more to the poor.
Jaitley, who has emerged as the government's spokesperson in campaign season, posted a Facebook blog in English and addressed the media mostly in Hindi, apparently to reach out to the heartland voters. He sought to rubbish the scheme as a poll gimmick and claimed the people would not believe it.
"If the Congress party's announcement is tested on simple arithmetic, Rs 72,000 for five crore families works out to be Rs 3.6 lakh crore, which is less than 2/3rd of what is being given — A bluff announcement," Jaitley wrote.
To support his point, he presented a table, adding up the direct benefit transfers under the various schemes handled by 55 ministries — from food and fertiliser subsidies to the hospital cover under the Ayushman Bharat scheme.
Jaitley then delved into the past to accuse Jawaharlal Nehru and Indira Gandhi of "redistributing poverty" in the name of removing it.
In private, BJP insiders betrayed fears that the promised income guarantee scheme could sway a large section of voters at a time of economic distress.
Some of them recalled how Rahul's loan-waiver promise for farmers had powered the Congress to victory in three heartland states last winter.
Asked whether the income scheme could yield electoral benefits for the Congress like the farm loan waiver promise did, Jaitley said: "That was a bluff and this is also a bluff. People will not believe it."
Jaitley wrote: "The Nehruvian era pushed India to the 3.5 per cent rate of growth. When the world was moving fast and opening up, we decided to regulate our economy. Indiraji understood slogans better than economics. "In 1971, 'Garibi Hatao' slogan was given by Indiraji. For two-third(s) of the last 48 years her party has been in power. Yet, they left behind a legacy of poverty."
Jaitley accused the erstwhile UPA government of conferring a large number of "rights" on the people without the resources to implement them. He said the bank loan waiver of 2008 — credited with returning the UPA to power in 2009 — was meagre and improperly implemented.
"The legendary bank loan waiver was announced at Rs 70,000 crore — a one-time measure. Of this only Rs 52,000 crore was actually allocated, a significant part of which went to the businessmen of New Delhi (Ref. CAG Report)," he wrote.
Jaitley alleged that the UPA used to promise Rs 40,000 crore under the rural job guarantee scheme but spent some Rs 28,000 crore to Rs 30,000 crore. Records, however, show that barring one financial year at the start, the expenditure was above Rs 35,000 crore every year between 2009-10 and 2013-14.
"Today, the Congress president has announced that those whose income is below Rs 12,000/- per month would be given a subsidy to 'attain' that income subject to Rs 6,000/- per month. This announcement is an admission… that neither Indiraji nor her son and certainly not the UPA government controlled by her descendants was able to remove poverty," he wrote.
"The Congress in general and the Gandhi family in particular, since 'Garibi Hatao' slogan was given, has ruled India for more than two-third(s) of that period. If it has failed to even address poverty during this period, why should India believe it?" he asked.