Yedi rewards defectors
The appointments come six months after the defectors helped the BJP pull down the previous government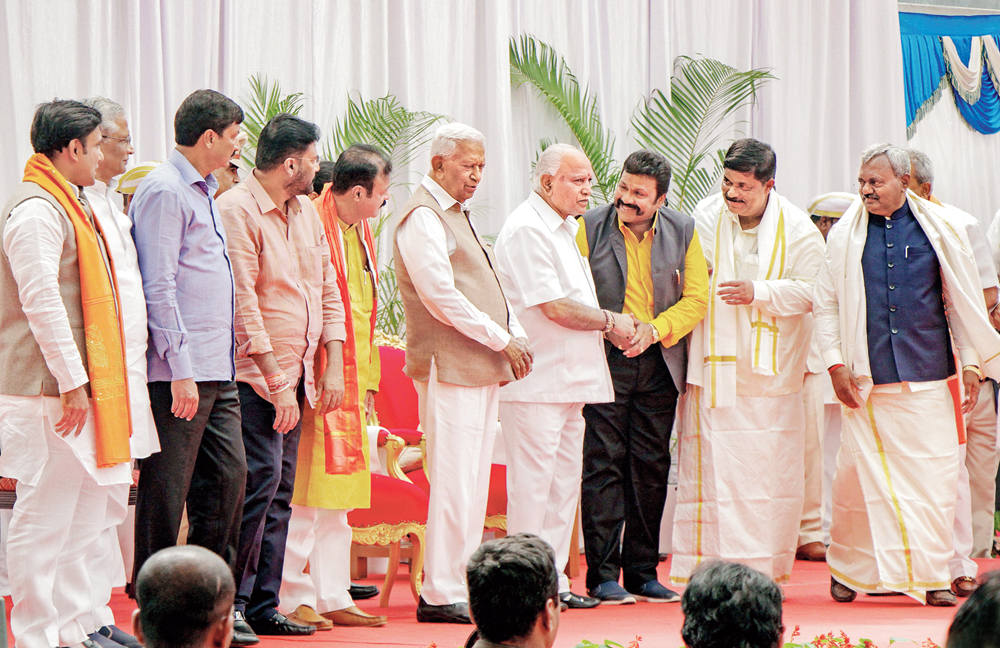 Yediyurappa (fourth from right) with the new ministers after the swearing-in at Raj Bhavan in Bangalore on Thursday
(PTI photo)
---
Bangalore
|
Published 06.02.20, 09:34 PM
|
---
Ten of the 11 defectors to the BJP in Karnataka have been accommodated in the Yediyurappa cabinet on Thursday, six months after they helped the party pull down the previous coalition government.
Chief minister Yediyurappa pared the list of new ministers from 13 to 10, leaving six vacancies that would come in handy to deal with disgruntled lawmakers pitching hard to be made ministers. The induction of the defectors has given the chief minister a headache with several old-timers clamouring for berths.
The 10 who were rewarded for defecting from the Congress and the Janata Dal Secular to bring down the previous government were S.T. Somashekar, Ramesh Jarkiholi, Anand Singh, K. Sudhakar, Byrathi Basavaraj, Shivaram Hebbar, B.C. Patil, K. Gopaliah, Narayana Gowda and Shrimant Patil.
The new ministers were among the 17 MLAs who caused the downfall of the previous Congress-Janata Dal Secular coalition government by resigning from the legislature in July 2019.
The then Assembly Speaker, Ramesh Kumar, had disqualified all of them under the anti-defection provisions, following which their respective parties sacked them. The BJP then fielded 14 of them to contest bypolls in December. Eleven won and two lost the polls.
The lone defector who was left out of the expansion, Mahesh Kumathalli, told reporters he would abide by the party's decision.
"I am ready to follow any instructions from my leaders and engage in party building," said Kumathalli who was touted to be posted as the state's representative in Delhi, which is a cabinet rank post. Sources said on Thursday that efforts were on to find a post to accommodate Kumathalli.
A BJP functionary said the chief minister could go to Delhi in a few days to discuss portfolio allocation.
But he denied there was a plan to fill the vacant seats immediately. "I don't think so. Perhaps the vacancies would be filled in June when the chief minister has promised to induct a few of our senior MLAs," he said.
The chief minister had already spoken to the disgruntled elements who have been holding private meetings on their future course of action to quell any possibility of an open rebellion.
Former chief minister H.D. Kumaraswamy who led the coalition government with the Congress, said: "This is a sad day for democracy as the men who are made ministers are those who betrayed their parties."
Congress leader P.C. Siddaramiah said: "I don't feel happy about this expansion as the new members who were sworn in today have worked against the popular mandate by defecting to join BJP."
He added: "I also feel sorry for Yediyurappa as his party is not even giving him a free hand. Although formation of his cabinet is the chief minister's prerogative, the BJP central leadership has tied his arms."