Smriti's 'personal' opinion on Sabarimala: Would you take a blood-soaked sanitary napkin to friend's home?
Textiles minister faces Twitter fury for comment, then comments some more to clarify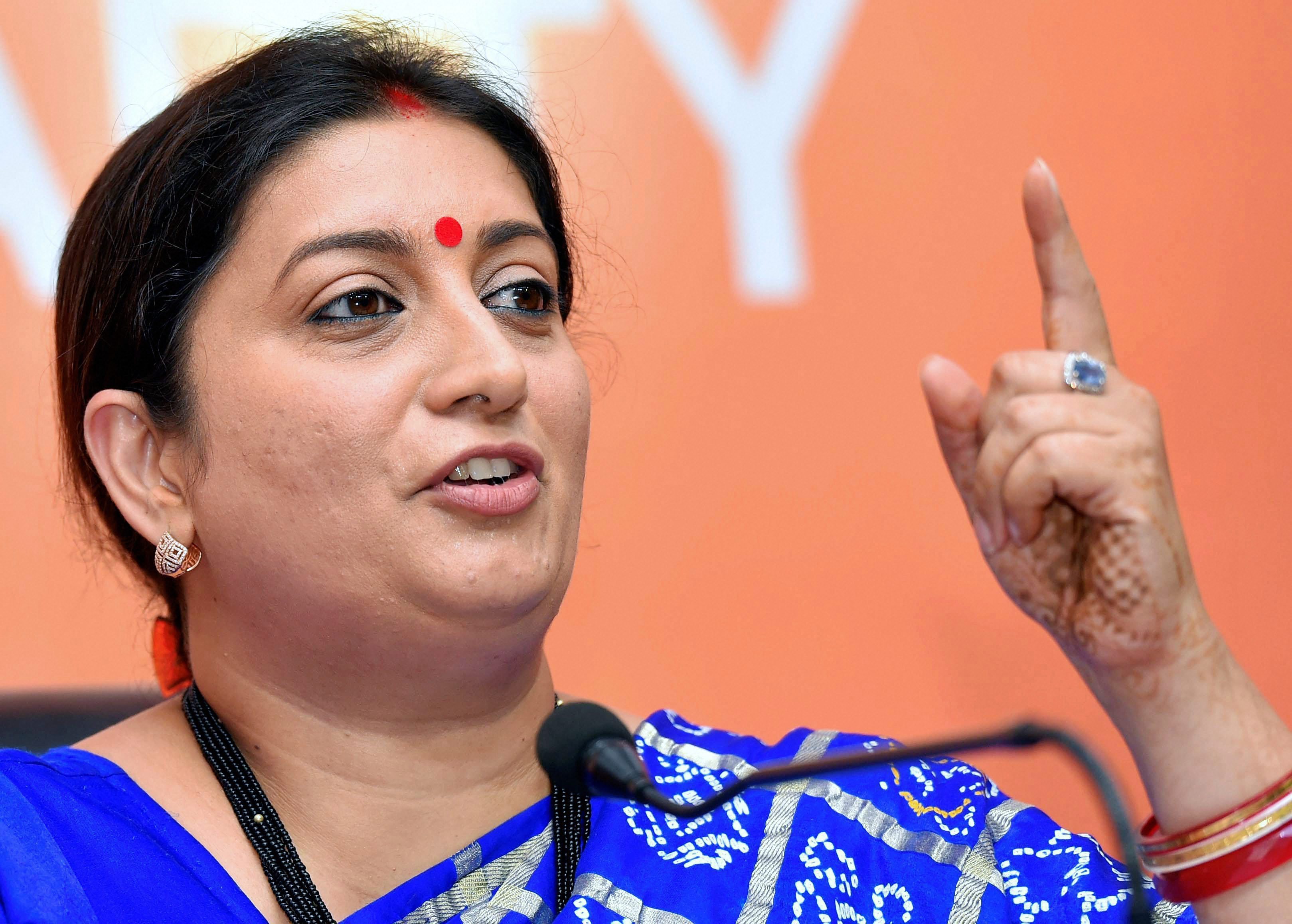 ---
---
Minister Smriti Irani on Tuesday attempted to explain a citizen's "right to pray" at and not "desecrate" a place of worship while speaking on the issue of women of menstrual age being kept out of Sabarimala temple.
She asked if anyone would take sanitary napkins, "steeped in menstrual blood, and walk into a friend's home". If not, then why would someone do that "in the house of God", the textiles minister asked.
When some people on Twitter reacted sharply to her comments, which she had said were "personal", the minister replied that she was being used as a "bait".
On Tuesday, Irani was speaking in the country's financial capital at the Young Thinkers' Conference, organised by the Observer Research Foundation and the British Deputy High Commission of Mumbai when questions about Sabarimala were raised. When the event's host mentioned Sabarimala, Irani seemed to recall that a member of the audience had already put forward a question about the temple. 
Addressing this question, raised by a man from Kerala, Irani said: "I believe I have a right to pray, but I don't have the right to desecrate. And that is the difference we need to recognise and respect. So the difference is, I am nobody to speak on the Supreme Court verdict because I am a current serving cabinet minister. But just plain common sense.... Would you take sanitary napkins, steeped in menstrual blood, and walk into a friend's home? You would not. And would you think it is respectful to do the same when you walk into the house of God? So, that is the difference. I have a right to pray. I do not have the right to desecrate. That is my personal opinion." 
On September 28, the Supreme Court lifted the ban on entry of women of menstrual age into the Sabarimala temple. However, when the shrine opened recently, pitched battles started between devotees and policemen who tried to escort some women to the temple. Groups of women devotees stopped vehicles at the main gateway to Sabarimala and prevented women from trekking to the hill shrine, thus flouting the country's highest court's order.
I guess Smriti Irani thinks women should stay -- as is practiced still across South Asia -- locked in a shed or closet during their periods so as not to "pollute" anyone. Proof women can be misogynists. https://t.co/raldIQ4WzV

— Mira Kamdar (@mirakamdar) October 23, 2018
U "battled" for rights of the women in Haji Ali and Triple Talaq but against the same rights in Sabrimala? https://t.co/e8TbGLcBfB

— ASHUTOSH MISHRA (@ashu3page) October 23, 2018
#WATCH Union Minister Smriti Irani says," I have right to pray,but no right to desecrate. I am nobody to speak on SC verdict as I'm a serving cabinet minster. Would you take sanitary napkins seeped in menstrual blood into a friend's home? No.Why take them into house of God?" pic.twitter.com/Fj1um4HGFk

— ANI (@ANI) October 23, 2018
No, the difference here is @smritiirani, that you would go to a friend's house while you had your period. Just like you'd go to work & not stay locked up at home.
Shameful that you're essentially calling all women of menstruating age 'sanitary napkins seeped in menstrual blood' https://t.co/0DnL1EBPBG

— Neha Poonia (@NehaPoonia) October 23, 2018
Irani's comments have come at a time when the Left, which is in power in Kerala where the temple is located, has repeatedly alleged that the BJP and the RSS were behind the protests outside Sabarimala. On Tuesday, chief minister Pinarayi Vijayan said the protests were a 'planned' and 'deliberate' attempt to create an atmosphere of tension in the state, reported PTI.
He alleged that the Sangh parivar was attempting to 'insult' and 'mislead' believers.
He said the faith of believers would be respected, but made it clear that the government had the responsibility to implement the Supreme Court order.
At the Mumbai event, Irani started her explanation with an anecdote. She said she was asked to stand outside when she took her children to the fire temple at Andheri in Mumbai. "I am a practising Hindu married to a Parsi. I have ensured that both my kids are practising Zoroastrians, who can go to the fire temple and pray. When I took my newborn son (to the fire temple), I would give him at the (temple) entrance to my husband and wait outside, because I was shooed away and told not to stand there,' she said.
Ladies like her are the reason that India is so Orthodox about menstruation. https://t.co/s76OqbpvQA

— Ankita Shah (@Ankita_Shah8) October 23, 2018
What is she saying? Dude, menstruation is just a bodily process with which women become pregnant. It is this male dominant society that made these rules about what should be allowed in a temple or not. Why is menstruation deemed dirty while actually it is a process of cleansing? https://t.co/5inBqCOqlO

— Mitra Joshi (@mitrajo) October 23, 2018
Some on Twitter accused the minister of propagating archaic notions of menstruation, others saw this statement in contrast with Irani's campaign to ensure the entry of women into the Haji Ali dargah and the triple talaq case.
I hadn't viewed the video as not showing up on my phone,but now that I've seen it, it's very clear @smritiirani uses her experience as a non-Zoroastrian barred from entering a fire temple to justify barring menstruating women into Sabrimala temple. @safimichael you were right.

— Rupa Subramanya (@rupasubramanya) October 23, 2018
A section of social media users also came to Ms Irani's defense saying that the minister's comments were taken out of context:
Why twist the straightforward statement of @smritiirani out of context @ndtv ? She was not saying about women "wearing" pads and going anywhere. She was saying that in context of the news about someone carrying blood-soaked pads as "offering" to the #Sabrimala temple. https://t.co/w1zkDxlYkT

— Yashwant Deshmukh (@YRDeshmukh) October 23, 2018
First i suggest all to read & comment. The woman who tried entering Sabarimala was carrying blood soaked pads inside the temple which was totally unnecessary. Smritiji is talking about that

— pradeep hebbar (@pradeephebbar) October 23, 2018
Twising statements out of context. Smriti Irani's statements were in response to the news of activist Rehana Fatima allegedly carrying used sanitary pads in the Irumudi in her head to throw at the Ayyappa deity at Sabarimala. https://t.co/OddiLg0N3B

— Saran Shanmugam (@saranstm) October 23, 2018
Curiously, Irani later took to Twitter and while quoting a tweet containing a link to a news report on her statement, said: 'Fake news ...... calling you out on it. Will post my video soon.'
The minister tweeted later that her comments were '2 factual statements' and 'Rest of the propaganda/agenda being launched using me as bait is well just that ... bait.'

She added: 'As far as those who jump the gun regarding women visiting friend's place with a sanitary napkin dipped in menstrual blood, I am yet to find a person who takes a blood soaked napkin to offer to anyone let alone a friend."
Written with PTI reports
Fake news ...... calling you out on it. Will post my video soon. https://t.co/ZZzJ26KBXa

— Smriti Z Irani (@smritiirani) October 23, 2018