Wooden sabre and garden axe
Did you know how Gower drew blood?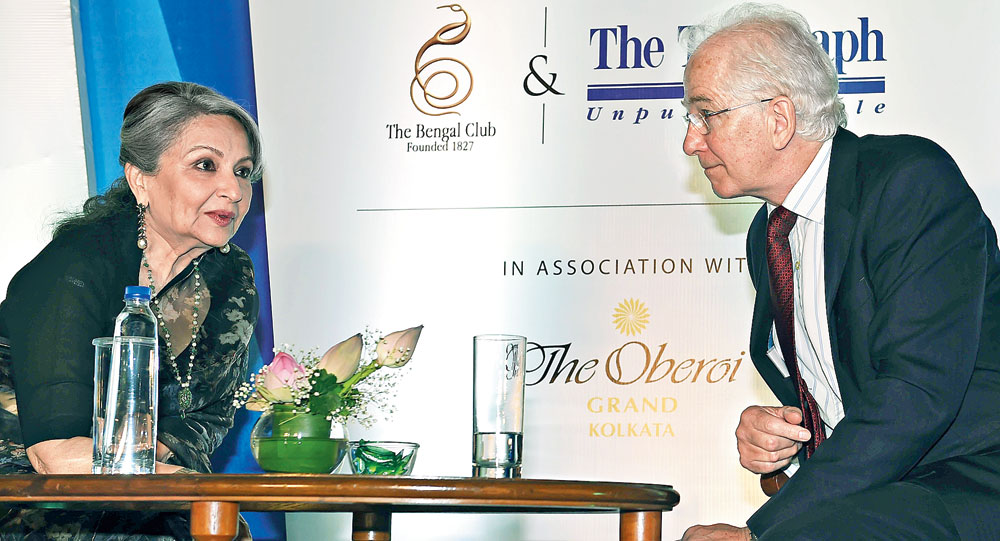 Sharmila Tagore and David Gower after the Tiger Pataudi Memorial Lecture in Calcutta on Wednesday
Picture by Santosh Ghosh
---
Calcutta
|
Published 27.03.19, 09:45 PM
|
---
Someone did say famously, and ringingly, that you'd pay just to watch David Gower stroll to the crease and take guard. It's a description that has aged well; on the evidence of this evening, you'd pay just to watch David Gower walk up to the lectern and lean, with that looming hunch of his, gently on the microphone.
Here's the bionic version of Strunk & White: The Elements of Style, the walking, talking, posing, pausing version of it. Were you to notice carefully, it's never been in what he wears, not in the flannels he hung out years ago, not in the crisp tailored suit and impeccably polished shoes he wore on Wednesday; it's all worked into his bones, they only listen to languor's command.
Gower himself has aged well too; he's goldie locks no more, but it's tough to credibly argue he isn't silver streak. A big sexagenarian bolt of it whose presence can be quite as arresting as the indelible image of Bonnie Gower at the crease, wooden sabre in hand. There is a genuine sabre tale in the works too somewhere but we shall come to it in a bit.
And so when that bolt is invited on stage — Lord of the 2019 edition of the Tiger Pataudi Memorial Lecture — and begins by saying, "That's all we have time for this evening, I'm afraid," you know you've arrived in the presence of a singular style.
The Air India presents Tiger Pataudi Memorial Lecture is a joint initiative by The Bengal Club and The Telegraph in association with The Oberoi Grand, Kolkata.
Gower spoke for an hour thereupon, and for an hour everything in the Ballroom of the Oberoi Grand remained riveted on the bolt centre stage. You are permitted not to look elsewhere when David Gower is on show.
It's also permitted not to instantly break into laughter and applause when David Gower has cracked one, because his angles of humour can often be impossibly obtuse.
He spoke for, instead, with artfully restrained wistfulness, of a hundred per cent record as England captain against the West Indies. Took more than just a moment to process that. Turned out it was a record of hundred per cent defeats. And once the reality of it had sunk in, a startled applause followed.
Gower had themed the evening "Fun. Style. Excellence". He littered his discourse with illustrations of each category that have illumined the game — Root, Bumrah, Smith, de Villiers, Jayawardene, Gayle and, of course, Kohli, with no prejudice to those who couldn't be named for shortness of time — but nobody quite in those lists fitted all three categories. Gower did. And he was saying it without having the faintest need to say it; it was clear as daylight on a day there is daylight. When you have David Gower, fun, style and excellence fall away as synonyms, no more.
What Gower did spell out was what's not fun, style and excellence. What Steve Smith and David Warner got up to on the playing field in South Africa isn't — "You don't need sandpaper to win a game of cricket."
What Ravichandran Ashwin did just the other night against Jos Buttler of Rajasthan Royals just the other night isn't either.
"What happened with that Mankading was wrong. Yes, it was entirely lawful, but there's more to it than the law. Ashwin says it was instinct that made him do it, I hope in time he has occasion to revisit and revise his opinion on what he did. I am not entirely of the school that says win at all costs, there are ways of winning that, for instance, do not need sandpaper." Add Mankading to that, please.
As Gower spoke, Ashwin's side were struggling against KKR no farther than a dog's pee walk. Gower, who did declare a late-evening ambition of catching the latter half of the Eden game, may well have muttered a "just as well" to himself.
There's another occasion he spoke of to which "just as well" might fit, and allow us to return to the promised tale of the sabres. Gower snatched the Ashes from the Aussies as captain of England in 1985, but the next bout the adversaries had, in the 1989 season, the Aussies returned to smoke out Gower's team. At the end of it, Gower invited Allan Border, his rival skipper, home for a congratulatory drink.
It was planned over a toast of champagne. Gower chose to uncork the bottle French fashion; it's apparently called saberage, or some such thing. Only, the Gower household possessed no sabres. He chose a garden axe for the job.
And so instead of sabring the champagne cork, French fashion, he axed it. And the tiniest shard of flying glass caught the side of Border's temple.
"It's the only blood I drew that season."
Just as well. Style can, on required occasion, be cutting.