Women's panel chief sparks 'love jihad' furore
Called out for using her office to legitimise a political slogan of the ruling party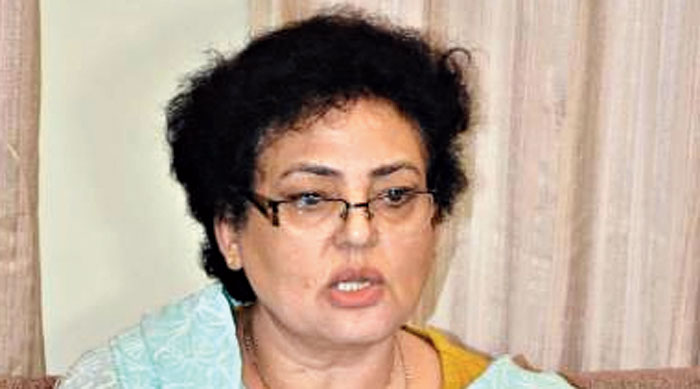 ---
---
National Commission for Women chairperson Rekha Sharma has been roasted online after the NCW announced that she had discussed a "rise in love jihad cases" with Maharashtra governor Bhagat Singh Koshiyari on Tuesday. 
The Narendra Modi government had earlier this year told Parliament that the term "love jihad" is not defined under extant laws, but its propagators have had a free run, the latest example being the furore over a jewellery brand ad on a Hindu girl married into what appears to be a Muslim household. Tanishq, a brand associated with the Tatas, had to withdraw the ad in the face of vicious trolling. 
Trouble began for Sharma after the NCW posted on social media a synopsis of her meeting with Koshiyari: "Our Chairperson @sharmarekha met with Shri Bhagat Singh Koshyari, His Excellency, Governor of Maharashtra, & discussed issues related to #womensafety in the state including defunct One Stop Centres, molestation & rape of women patients at #COVID centres & rise in love jihad cases."
Sharma's host, Koshiyari, himself had recently got into a tangle after asking Maharashtra chief minister Uddhav Thackeray if he had turned "secular" and also appeared to taunt his "Hindutva" credentials while demanding the reopening of places of worship.
While many on Twitter called Sharma out for using her office to legitimise a political slogan of the ruling party, others trawled her account to dig out previous posts to show that she was not suitable for her job.
Armed with the reply given by the Union home ministry in the Lok Sabha in February, Twitterati took Sharma to task for giving credence to a term that the Modi government itself has not found valid enough to define in law. 
Others dug out some of her old tweets that many said bordered on misogynyand even invited rape on a family to avenge their participation in a khap panchayat. The critics questioned Sharma's credentials to head the statutory body set up to address women's issues and demanded that she be sacked.
As the clamour for her removal intensified, Sharma claimed that her Twitter account had been compromised and turned it into "protected" mode, stopping others from viewing or commenting on her posts without her permission. 
Pratik Sinha of the fact-finding website AltNews, however, pointed out that many tweets had also been removed in the process.
The Telegraph tried to reach Sharma but she did not respond. NCW officials pointed to her tweet in which she said: "I have protected my tweets since last evening after receiving a message from Twitter that suspicious activity was detected on my account. My profile was also blocked for a while by Twitter."
Using screenshots from before and after her handle was protected, Sinha flagged the drop in the number of tweets from Sharma's account. "From 16,937 tweets before she protected her account, the NCW Chairperson is down to 16,727 tweets. At least 210 tweets deleted by @NCWIndia chairperson @sharmarekha."The chairperson or someone on her behalf is busy doing a cleanup of her Twitter account for hours now. 338 tweets deleted since she protected her account. From 16,937 down to 16,599," Sinha tweeted again, with links to Sharma's archived tweets.
Given her association with the BJP — Sharma had been the party's district secretary and media in-charge in Haryana before being appointed to the helm of the NCW in 2015 — the discussion on "love jihad" became the subject of a political slugfest. The AAP, Congress and the CPI(ML) demanded her removal.
Demanding her immediate removal for her "derogatory and shameful tweets against women", AAP leader Aatishi Marlena said: "If the chairperson of the NCW uses such cheap language against women, then how can a woman expect justice from the central institution headed by her? 'Beti Bachao, Beti Padhao' was not a slogan for any positive campaign but a caution to the nation to protect the girls from the grip of BJP leaders."
Posting screenshots of some of the objectionable tweets that were posted from Sharma's handle between 2012 and 2014, Congress spokesperson Ragini Nayak said: "Every second this vile, sexist, venom spewing @sharmarekha spends as chairperson of @NCWIndia is a fresh assault on the integrity and dignity of women in this country. Only Modiji could have entrusted such a misogynist with protection of women's rights #SackRekhaSharma."
CPI(ML) politburo member Kavita Krishnan tweeted: "Hey @sharmarekha — what on earth is a 'love jihad' case? Any case in which a Muslim man and a Hindu woman are in love? How dare you remain in your chair as @NCWIndia chief & use a term that (a) treats women as property of communities (b) hates Muslims? You bring shame to NCW."