Why Thursday
Murder of democracy! Yes, but which one?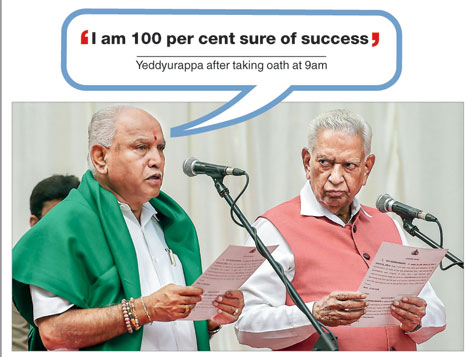 ---
Published 18.05.18, 12:00 AM
|
---
When the announcement came at 9pm on Wednesday that B.S. Yeddyurappa would be sworn in as chief minister on Thursday, many were surprised for there had till then been no indication that such a move was imminent.
Most observers were expecting the tussle between the BJP and the JDS-Cong over which of them merited the governor's invite to continue for a while.
Sources have now suggested that the date was set hurriedly in keeping with the religious beliefs of Yeddyurappa, who wanted to ensure he ascended the high seat on an auspicious day.
Like his fellow devotees of Raghavendra Swamy, a 16th-century saint revered by millions in the south, Yeddyurappa considers Thursdays auspicious.