Why Naseeruddin Shah is angry (and why you should be too)
The actor says neither he nor wife Ratna Pathak Shah, also an actor, ever imparted any religious education to their children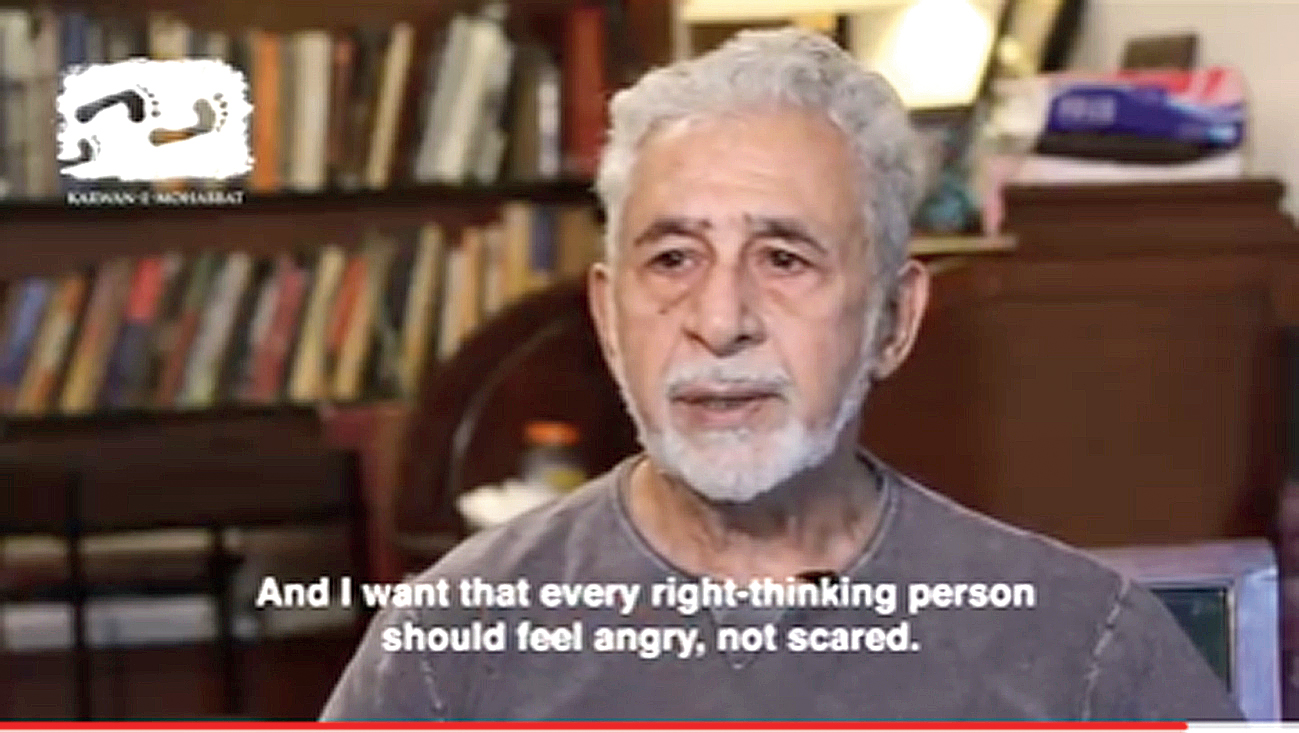 Naseeruddin Shah in the video uploaded by Karwan-e-Mohabbat
Source: Karwan-e-Mohabbat
---
Mumbai
|
Published 20.12.18, 10:29 PM
|
---
Naseeruddin Shah, part of the smouldering generation that marked the golden era of parallel cinema by portraying angst-ridden characters, has used his irrepressible voice to air anxiety that speaks volumes about contemporary India.

"I'm anxious about my children… because they don't have any religion…. We have taught them about good and evil, our views on the world. Religion has got nothing to do with good and evil. I feel anxious for my children because tomorrow if a mob surrounds them and asks them whether they are Hindu or Muslim, they will have no answer," Shah says in a short video uploaded by Karwan-e-Mohabbat, a peace initiative chronicling hate crimes in the country.
The observations came against the backdrop of lynchings linked to dietary habits, a State-sponsored drive to erase unpalatable history and ill-concealed attempts at communal polarisation.
The actor has underscored how deep the "poison" has permeated and offers a grim prognosis. "It worries me because I don't see the situation improving anytime soon," Shah says.
"These matters do not scare me; they make me angry. And I want that every right-thinking person should feel angry, not scared. This is our home; who dares to evict us from here?" he asks.
Shah's statement was greeted with the backlash that has become the standard operating procedure: name-calling, advice to "go to Pakistan" and a reminder that he did well for himself in a Hindu-dominated country that did not look at his religion.
Unwittingly or otherwise, the acid-dripping response offered incontrovertible proof that Shah's anxiety is not unfounded.
Never known for desisting from calling a spade a spade, Shah hits the ground running in the tape.
"Yeh zehr phail chuka hai; aur iss djinn ko dubara botal mein bandh karna bahut mushkil hoga (The poison has spread; it will be very difficult to put this genie back into the bottle)," the 68-year-old actor says.
"There's complete freedom to take the law into one's own hands. In some areas we see the killing of a cow receiving more importance than the lynching of a police officer," added Shah, who was born at Barabanki in Uttar Pradesh.
A police inspector, Subodh Kumar Singh, was shot dead along with a student when a mob led by Sangh parivar activists rioted after the discovery of cow carcasses at a village in Bulandshahr, Uttar Pradesh, on December 3.
The Yogi Adityanath administration has been accused of prioritising the probe into the alleged cow slaughter while deciding to simply "wait" for prime accused Yogesh Raj, district convener of the Bajrang Dal, to surrender. Yogesh is still at large.
In the video, Shah says neither he nor wife Ratna Pathak Shah, also an actor, ever imparted any religious education to their children.
In November 2015, actor Aamir Khan had said his wife Kiran Rao feared for her child and had wondered whether the family should leave the country. After a backlash that misconstrued his statement as a declaration that he wanted to leave India, Aamir said he had never thought about doing so. Some interpreted it as a retraction although the actor did not change his original statement.
On Thursday, BJP Rajya Sabha member Rakesh Sinha posted tweets condemning Shah.
"He has also joined the gang engaged in slandering the country. Which country is safer for you? 80 per cent Hindus did not look at your religion and gave you fame. You earned huge wealth but now you have joined the conspiracy to slander the country," Sinha tweeted.
"Naseeruddin Shah should first ask Rohingyas to leave Hindustan as according to him India is unsafe for him and his family! An artist should not be part of sinister design of anti ci(vi)l society propaganda. His statement shows his low thinking."
Several social media users compared Shah to Gulfam Hassan, a ghazal singer and Pakistani agent he had played in the 1999 movie Sarfarosh.
The Karwan-e-Mohabbat (Caravan of Love) said it felt the need to engage more on social media, where the atmosphere has been vitiated for too long by forces that seek to promote the agenda of hatred.
"That is why we decided to do a series, for an alternative discourse, of which this video is a part. It has gone viral on the social media, for the right reasons and the wrong, but the need for engaging is something we realised a while ago," said Harsh Mander, who spearheads the initiative.
"We are in the process of doing a series of such interviews," he said.