Why am I stopped, Priyanka Gandhi asks in UP
'Was ready to go to village with 2 people'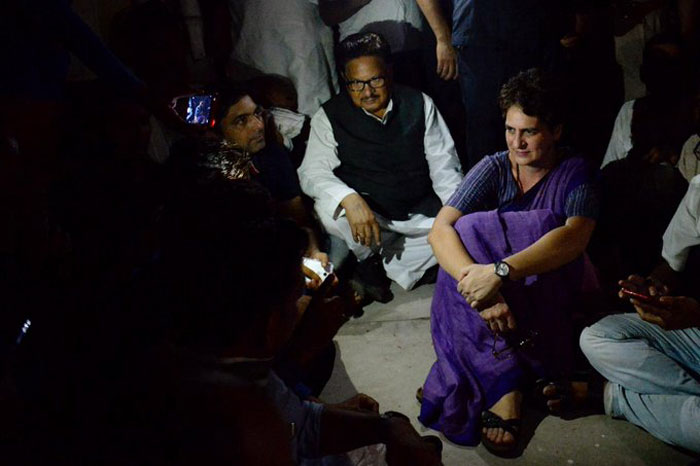 Priyanka Gandhi Vadra at the protest site in Mirzapur on Friday
(PTI)
---
Lucknow
|
Published 19.07.19, 09:47 PM
|
---
Uttar Pradesh police on Friday arrested Priyanka Gandhi Vadra and a dozen Congress leaders in Mirzapur when they were trying to go to Sonbhadra to meet the family members of 11 villagers who were allegedly killed by a panchayat chief and his henchmen on Wednesday over a land dispute.

Lodged at a government's guesthouse, Priyanka told a gathering that the police had failed to give a convincing reason why she was stopped there. She sat on a dharna on the premises, which was continuing at night.
"I will not return without meeting the family members of the poor victims. The policemen stopped me and said I couldn't move forward because there was Section 144 (preventing the assembly of people) in force there. They are not allowing me to move even in Mirzapur (80km from Sonbhadra) where there is no such prohibitory order", said the Congress general secretary in charge of Uttar Pradesh.
Priyanka reached the Varanasi airport and quickly left for the trauma centre of Banaras Hindu University, where over a dozen injured villagers have been undergoing treatment.
Although the Uttar Pradesh administration was not informed of her visit, Congress leaders were waiting for her at the airport and they followed her in their own cars. Priyanka stayed in the hospital for about an hour and left for Sonbhadra.
As news spread that she was going to Umbha, the village, the district administration swiftly imposed Section 144 in Sonbhadra district. A huge force was also deployed at Narayanpur area of Mirzapur, where the police blocked the road to stop her convoy of six cars.
Priyanka sat on the road with party colleagues for about an hour. She did not resist when the police asked her to move to the guesthouse as she had been arrested.
"They didn't listen to me when I requested them to let me go to Sonbhadra with only two people. The police failed to show me an arrest warrant and said they were only following the instructions given to them from Lucknow", Priyanka told a gathering in front of the guesthouse.
"I met the injured and wanted to go to the spot to tell the killed villagers' family members that they were not alone," she said, declaring that she would be on dharna till allowed to visit Umbha.
Anurag Patel, the district magistrate of Mirzapur, said: "There may be a law and order problem if madam is allowed to go ahead. The police have taken her in custody and kept her in a guesthouse in Chunar."
Yagya Dutt Singh Gurjar, the prime suspect and the panchayat chief, is in custody now.
Gurjar had claimed that he had bought 90 bighas in Umbha but the villagers had captured it. The villagers said it was gram sabha land, which was allotted to them on lease for farming.
Failing to take possession of the land, Gurjar and his goons had alleged opened fire on the villagers, killing 11 of them.