Where BJP bucked trend in Delhi
Vijender Gupta retained his affluent Rohini seat in Northwest Delhi with an increase in vote share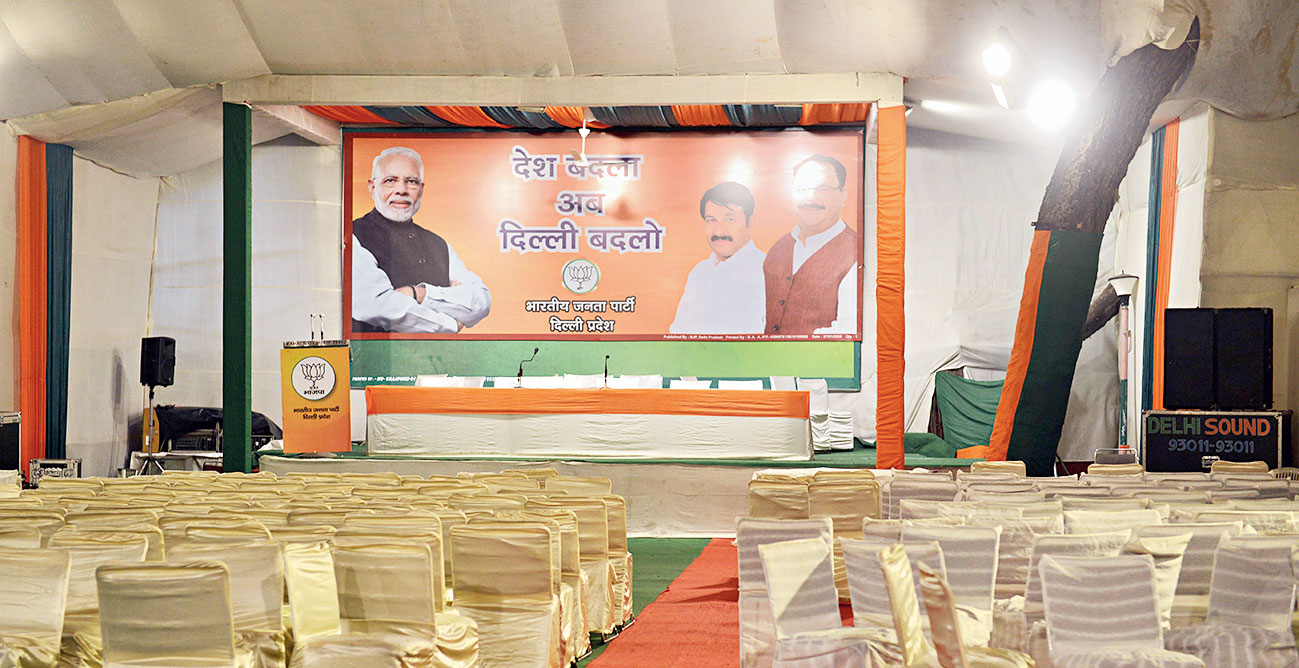 ---
---
BJP's tally is up from three in 2015 to eight now in the 70-member Delhi Assembly.
In 2015, the Speaker had offered the Leader of Opposition post — a cabinet rank position for which the largest Opposition party is eligible if it holds a tenth of the seats — to the BJP, although it did not have the numbers. This is a courtesy that the BJP has not offered the Congress in the current and previous Lok Sabhas.
Delhi's leader of Opposition Vijender Gupta retained his affluent Rohini seat in Northwest Delhi with an increase in vote share from 49.83 per cent to 53.67 per cent.
AAP's strategy of fielding prominent sweetshop owners against two BJP incumbents failed with Rajesh Bansiwala losing in Rohini and Deepak Singla losing to BJP's firebrand MLA O.P. Sharma in East Delhi's Vishwas Nagar.
Sharma, loyalist of the late BJP leader Arun Jaitley, was suspended several times in the Assembly for using unparliamentary language and was also in the news for assaulting a CPI member when student leader Kanhaiya Kumar was produced in court in a sedition case in 2016. Sharma, too, increased his vote share from 45.16 per cent to 52.57 per cent.
The only BJP incumbent who lost -- to the AAP -- was the mild-mannered Jagdish Pradhan in Northeast Delhi's Mustafabad which is witnessing anti-CAA protests, mainly by its Muslim residents.
The increase in the BJP's total vote share from 32.19 in 2015 to 38.51 per cent comes at a time that of the Congress has shrunk from 9.65 per cent in 2015 to 4.36 now, and the BSP from 1.3 to 0.71 per cent. The Congress had got 22.5 per cent votes in the Lok Sabha polls last year and had led in five Assembly segments, with the BJP winning the rest.
BJP gained six seats from the AAP. Five of these: Ghonda, Rohtas Nagar and Karawal Nagar in Northeast Delhi, and Laxmi Nagar and Gandhi Nagar in East Delhi are near anti-CAA protest sites and the Sangh Parivar campaigned hard to polarise voters on religious lines.
The BJP, which had gained the Rajouri Garden seat in a bypoll in 2017, lost it to the AAP again. The incumbent Manjinder Sirsa, an Akali Dal leader who won on a BJP ticket, did not contest as a seat-sharing deal between the two parties fell through.
The AAP fielded its senior strategist and organiser Durgesh Pathak from Karawal Nagar, the seat of its rebel former minister Kapil Mishra who joined the BJP. Mishra, who was barred by the EC for calling the election an India-Pakistan clash and Shaheen Bagh a mini-Pakistan -- shifted to Model Town and lost to the AAP by more than 11,000 votes.
However, Mohan Bisht of the BJP defeated Pathak in Karawal Nagar by a margin of a little over 4 per cent. In Laxmi Nagar, prominent AAP legislator Nitin Tyagi lost to the BJP's Abhay Verma by 880 votes.
Another enfant terrible of the BJP, Tejinder Bagga, who was accused of assaulting lawyer Prashant Bhushan in 2011, lost to the AAP in Hari Nagar by more than 21,000 votes.
Congress stalwart Arvinder Lovely, who returned to the party after short stint with the BJP, came third with a respectable 19.16 per cent votes in Gandhi Nagar. The division of anti-BJP votes led to rebel AAP MLA Anil Bajpai being elected on a BJP ticket with 42.54 per cent votes, with AAP's Naveen Choudhary, former Congress leader coming second.
South East Delhi BJP strongman Ramvir Bidhuri defeated AAP's Ram Singh Netaji, who had recently shifted from the Congress, by less than 4,000 votes. The outgoing AAP MLA Narayan Dutt sharma, who fought on a BSP ticket and was seriously assaulted during the campaign, got more than 10,000 votes, sealing the AAP's fate in the Gujjar-dominated seat.