Amulya Leona Noronha, aged 19, shouted on stage on Thursday: "Pakistan zindabad, Pakistan zindabad, Pakistan zindabad."
Three times.
As a group on the stage and police surround her and drag her away, she keeps shouting: "Hindustan zindabad, Hindustan zindabad, Hindustan zindabad, Hindustan zindabad."
Four times.
Then she manages to say: "The difference between Pakistan Zindabad and Hindustan Zindabad...."
The rest of the sentence is not audible as she is dragged away from the venue of a public meeting attended by All India Majlis-e-Ittehadul Muslimeen president Asaduddin Owaisi.
Charged with sedition, Amulya has been sent to judicial custody for 14 days.
Amulya is a journalism student who is a popular speaker at anti-Citizenship Amendment Act protests. She had drawn considerable attention on social media when she and two other women had peppered the editor of a controversial portal with questions at Mangalore airport on January 31. They had borrowed a leaf from what comedian Kunal Kamra had done to TV anchor Arnab Goswami on board a plane.
The so-called sedition law or Section 124A of the Indian Penal Code, a colonial relic that many jurists had said has no place in a democracy, says: "Whoever, by words, either spoken or written, or by signs, or by visible representation, or otherwise, brings or attempts to bring into hatred or contempt, or excites or attempts to excite disaffection towards, the Government established by law in India, shall be punished with imprisonment for life, to which fine may be added, or with imprisonment which may extend to three years, to which fine may be added, or with fine."
Besides IPC 124A (sedition), Sections 153A (promoting enmity between different groups of people), 153B (assertions prejudicial to national integration) and 505 (2) (statements promoting enmity or hatred between groups of people) have been slapped on Amulya.
On February 16, Amulya had tweeted in Kannada: "Hindustan Zindabad, Pakistan Zindabad, Bangladesh Zindabad, Sri Lanka Zindabad, Nepal Zindabad, China Zindabad, America Zindabad." She continued: "Be it any country, Zindabad to all."
She was trying to make the point that all countries should live long. It is not much different from the Maha Upanishad concept of "vasudhaiva kutumbakam (the world is one family)", a phrase that plays on the lips of Indian Prime Ministers, including Narendra Modi, when they make speeches at the UN.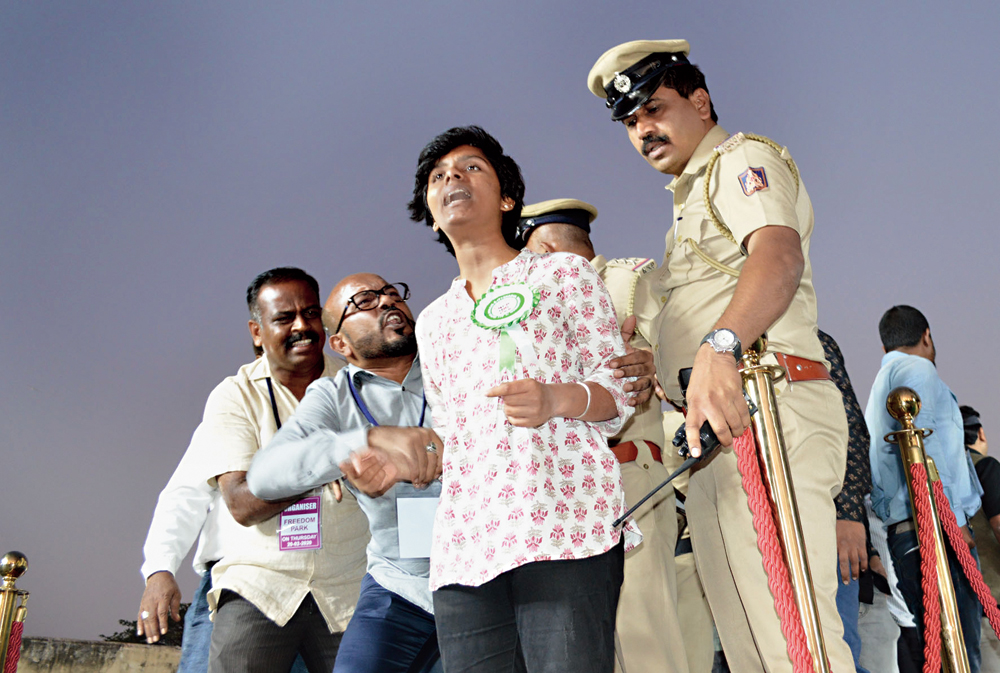 Amulya at the Bangalore event earlier on Thursday (Bangalore News Photos)
Neither is it very different from what Art of Living head Sri Sri Ravishankar, who is close to the government, had said at an event in 2016. "Pakistan, Hindustan, sab maithropoorn aage badhe, Jai Hindi aur Pakistan zindabad saath saath chale. (Let Pakistan's and India's friendship progress. Let Jai Hind and Pakistan zindabad go hand in hand," Ravi Shankar had said.
Amulya's February 16 tweet, which was shared by activist Kavitha Krishnan, said: "I am an Indian. Working for the people of this country is my duty, which I will do. Let RSS do whatever they want."
Pakistan is a country that Prime Minister Narendra Modi thought fit to land in on a Christmas day five years ago after a surprise announcement.
Father's ordeal
Amulya's father, Warzi Noronha, was made to chant "Bharat Mata ki jai" by alleged Right-wing activists who landed up at his home in Chikmagalur on Thursday night, within hours of the event where the student had spoken. The areca nut farmer was also told that it was good he "only" had a daughter because a son "could have destroyed the nation".
Vandals threw stones at their house, breaking windows.
A video circulating on social media shows a group of men heckling Noronha. "Say Bharat Mata ki jai, raising your hand," one of the men says. Noronha obliges, repeating the slogan a second time because they ask him to.
"Are you proud of the nation?" the same person asks, to which Noronha says: "100 per cent."
The father is then asked if he will let Amulya into his house "after what she said" and is rebuked when he says that he has to because "she's my daughter". "How can you allow her in? She raised pro-Pakistan slogans. How can you let her in?" one of the men says.
"Do you have only one daughter?" Noronha is asked. "I have only one daughter," he affirms. One of the men responds: "Oh! You did a great thing. If you had a son, he would destroyed the nation."
Noronha, who owns about two acres of areca nut plantation at Koppa in Chikmagalur, is then asked: "Will you get her bail?"
He replies: "No I will not pay for my daughter's bail. I will not appoint a lawyer."
Play-safe leaders
While the hecklers have not been identified, they appear to have the endorsement of chief minister B.S. Yediyurappa, who said in Mysore on Friday: "It has been found that she has Naxal links. Even her father has said he wouldn't protect her."
Noronha has not issued a public statement, so it is likely Yediyurappa was going by what he said to the hecklers. This paper could not reach the farmer for comment.
Congress leader and former chief minister Siddaramaiah said: "The act of supporting Pakistan through slogans shall be condemned. The police have to investigate and teach Amulya a lesson."
On Thursday, a flustered Owaisi (he and others had rushed to take the mike away from her) was heard asking, "What are you saying?" in Urdu, even as Amulya battled with the men who tried to grab the microphone from her. Owaisi later condemned Amulya and said: "For me it's only Bharat zindabad."