Ayodhya-model cry for Sabari
The Left and the Congress slammed Yogi for his 'communally polarising' remarks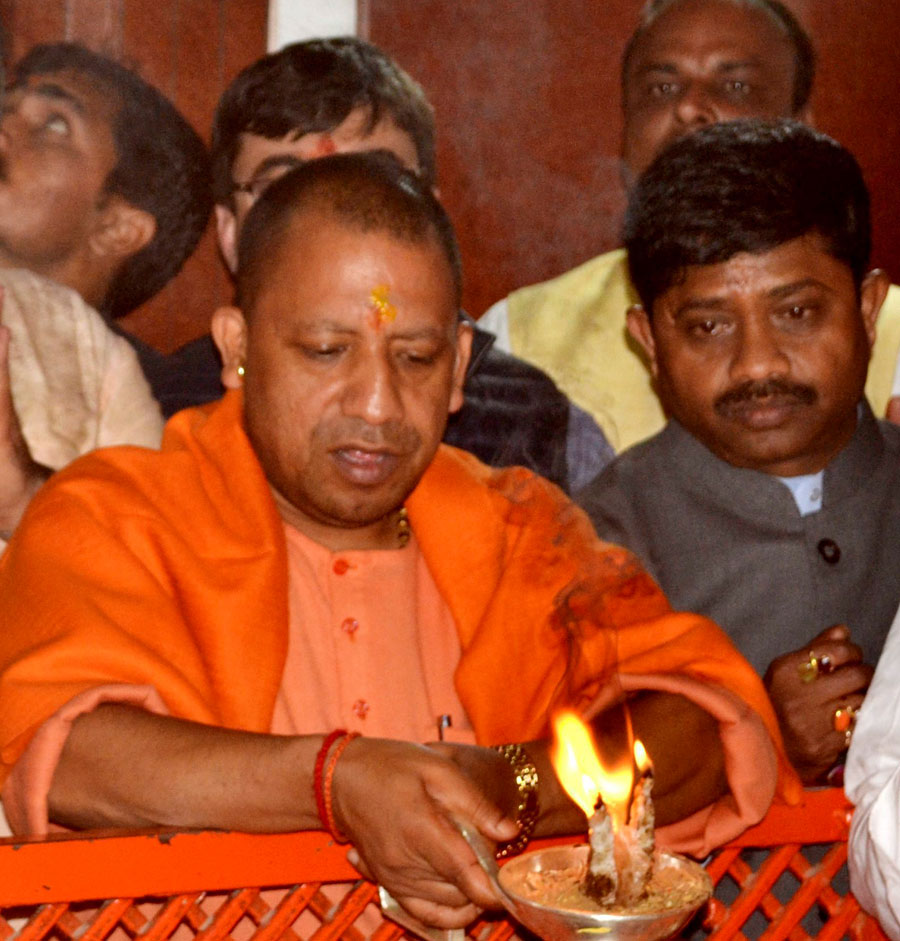 Uttar Pradesh Chief Minister Yogi Adityanath offers prayers at Bade Hanuman Temple, in Allahabad on Wednesday, February 13, 2019.
(PTI)
---
Bangalore
|
Published 16.02.19, 11:01 AM
|
---
Uttar Pradesh chief minister Yogi Adityanath has called for "Ayodhya-model" protests to "save" the Sabarimala temple and its traditions, drawing sharp criticism from the Left and the Congress that accused him of communal polarisation.
Addressing a BJP workers' meeting in Pathanamthitta, the district where Sabarimala is located, late on Thursday, Adityanath accused the Left Democratic Front government in Kerala of coming in the way of the temple's traditions, where women of childbearing age were not allowed in.
"We need Ayodhya-model protests to save Sabarimala," he told party workers.
On a brief visit to the southern state to enthuse booth-level workers, he equated the Sabarimala temple to Ayodhya.
"Ayodhya and Sabarimala are equally important to Hindus. There is a deliberate attempt to insult Sabarimala and its traditions," Adityanath said.
A temple to the "celibate" deity Ayyappan, Sabarimala had been out of bounds for women of childbearing age before the Supreme Court lifted the ban last September and the LDF government decided to implement the order.
Since then, the Sangh parivar has been at the forefront of violent protests and the state's BJP chief has been quoted as saying that the issue is a "golden opportunity" for the party to establish a toehold in Kerala.
The call for "Ayodhya-model" protests didn't go down well with the Left and the Congress, which tore into Adityanath and his "communally polarising" remarks.
"Yogi doesn't know a thing about the social set-up of Kerala. He should first learn a bit about this state before making such obnoxious remarks," CPI Rajya Sabha member Binoy Viswam told The Telegraph on Friday.
He wondered how a man who calls himself a "yogi" could go about spewing hatred. "He is supposed to be an ascetic. But instead, he contests elections and becomes chief minister. Such a man is trying to teach a state like Kerala," Viswam said.
"After igniting communal polarisation in Uttar Pradesh, he now wants to try the same trick in Kerala. But he should understand that Kerala is a different kind of state," the CPI leader added.
Viswam slammed Adityanath for his assessment of Sabarimala. "He should learn that the best friend of Ayyappan was Vavar, a Muslim. This temple itself is a symbol of communal amity and brotherhood," the CPI leader said.
All Sabarimala pilgrims first visit the Vavar mosque, located at Erumeli en route to the temple. The mosque welcomes women from all religions. Sabarimala pilgrims first visit the mosque and circumambulate it before heading to the temple.
"Yogi doesn't even know all this. In fact, the RSS stand belittles the Sabarimala temple and Lord Ayyappan, who wanted his followers to first pray at the mosque," Viswam said.
Kerala Congress spokesperson Pandalam Sudhakaran lashed out at Adityanath's statements and said it was a clear sign that the BJP leader openly supported violence.
"One chief minister goes to another state and openly calls for violence. It's a highly condemnable statement that is against the Constitution," Sudhakaran said.