As rioters set their two-storey house ablaze on Tuesday evening, Mohammad Idris Saifi and 10 family members ran up the steps to huddle on the roof, which slowly turned searing hot and got enveloped in smoke.
"Prepare to die," the attackers had shouted from below. But fortunately for the family, the roof did not collapse and the fire subsided on its own.
For nearly 14 hours, Idris, 71, wife Jameela, 68, their two sons and their wives, and their five grandchildren — Musqan, 15, Nargis 13, Belal, 12, Abdal, 12, and Abbas, 8 — remained on the roof, muttering prayers. Whenever the children began to weep, the elders shushed them lest their cries alert the rioters.
"This roof saved us. They wanted us to die but the fire did not reach the roof," Idris told The Telegraph on Friday.
"I shall never forget the horror in my lifetime," his eldest son Mobin said. "The children are traumatised; they wake up in the middle of the night shouting, 'Papa, mummy bachao (help)'."
Idris's home in Brijpuri, northeast Delhi, was among hundreds of dwellings that the marauding mobs, armed with guns and iron rods, had targeted on Monday through Wednesday. The death toll rose to 42 on Friday.
BJP leader Kapil Mishra had on Sunday set a three-day deadline for ending the protests against the new citizenship law.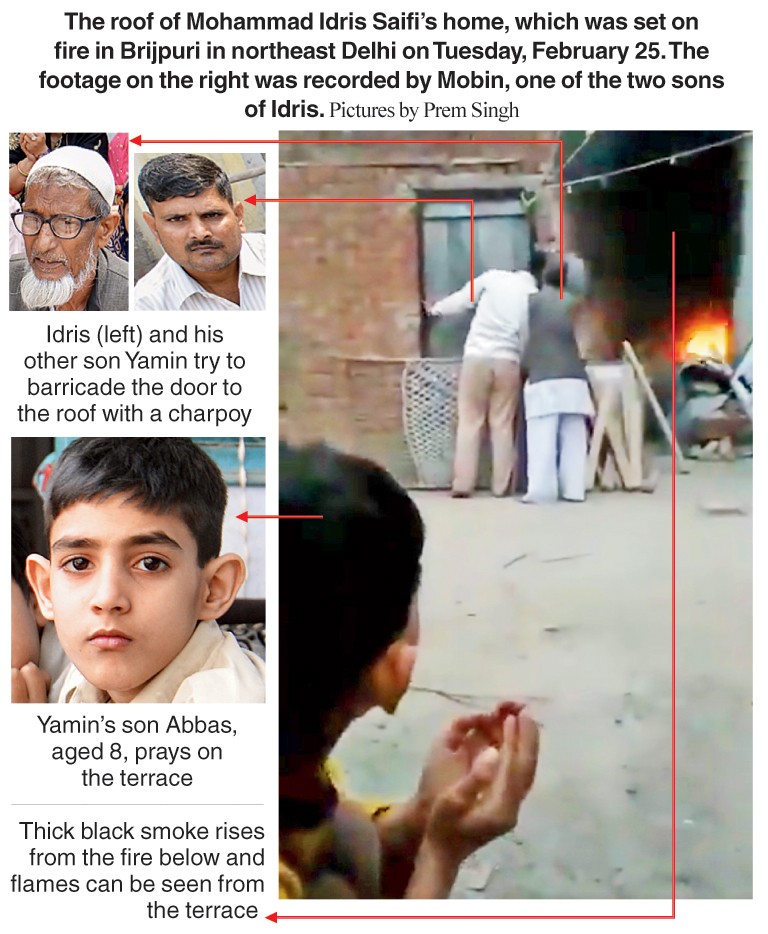 Eyewitnesses say the mobs broke open, looted and torched Muslim-owned shops, houses and vehicles in Brijpuri, a Hindu-dominated neighbourhood, and in the adjoining pockets of Jaffrabad, Maujpur, Karawal Nagar, Ghonda, Chanbagh, Baburpur, Gokulpuri, Yamuna Vihar and Bhajanpura. According to the police, 42 people have died in the violence so far and over 200 are injured.
The Saifis had sensed trouble early. Since Tuesday morning, armed groups had marched past their home many times, shouting "Jai Shri Ram". Eventually, a mob broke down the house's iron gate around 5pm.
Jameela and her daughters-in-law Seema, 36, and Salma, 34, fell to their knees and begged for mercy. Their husbands Mobin, 42, and Yamin, 40, sought "forgiveness" with folded hands.
One of the attackers told them to run up to the roof, from where the family heard the house being ransacked. Their TV set, a child's tricycle, two scooters and a motorbike parked on the ground floor were set on fire.
The rioters had also taken away around Rs 20,000 in cash and some jewellery, the family later found.
From the roof, they had heard someone shout "petrol". Minutes later, flames began leaping up from below and the roof started getting hotter and hotter. Three of the children began vomiting as smoke and soot engulfed the roof.
"We were so horrified…. The children began crying but we asked them to keep quiet, lest it instigate the mob to come and get us. We asked them to pray. The elders too started reciting Quranic verses to keep calm," Seema said.
She said the family had covered themselves with tarpaulin sheets to make it difficult for the mob to see them in the dark even if they invaded the roof. "Nobody came. Since they had set the house ablaze, they must have assumed we were already dead."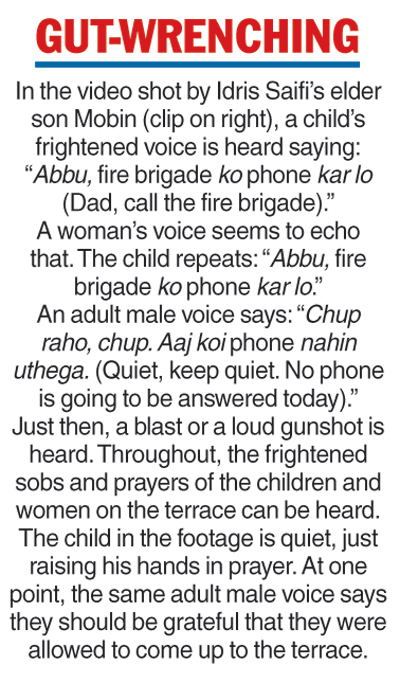 None in the family dared call the police, for they had learnt from WhatsApp messages that the police were on the side of the rioters.
"We had seen a video message, being circulated on social media, which claimed a Muslim man who had called for help was told by a male cop: "You people want azadi (freedom); they (the attackers) are giving you azadi," Mobin said.
"With death staring at us, I had dialled 100, the police emergency number, but immediately disconnected the call at my father's behest," Mobin added. "We had heard stories about the police colluding with the rioters during the 2002 Gujarat violence and alerting the mobs about the locations of Muslims who had called for help."
Akali Dal MP Naresh Gujral has revealed how Delhi police had failed to act even after he had informed them on Wednesday about 16 Muslims being trapped in a house surrounded by a mob.
From the roof, the Saifis heard screams from adjacent Muslim homes — there were 12 in the neighbourhood — that had been set on fire too. They also heard people shout: "Burn them alive; throw them into the drain."
"We don't know what happened to the other families. Several of their relatives have called us to say that all of them are missing," Mobin said.
At midnight, the family had called Idris's younger brother Rahat Ali, who lives in Mustafabad, a predominantly Muslim pocket about 1.5km from Brijpuri.
"He told me to keep calm and pray to God since he could come only in the morning. He said it would be too risky at night to enter a neighbourhood where violent mobs were roaming," Mobin said.
It was around 7am on Wednesday when Rahat arrived along with 30-odd people and took the Saifis to his home.
Mobin said one image continued to haunt him. As the rioters — who he said were mostly outsiders — marched through their lane through Tuesday morning, he had seen some of his Hindu neighbours point out the Muslim homes to them.
"Our own neighbours pointed us out. We, Hindus and Muslims, had lived together in Brijpuri for so many years," Mobin said.
"This is what happens when people's minds are poisoned with hate."
Idris believes the rioters were foot soldiers responding to a narrative, built by politicians, that portrays Muslims as "traitors" in their homeland.
"We were all born here and will die here; how dare anyone call us traitors?" Idris said. He broke down, saying: "We have lost everything…. They have destroyed everything."
Mobin said the family would never return to the neighbourhood. "We have lost faith in the administration and in the Hindus among whom we lived for so many years. The trust has gone; we don't want to go there to die. We will now rent a house here," he said.
He added: "Here, we are among our own people."
Idris said he had a message for Prime Minister Narendra Modi. "If my son goes astray, I am responsible. The people who did this are Modi's supporters. He should take strong action against them. He is the Prime Minister of the country; it's his constitutional duty to ensure everyone lives in peace."
Idris recited a Urdu couplet for Modi's benefit: "Tu idhar udhar ki na baat kar ye bata ki qafila kisne luta/ Mujhe rehzanon se gila nahin teri rehbari ka sawal hai (Don't beat about the bush, tell me why the robbery took place/ I haven't much of a complaint against the robbers, but the credibility of your leadership is at stake)."