'We are in a disaster-like situation'
Covid: AIIMS doctor speaks of traumatic choices
The institute was on Sunday night bursting with patients, occupying almost all beds and its emergency department where over 24 patients were on critical care support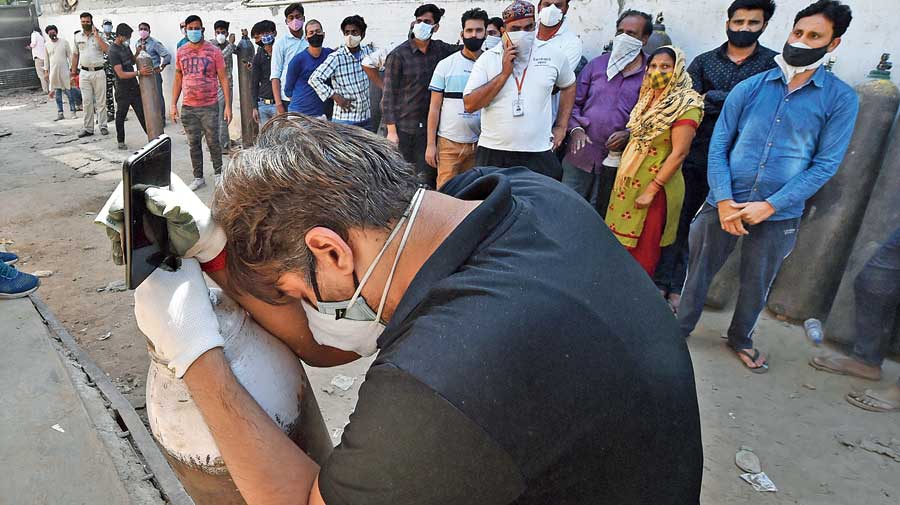 A relative of a Covid-19 patient waits to refill a cylinder with medical oxygen at Badarpur in Delhi on Sunday.
PTI
---
New Delhi
|
Published 26.04.21, 01:50 AM
|
---
Suvrankar Datta, a Covid-positive doctor isolated in his room in a Delhi apartment, hopes his infection remains mild as he is unsure he will get a bed easily even at the hospital where he works — the All India Institute of Medical Sciences (AIIMS), Delhi.
The institute, where Datta is pursuing postgraduate studies in radio-diagnosis, was on Sunday night bursting with patients, occupying almost all its beds and its emergency department where over 24 patients were on critical care support and more than 100 were on "oxygen points".
As India's second Covid-19 wave continues to surge with more than 349,000 new patients recorded nationwide on Sunday morning, doctors say hospital beds, oxygen and even some medicines are in short supply in the hardest-hit locations.
"Over a 24-hour period, we now get between 100 to 150 patients who require oxygen support. We hold them, providing all support we can, until a hospital bed becomes available," said a senior resident in the emergency department.
"We have some patients here three or four days, waiting for a bed. We're helpless."
A patient can be moved only when a bed becomes available either at the AIIMS Trauma Centre or the AIIMS facility at Jhajjar (Haryana), both managing Covid-19 patients. A bed becomes available only after a patient is ready for discharge or dies.
Under the limited resources, one resident said, emergency department doctors now often face difficult triage choices — deciding which patient the available resource should go to — 
almost every day.
"We're in a disaster-like situation. If we have a 28-year-old and an 80-year-old and both need critical life-saving intervention, we'd offer it to the 28-year old," the resident said. "We're helpless; we have to do this to save as many lives as we can."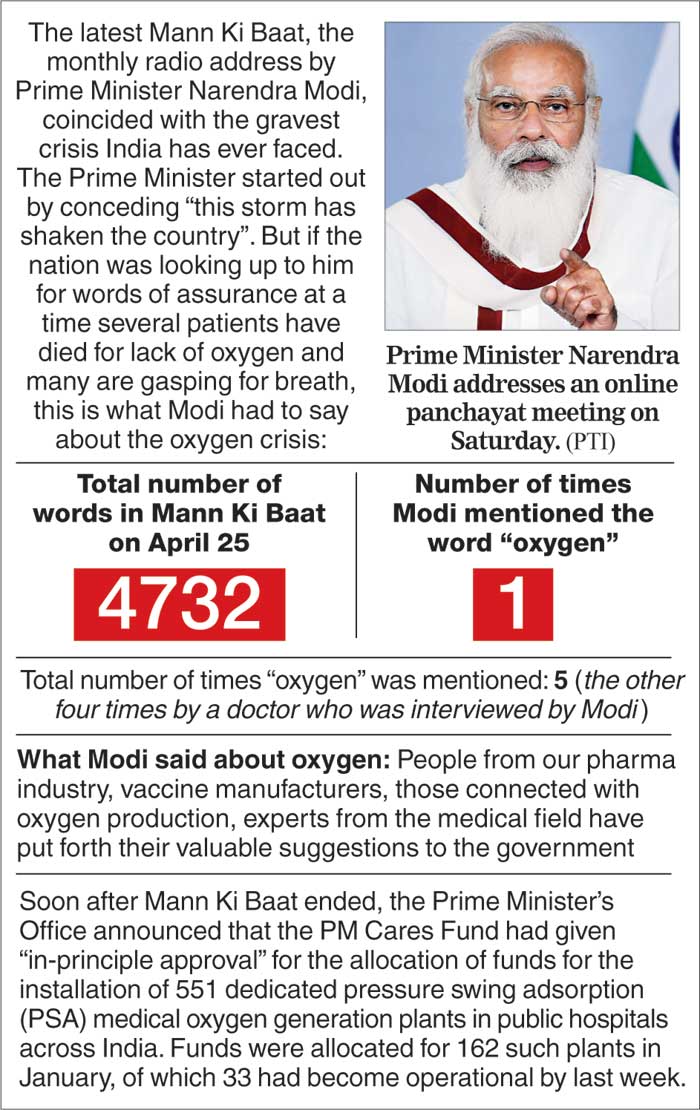 Datta, who grew up in Calcutta and obtained his MBBS from the Jawaharlal Institute of Postgraduate Medical Education and Research, had been on emergency duty before he tested positive on Friday. He is now on a standard prescribed regimen of vitamin C, zinc, doxycycline, ivermectin, steam inhalation four times a day and gargles twice a day.
"I'm hoping I won't need a bed," he said on Sunday. "We expect the demand for beds to go up in the coming days."
Doctors say about 90 per cent of Covid-19 patients develop mild illness, do not require hospital care and recover with supportive treatment at home. But the second wave has surged so fast in some places that the numbers of patients have far exceeded the available hospital beds.
A Delhi government dashboard available via a mobile app that tracks bed availability across the national capital every few hours showed on Sunday night that 4,662 of the 4,675 available intensive care unit beds were occupied. Only 13 were available, 2 at the AIIMS Trauma Centre and 11 at the Madhukar Rainbow Children's Hospital.
"The app is misleading. We have over 100 patients in emergency waiting to be shifted," said the senior resident in the emergency department. "Misleading information brings great inconvenience to people who see the status on the app and rush to AIIMS to get beds."
AIIMS director Randeep Guleria told The Telegraph that the institute had over 900 Covid-19 patients admitted along with trauma and cancer patients. "Our beds are not vacant; we're trying our best," Guleria said.
Guleria and other doctors are worried that panic among sections of the public is exacerbating the strain on hospitals, staff and resources.
"Eighty-five to 90 per cent of patients do not need any hospital care, neither oxygen support nor drugs like remdesivir," he said.
Clinical management guidelines updated by the AIIMS earlier this week iterate that patients whose oxygen levels are above 92 do not need hospital care. But doctors are concerned that some patients or their families have procured oxygen cylinders or the antiviral drug remdesivir.
"A patient whose oxygen level changes from 97 to 96 or 95 shouldn't assume that he or she is deteriorating," said a senior pulmonary medicine specialist. "The guidelines are very clear: seek hospital care only below 92 or 90."