Militancy on 'last leg', year
On June 2 last year, Singh yet again claimed that militancy was in its 'last stage' in Kashmir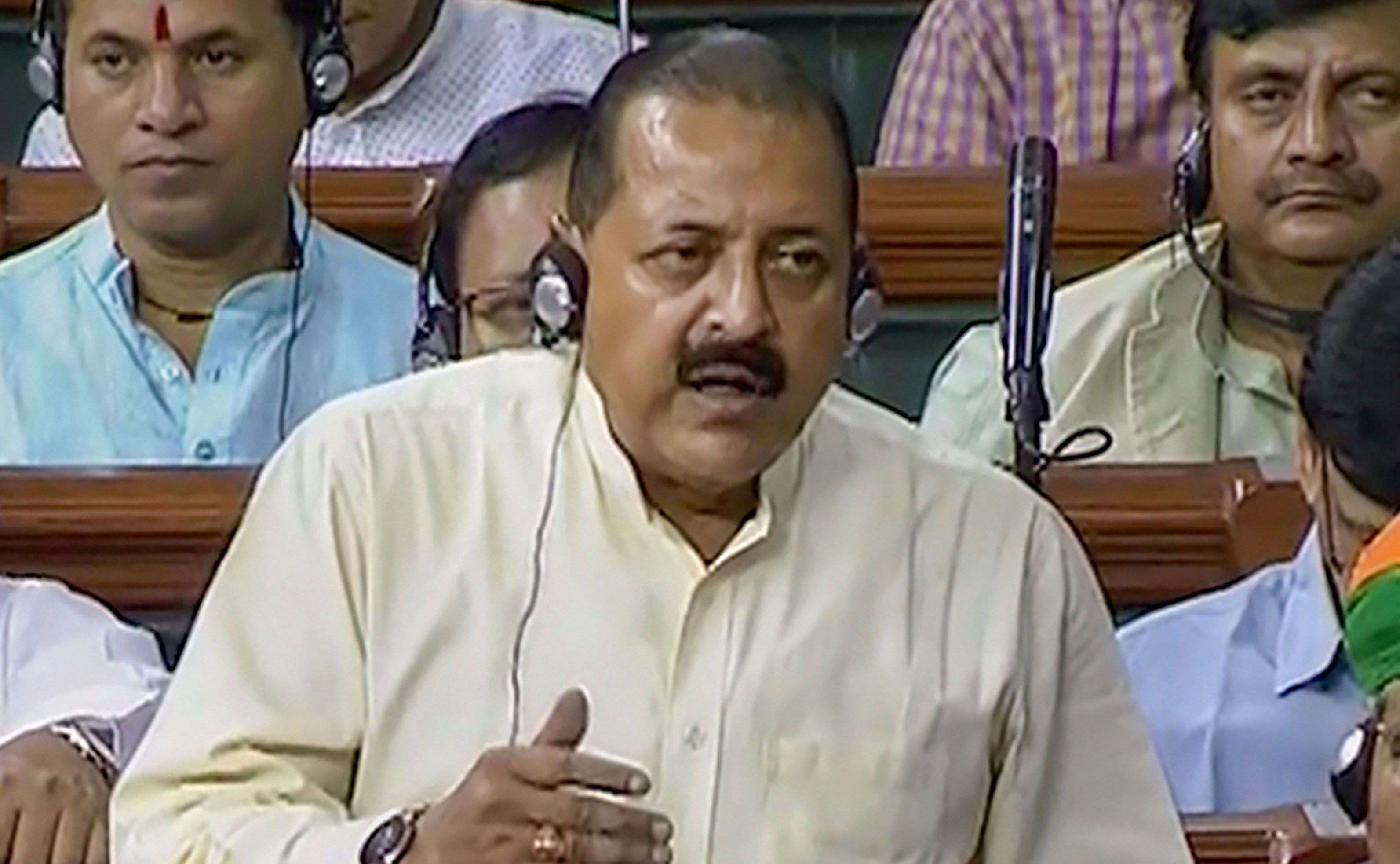 Jitendra Singh, who represents Jammu's Udhampur in Parliament, last month repeated in the Lok Sabha his claim that militancy in the Valley had "entered its last phase".
(PTI)
---
Srinagar
|
Published 28.07.19, 08:26 PM
|
---
Militancy should have long ended in Kashmir had Union minister Jitendra Singh's assertions come true, but official figures on casualties and new recruits suggest there is no let-up in bloodletting in the Valley.
Singh, the MP from Udhampur in Jammu, last month repeated in the Lok Sabha his claim that militancy had "entered its last phase".
"We are going through the last phase of militancy in Kashmir. You note this, and after a few months we will again deliberate on this," the news agency PTI quoted him as saying during a debate on the Jammu and Kashmir Reservation (Amendment) Bill.
Singh, the junior minister for Northeast development and the Prime Minister's Office, alleged that "vested interests" were facilitating the continuance of militancy, a possible reference to the two key Kashmir parties — the National Conference and the People's Democratic Party.
"Now I am making a serious allegation before I conclude and I have no hesitation in saying it. There is a vested interest in Kashmir in the continuation of militancy," Singh said.
"And this vested interest is not confined to other sections of society, but even the so-called mainstream parties which are beneficiaries of low voter turnout, beneficiaries of holding elections in an atmosphere of intimidation, which enables them to carry on their dynasty rule," he added.
Singh has for several years been claiming that insurgency was dying out.
In July 2017, the minister had said militancy in Jammu and Kashmir was on its last leg and that "the authorities are closing in on terrorists as part of a strategy to wipe out such forms of violence from the region".
Singh claimed the Centre was even looking to retrieve Pakistan-occupied Kashmir.
The declaration had come after a militant attack on Amarnath pilgrims in which eight persons were killed.
A few months later in December, two Kashmiri youths, including 16-year-old Fardeen Khanday, carried out a suicide attack on a CRPF camp in which four personnel were killed. It was the first instance in years of a local joining the ranks of the fidayeen.
On June 2 last year, Singh again said militancy was in its "last stage" in Kashmir.
"Six hundred militants have been killed during the period (two years) and this is much higher than the number of militants killed during the UPA-I and UPA-II (governments). Terrorism in the Valley is in its last stage," he said.
However, 2018 ended as Kashmir's bloodiest year in a decade. According to official figures, around 450 people, including nearly 100 civilians and around 100 security forces, lost their lives to militancy.
In January this year, Singh again said the three-decade-long militancy was in its last phase. Yet again, the minister's claim came under strain. On February 14, Kashmir witnessed its deadliest attack in three decades when a suicide bomber, local resident Ahmad Dar, rammed his explosives-laden vehicle into a CRPF bus in Pulwama, killing 40 troopers.
After months of speculation that the army had launched an "Operation All-Out" against militants, governor Satya Pal Malik, now in charge of the Jammu and Kashmir administration, publicly denied any such drive.
Police sources said militants continued to draw recruits despite suffering casualties in almost-daily encounters in the Valley.
According to police sources, 101 militants have been killed in the first five months of this year. The sources said that despite this, around 50 local youths had joined militancy since March. Around 191 local youngsters took up insurgency last year.
In February, the army's Northern Command chief, Lt Gen. Ranbir Singh, said the number of militants in Kashmir ranged between 350 and 400, although police estimates put the figure at around 100 less.
The number of militants is much higher than that in 2013, the last full year of UPA rule, when only 78 militants were active in the Valley and only six Kashmiri youths joined insurgency.
Another worrying development for the security establishment has been that militancy is rearing its head again in Jammu's Kishtwar district, which had been declared insurgency-free long back.