Vote out Modi to save country: Mamata
Mamata appealed to the BJP's "sister organisations" not to help the Modi-Shah combine return to power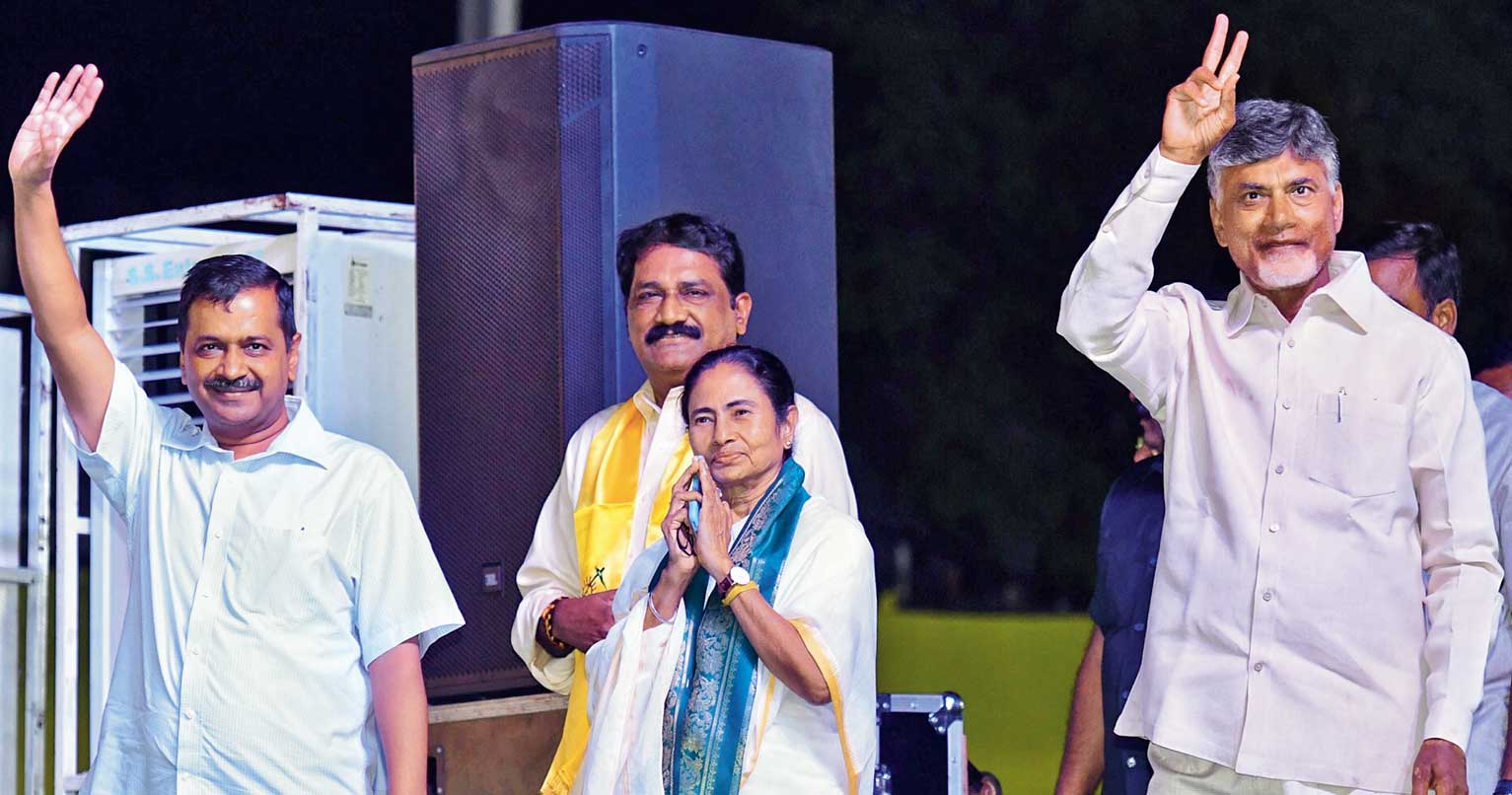 (From left) Arvind Kejriwal, Mamata Banerjee and N Chandrababu Naidu at the rally in Visakhapatnam on Sunday.
(PTI)
---
Calcutta
|
Published 31.03.19, 08:30 PM
|
---
Three non-Congress Opposition chief ministers on Sunday issued a call to vote out the Modi-Shah duopoly that, they said, had not only created a climate of fear in the country but also succeeded in realising Pakistan's agenda of dividing India on religious lines.
Coming out in support of Telugu Desam leader Chandrababu Naidu in his quest to stay in office in Andhra Pradesh at an election rally in Visakhapatanam, Bengal chief minister Mamata Banerjee and her Delhi counterpart Arvind Kejriwal said this election was like no other in the past.
"They are the chowkidars of loot and lies,'' Mamata said, and asked how Prime Minister Narendra Modi could lie so much day in and day out and not be ashamed of it.
On the question of who would be the next Prime Minister if not Modi, Mamata said: "People of India will decide; we will have a janata ki sarkar (people's government)."
Earlier, Kejriwal had answered the "If not Modi, who?" question with a tumour analogy: "If you have a tumour, will you ask 'if not tumour, then who?'."
Billing the Modi government as the most corrupt government in 70 years and demonetisation as the biggest scam in independent India, Kejriwal said the gravest crime committed by the Modi-Shah duopoly was the way they had injected hatred into India's body politic and divided the country at various levels.
"They have pitted Hindus against Musilms. In Haryana, they have turned Jats against non-Jats, in Maharashtra Marathas against non-Marathas, in Gujarat Patels against non-Patels.… No country can progress if it is divided within. Pakistan has wanted to divide India along religious lines for 70 years. What Pakistan could not do in 70 years, the Modi-Shah duopoly has managed to do in five years," he said.
Echoing his Bengal and Delhi counterparts, Naidu reminded the gathering of how Modi had failed to keep his promise made in the 2014 Lok Sabha election campaign to provide special category status to Andhra Pradesh in view of the bifurcation.
Mamata appealed to the BJP's "sister organisations" not to help the Modi-Shah combine return to power.
"I want to appeal to the sister organisations of the BJP…. If you love your country, don't help, don't help, don't help Modi and Amit Shah. If they come back to power, the freedom of the country will be gone," Mamata said.
"I have not yet started the election campaign in Bengal. I have come to Andhra Pradesh first. Vote against BJP across the country… in Andhra vote for Chandrababu, in Delhi vote for Arvind, in UP vote for SP-BSP-Ajit Singh. Vote for anybody who is against the BJP in order to save the country," she said.
Claiming that the BJP would not get more than 125 out of the 543 Lok Sabha seats across the country, Mamata asked countrymen to vote judiciously.
"This election is significant and very special. You must vote wisely. We have to fight for the country but there are not many people to take on the fight…. Modi and his party president are targeting and intimidating all Opposition leaders," she said.
Highlighting Modi government's "failure" in almost all sectors, Mamata said: "Modi said demonetisation would bring down terrorism, instead it had grown during his tenure. The country is burning. They are killing people and spreading politics of hatred and riots across the country."