Mamata dares Modi to mantra contest
In a bid to check Modi's aggressive brand of Hindutva, the TMC chief repeatedly underscored her Hindu credentials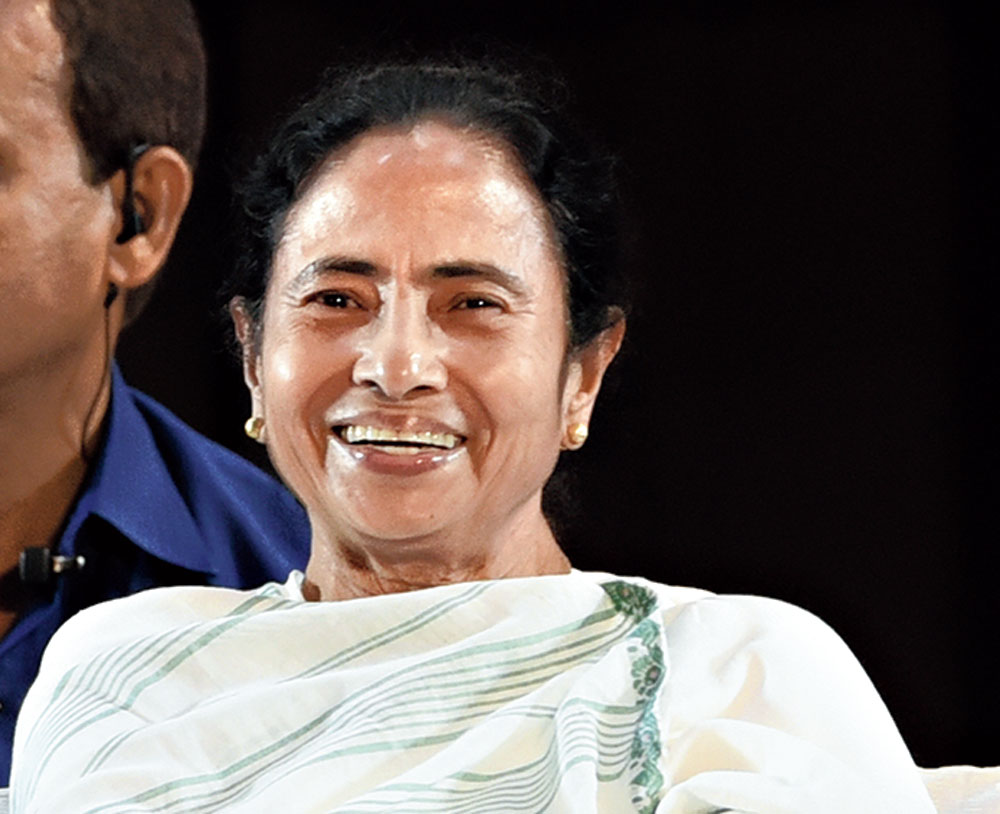 ---
Calcutta
|
Published 19.03.19, 08:45 PM
|
---
Chief minister Mamata Banerjee on Tuesday challenged Prime Minister Narendra Modi and BJP president Amit Shah to a mantra-chanting contest, questioning the Sangh parivar's self-styled status as the custodian of Hinduism.
"True worship does not mean sporting a tilak on the forehead…. I challenge Modibabu and Shahbabu to compete with me in chanting mantras," Mamata said at a pre-Holi get-together organised by the International Marwari Federation.
The federation has for years been organising pre-Holi congregations, which
Mamata had attended in 2014 and 2016, both election years.
She had both times highlighted how her party had stood by the state's Marwari community and asserted they were sons of the soil.
This evening's message was a little different, with Mamata emphasising her Hindu identity but seeking to contrast her Hinduism with the Sangh parivar version.
"I believe in celebrating Holi with colours and a pure mind, unlike some leaders who believe in playing Holi with the blood of others," she said to loud cheers at the Nazrul Manch event.
Among the audience were industrialists Sanjay Budhia of Patton, M.K. Jalan and his son Mayank of the Keventer Group, and K.K. Mittal of the PCM Group. Trinamul's Dinesh Bajaj, the event's chief organiser, said that around 1,800 people had turned up.
Mamata's speech suggested she was trying to send a message across to the state's 17 lakh Marwaris, many of whom the BJP considers as its supporters.
"She sought to underline that she too was a Hindu but didn't support Modi's brand of aggressive Hindutva," a businessman said.
The Marwari community's votes can decide the outcomes in the Calcutta North, Calcutta South and Howrah Lok Sabha seats. A few north Bengal seats too have significant Marwari populations.
Since the summer of 2017, the Trinamul chief has been highlighting her support for Hindus in political addresses, switching from her practice of asserting only her secular credentials. The subtle shift followed an upsurge in Sangh parivar activism in the state, which raised fears of polarisation.
Sources close to Mamata believe that a dose of "soft Hindutva" in her campaign can help check the spread of the parivar's hard-line Hindutva in Bengal.
During a brief address, Mamata repeatedly underscored her Hindu credentials -– while stressing the importance of communal amity -– and the development initiatives her government had taken for Hindu religious sites such as Dakshineshwar, Gangasagar, Tarapith, Tarakeshwar and Kalighat.
She also named several Hindu festivals, asking whether anybody in Bengal faced problems celebrating them.
"Some people only make tall promises without trying to fulfil them…. They use the Ram Mandir only as political rhetoric before elections," she said. "We don't believe in the religion of hatred. We believe in humanism."
Mamata brought up the change the country "needs". "The people of the country must love the leader of the nation. Now, they are all afraid of the person who leads. There is a reign of fear," she said.
With Mamata were party seniors Subrata Bakshi, Calcutta mayor and urban development minister Firhad Hakim, fire services minister Sujit Bose, Bidhannagar Municipal Corporation chairperson Krishna Chakraborty and Calcutta Municipal Corporation chairperson Mala Roy, also the Calcutta South candidate.