Vice-President Venkaiah Naidu's family donates to Ram temple and Covid fight
He said the construction was 'much more than a religious affair'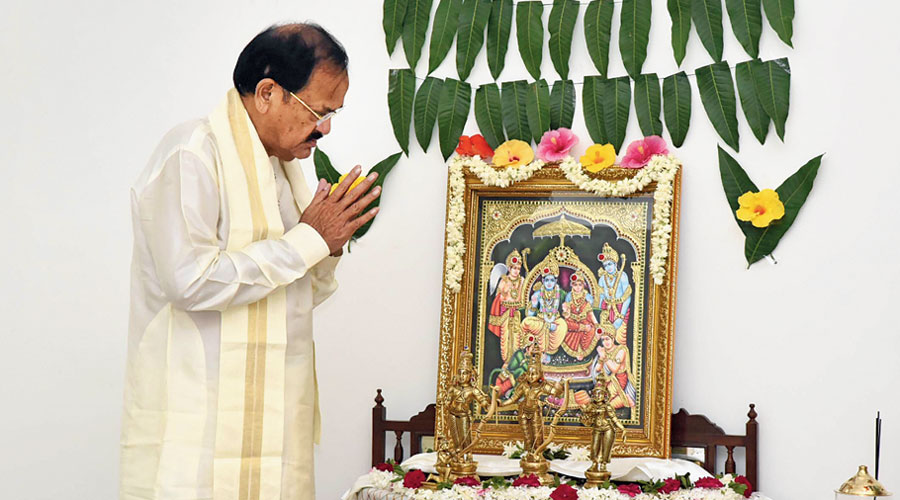 ---
---
Vice-President Venkaiah Naidu on Wednesday used the word "re-coronation" to welcome the construction of the Ram temple as ministers and BJP leaders laced their celebration of what they perceive as the victory of Hindu faith with chants of Jai Shri Ram.
Naidu, whose family members have together donated Rs 5 lakh for the construction of the temple, wrote on Facebook that the building of a shrine to Lord Ram at his birthplace "is more a re-coronation of the highest human values of truth, morality and ideals" epitomised by Ram.
Naidu, who had for long been associated with the BJP before becoming Vice-President, said the construction of the temple was "much more than a religious affair". "...The structure will stand as a tribute to the best of timeless human values," he said.
Later, government publicity wing Press Information Bureau put out a release saying Naidu's family had donated Rs 10 lakh — Rs 5 lakh each for the construction of the Ram temple and the fight against Covid.
As the Vice-President sought to underline his faith in the Ram temple, ministers and BJP leaders created a feverish pitch of chanting "Jai Shri Ram" on social media, although Prime Minister Narendra Modi had opted for the gentler call of "Jai Siya Ram" to celebrate the start of the construction of the temple at Ayodhya.
From home minister Amit Shah to BJP president J.P. Nadda, senior leaders peppered their tweets with "Jai Shri Ram", which has over the years since the temple agitation in the early 90s been turned into an aggressive battle cry by the Sangh parivar.
"For centuries, the construction of a Ram temple in Ayodhya has been the symbol of faith of Hindus across the world," Shah, receiving treatment for Covid-19 in hospital, tweeted in Hindi, adding that the faith of crores of people had been respected by the bhoomi pujan on Wednesday.
BJP chief Nadda also used "Jai Shri Ram" in his tweet.
The official Twitter handle of the BJP deployed the hashtag "JaiShriRam" for posts on the temple construction.
Finance minister Nirmala Sitharaman posted a picture of a rangoli at the temple in her home that had "Om Shri Ram Jayam" written on it. Sita, whose name is part of the "Jai Siya Ram" chant revived by Modi on Wednesday, did not find mention in the rangoli.
Law minister Ravi Shankar Prasad, who has isolated himself as he had met Shah a day before the home minister tested positive for Covid, tweeted a picture of an illustration from the Ramayana in the original Constitution to underline the importance of Ram.
Along with the Ram temple, the ministers and BJP leaders didn't forget to tweet celebrating the first anniversary of the abrogation of Article 370 through which the special status of Jammu and Kashmir was cancelled on this day last year.