Report contradicts what Modi said on 'transgression'
Vanished: Red-hot document on China
The report had contradicted what Modi said on 'transgression'
---
New Delhi
|
Published 07.08.20, 03:50 AM
|
---
An official document acknowledging China had "transgressed" into eastern Ladakh was quietly removed from the defence ministry website on Thursday.
Ministry officials said this was done as the document contradicted Prime Minister Narendra Modi's June 19 assertion that none had entered Indian territory or captured Indian posts.
Uploaded on Wednesday, it was the first government document to admit to Chinese intrusion across the Line of Actual Control, which happened in early May and snowballed into a clash in the Galwan Valley on June 15, killing 20 Indian soldiers.
"It was taken down this morning following instructions from the top brass as it could have triggered a political controversy," a defence ministry official told The Telegraph on Thursday. "Somehow, it had escaped us that its content did not match the Prime Minister's earlier statement."
"Chinese aggression has been increasing along the LAC and more particularly in Galwan Valley since May 5, 2020. The Chinese side transgressed in the areas of Kugrang Nala, Gogra and north bank of Pangong Tso Lake on 17-18 May, 2020," the document said.
It added: "The situation in eastern Ladakh arising from unilateral aggression by China continues to be sensitive and requiring close monitoring and prompt action based on evolving situation."
The document, titled "Chinese Aggression on LAC", was part of the website's "What's New" section. Its ambit was the month of June, ministry sources said.
"It was part of the routine updates and reports, based on the ground situation, that the ministry uploads regularly on its website," a ministry official said.
A defence ministry spokesperson refused comment.
Kugrang Nala refers to Patrolling Point 15, north of Hot Springs and Gogra PP-17A and adjoining the Pangong Lake, where Chinese troops have held on to newly acquired territory up to 8km inside India-claimed lines despite five rounds of military talks.
The Chinese have also occupied territory up to 18km within India-claimed lines in the Depsang Plains in northern Ladakh, but the document restricts its focus to eastern Ladakh.
Four days after the clash that killed 20 Indian soldiers, Modi had said: "Na wahan koi hamari seema mein ghus aaya hai aur na hi koi ghusa hua hai, na hi hamari koi post kisi dusre ke kabje mein hai (Neither has anyone intruded into our frontiers there, nor is any intruder there, nor is any of our posts occupied by someone else)."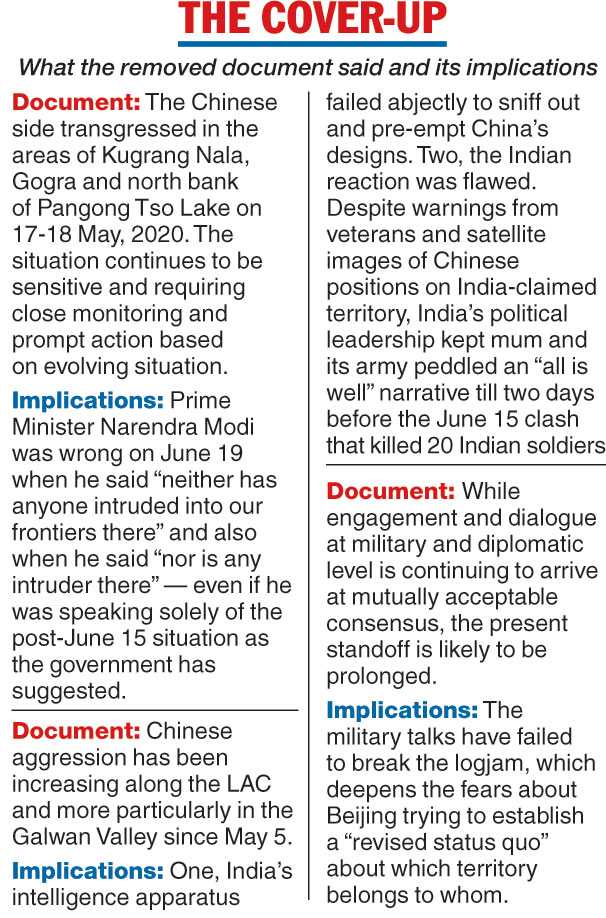 The government has since then only added the qualification that the statement referred to the post-June 15 situation, thus reaffirming that no intruders have been occupying Indian territory for the past 52 days.
Two days before Modi's statement, India's foreign ministry had said: "The Chinese side sought to erect a structure in Galwan Valley on our side of the LAC. While this became a source of dispute, the Chinese side took premeditated and planned action that was directly responsible for the resulting violence and casualties."
Ministers have since Modi's statement largely tried to avoid the topic of Chinese intrusion.
Last month, defence minister Rajnath Singh tied himself in knots trying to stick to the official line during a Ladakh visit.
He first asserted that no one could "touch or capture even an inch of Indian territory", implying there was no intrusion. He then said the "progress" of the talks suggested the situation should be resolved — implying intrusion. Finally, he said he couldn't give any "guarantee" (of a resolution).
The ministry document said that following the transgression, ground-level interactions were held between the two armies to try and defuse the situation.
"(A) corps commander-level flag meeting was held on June 6. However, a violent face-off incident took place between the two sides on June 15 resulting in casualties from both sides," it said.
"Subsequently, (a) second (round of) military-level talks took place on June 22 to discuss modalities of (the) de-escalation process. While engagement and dialogue at military and diplomatic level is continuing to arrive at mutually acceptable consensus, the present standoff is likely to be prolonged."
A ground assessment by the security establishment last week had revealed that the Chinese had not disengaged from the Pangong Lake or the Depsang Plains, while the minimal disengagement at Hot Springs/Gogra did not honour the agreement struck during the fourth round of military talks on July 14.
Instead, the Chinese have made ownership claims on the areas around the Pangong Lake they have occupied, raising fears they are aiming at "a revised status quo" and dashing hopes of any progress through the military talks.
Defence ministry sources said that during the fifth round of military talks on Sunday, China had asked the Indian side to pull back from its present military position north of the Pangong Lake as part of the negotiations to break the logjam.
"This was shocking to say the least, and the Indian side rejected it outright," a ministry official said.
"They are already occupying our land in the Pangong Lake and are demanding we should move back further as a pre-condition for disengagement. Any retreat by India would mean leaving an area that is under our control. This would certainly change the status quo."
India has already retreated 1.5km within its own claimed territory in the Galwan Valley — the only area to witness substantial disengagement — in response to the Chinese pulling back by a similar distance although they are said to be still within India-claimed lines.