Vairamuthu declines ONV Literary Award after row
Decision comes following an outcry over the Tamil poet-lyricist's selection despite facing sexual harassment allegations from many women who had worked with him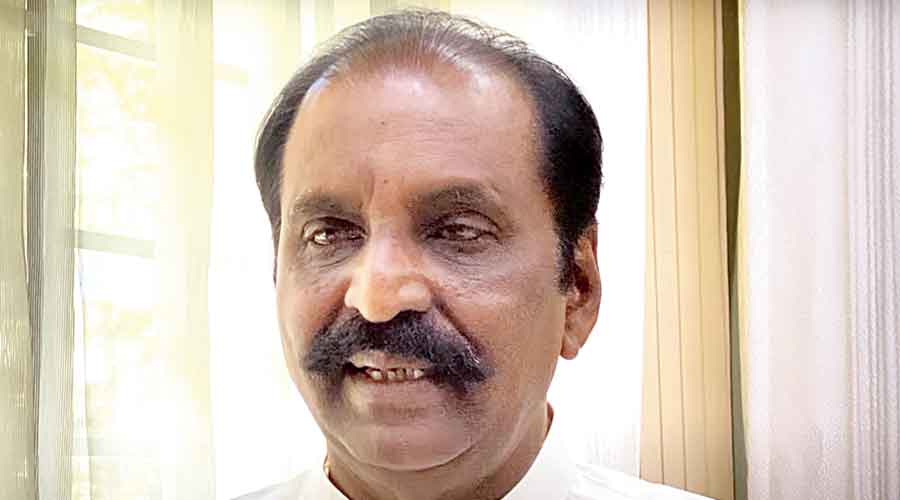 ---
Bangalore
|
Published 30.05.21, 01:14 AM
|
---
Tamil poet-lyricist Vairamuthu on Saturday backed off from accepting the prestigious ONV Literary Award in Kerala following an outcry over his selection despite facing sexual harassment allegations from many women who had worked with him.
The Thiruvananthapuram-based ONV Cultural Academy, set up in the memory of Malayalam poet O.N.V. Kurup, had on Friday announced that its jury was re-examining the decision following the uproar. Vairamuthu's nomination had been announced on Wednesday. Soon, writers and film personalities had objected to such a prestigious honour being accorded to a person who has been accused of sexual harassment by 17 women during the MeToo movement in 2018.
The poet-lyricist on Saturday tweeted a video statement in Tamil withdrawing from the award.
விருதைத் திருப்பித் தருகிறேன்...#ONVaward https://t.co/1ELyjBgnu6

— வைரமுத்து (@Vairamuthu) May 29, 2021
"The ONV Cultural Academy from Kerala had informed me that I have been chosen for its literary award for this year and I had welcomed it by thanking them," Vairamuthu said.
"But I came to know that they had decided to re-examine the award after interference from some people. I wonder whether this will belittle me and poet O.N.V. Kurup," he said.
"I am concerned that even the intellectual members of the jury would be in a delicate situation because of this. So I have decided not to accept this award," Vairamuthu added.
He claimed he was truthful and no one needed to test him. "I can say something with conviction, that is I have been very, very truthful. No one needs to test my honesty. So I have taken a well-thought-out decision and I am saying that with clarity and humility."
Vairamuthu has all along denied the allegations of sexual misconduct.
He urged the Academy to donate the prize money of Rs 3 lakh to the Kerala Chief Minister's Disaster Relief Fund and announced a personal contribution of another Rs 2 lakh.
"The prize money of Rs 3 lakh I request to be sent to the Kerala Chief Minister's Disaster Relief Fund. As a sign of my love and respect for Kerala and the people of the state, I am sending Rs 2 lakh as my contribution to the Chief Minister's Disaster Relief Fund. Let the sisterly bond between Kerala and Tamil Nadu prosper," he said.
Vairamuthu ended the message by thanking Tamil Nadu chief minister M.K. Stalin and the Tamil diaspora who had congratulated him on being named for the ONV Literary Award.