UP elections: Priyanka projects herself as 'face' of Congress
Rahul said the manifesto marked an attempt to give India a 'new vision', and asserted that the party alone could do this — not the BJP, not the 'smaller parties'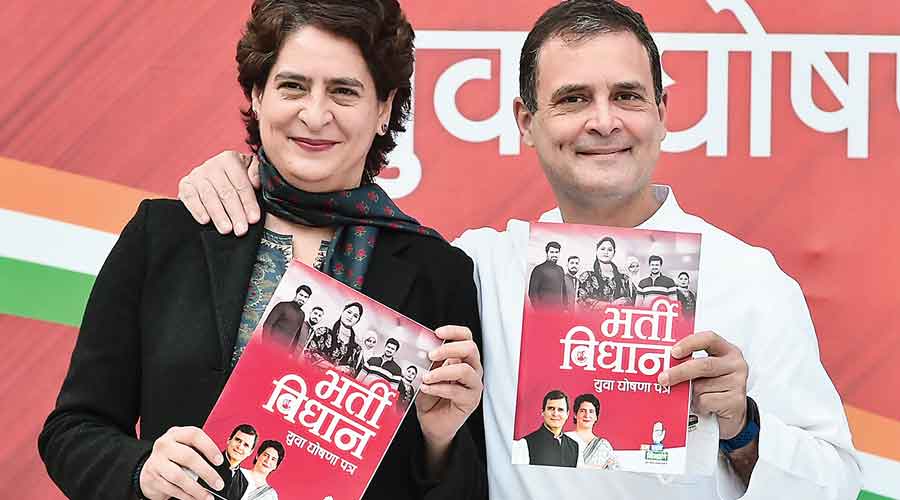 Priyanka and Rahul at the launch of the Employment Manifesto in New Delhi on Friday.
PTI Photo
---
Lucknow
|
Published 22.01.22, 02:39 AM
|
---
Priyanka Gandhi Vadra on Friday projected herself as the "face" of the Congress in election-bound Uttar Pradesh, providing the first indication that she saw a larger role for herself in the party's efforts to increase its footprint in the crucial state where it has found itself marginalised for decades.
At a news conference in Delhi where she and brother Rahul Gandhi were answering questions on the Congress manifesto for the heartland state, Priyanka had been asked who the "face" of the party would be in the Assembly elections.
"Do you see any other face from the Congress side?" the Congress general secretary in charge of Uttar Pradesh responded.
Asked again whether she would be the "only face", she said with a smile and a shrug: "What else? My face is visible everywhere."
Later in an interview to NDTV, Priyanka said: "I may contest the UP polls, but can't assume I am the Congress's chief ministerial candidate."
Even though she did try to dial back some of what she had said earlier in the day, this was the first clear sign that she was likely to take the plunge into electoral politics.
At the news conference, Rahul did not comment on this question although he often stepped in to add his two bits on certain questions his sister had already answered.
Rahul said the manifesto marked an attempt to give India a "new vision", and asserted that the Congress alone could do this — not the BJP, not the "smaller parties".
"The vision proposed by the BJP — Narendra Modi — in 2014 has completely failed. It's turning our demographic dividend into a demographic disaster," he said.
"So, India requires a new vision. This is something that most youngsters would accept. Even people in the BJP, if you ask them, will tell you that something has gone very wrong…. When you want to propose a new vision for India, you have to start from Uttar Pradesh."
Rahul said Uttar Pradesh had been the centre of resistance to British rule and that "very far-reaching ideas" had come from there.
He sought to project the fight against the Modi government as no less an effort, underscoring his contention that the Uttar Pradesh elections were more than just an electoral battle.
He added: "Every state is important but Uttar Pradesh commands a weight no other state does. So we are proposing a new way of doing things, a new imagination for Uttar Pradesh."
The Congress manifesto, titled "Bharti Vidhan" (employment manifesto), stresses employment generation and a transparent mechanism of appointments to government jobs.
जो चीज़ें दिल से, ज़िम्मेदारी और ईमानदारी से की जाती हैं उनका नतीजा अच्छा ही होता है।

यूपी की जनता को और कांग्रेस के हर कार्यकर्ता को मेरी शुभकामनाएँ।#कांग्रेस_का_भर्ती_विधान pic.twitter.com/tALA3FwCdS

— Rahul Gandhi (@RahulGandhi) January 21, 2022
Priyanka described it as "a document of hope for the seven crore youths of Uttar Pradesh". Reading out from its pages, she said: "The Congress will give 20 lakh jobs (to youths), of which 8 lakh would be for women."
She listed job vacancies in various state government departments: 1.5 lakh unoccupied teaching posts at primary schools, 38,000 in secondary schools, 8,000 in higher education; 6,000 vacant posts of doctors, 20,000 of Anganwadi workers and 27,000 of Anganwadi assistants; 1 lakh vacancies in the police.
Priyanka promised that these would be filled if the Congress was voted to power.
She asserted a need for 2,000 more Sanskrit teachers and 4,000 Urdu teachers. She accused the state government of withholding the appointments of 32,000 physical instructors in schools.
Asked how much filling these posts would cost, Priyanka said: "Chief minister Yogi Adityanath's budget for publicity is higher than what we need to give jobs to the youths of the state."
Rahul said: "This (manifesto) doesn't echo the voice of the Congress party alone. The Congress has held meetings with youths of Uttar Pradesh and incorporated their views in the manifesto."
Replying to a question, he said this election manifesto would not be implemented in other (Congress-ruled) states.
"Normally in the Congress, we don't order the state units from above and we accept the ideas that come from the state. We generally don't say that what we are doing in a particular state (Uttar Pradesh) will be done in other states as well. This is not our style of working," he said.
Rahul said that about 880 youths were losing their jobs in Uttar Pradesh every 24 hours, and that about 16 lakh youths had lost their jobs in the past five years of BJP rule in the state.
He underlined that Modi had promised two crore new jobs in the country every year.
"It couldn't happen because the wealth of the country was given to two-three industrialists," Rahul said.
Some of the promises in the manifesto:
⚫ No fares on buses and trains for those travelling for exams or interviews connected to government jobs.
⚫ No fees for filling in employment forms.
⚫ Release of "job calendars" containing the dates of recruitment exams, interviews, results and appointments.
⚫ Stringent punishment for those who leak question papers or violate other exam norms.
⚫ Student's union elections in colleges and universities.
⚫ A rehabilitation institute in Lucknow for drug addicts, with four branches at other parts of the state.
⚫ An annual youth festival to provide youths with cultural and artistic exposure.
⚫ A cricket academy of international standards besides other sports academies.
Asked whether the Congress might look for alliances if there's a hung Assembly, Priyanka said: "If such a circumstance arises, I would be open to considering that…. We would certainly want our agenda for the youth and women to be fulfilled if we are going to be a part of any such dispensation."