US help to watch China
Agreement to also allow the US to share sensitive satellite and sensor data that would help India in striking military targets with accuracy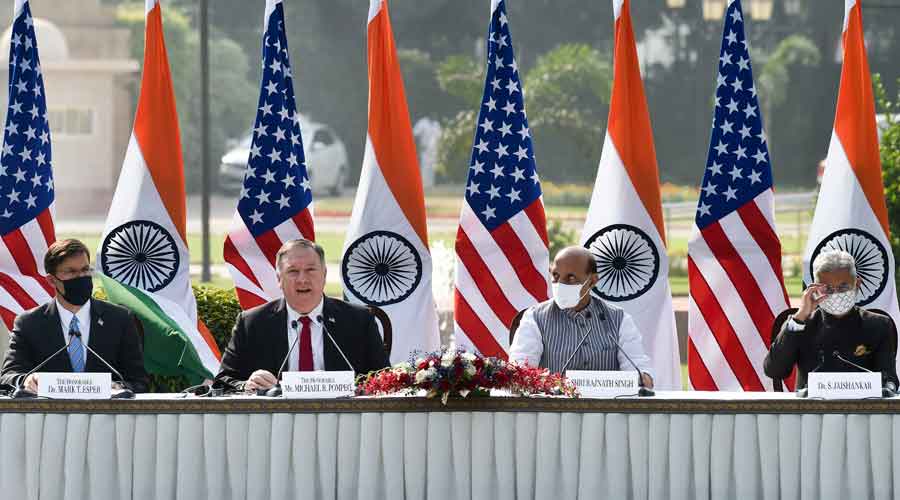 Defence minister Rajnath Singh, foreign minister S Jaishankar, US Secretary of State Mike Pompeo and Secretary of Defence Mark Esper at Hyderabad House in New Delhi on Tuesday.
PTI
---
New Delhi
|
Published 28.10.20, 12:20 AM
|
---
India and the US on Tuesday signed the long-awaited Basic Exchange and Cooperation Agreement (BECA) for geospatial intelligence during the 2+2 ministerial dialogue.
In the third edition of the talks, foreign minister S. Jaishankar and defence minister Rajnath Singh held a meeting with US secretary of state Mike Pompeo and defence secretary Mark Esper to expand their bilateral military relationship at a time China has been increasingly flexing its muscle in the region.
Terming it a "significant achievement", Rajnath said: "In our meeting, we shared assessment of the security situation across the Indo-Pacific. In that process, we reaffirmed our commitment to peace, stability and prosperity of all countries in this region.
"We also agreed that upholding the rules-based international order, respecting the rule of law and freedom of navigation in the international seas and upholding the territorial integrity and sovereignty of all states are essential."
BECA for geospatial cooperation is essentially a communication agreement between the National Geospatial-Intelligence Agency of the US department of defence and India's defence ministry. It will allow India and the US to share military information, precision data and topographical imagery on a real-time basis.
The agreement will also allow the US to share sensitive satellite and sensor data that would help India in striking military targets with accuracy. It will also help Delhi to keep a close eye on the movements of Chinese warships in the Indian Ocean.
"BECA will help both India and the US to counter China's growing influence in the Indo-Pacific region. Chinese navy has been taking an assertive stance in the South China Sea and challenging India's domination in the Indian Ocean. BECA will help India to keep track of China's increasing presence in the Indian Ocean region," said an Intelligence Bureau official.
The UPA government had earlier raised concerns over BECA on protection of classified information and access to classified laboratories in India.
"These concerns have been addressed as most of the information shared will be unclassified. For sharing classified information there is a clause in the pact with safeguards to prevent it from being shared with any third party," the IB official said.