'Urban naxals', Congress spreading rumours on CAA: Modi in Delhi
The Prime Minister kicked off BJP's campaign for Delhi Assembly polls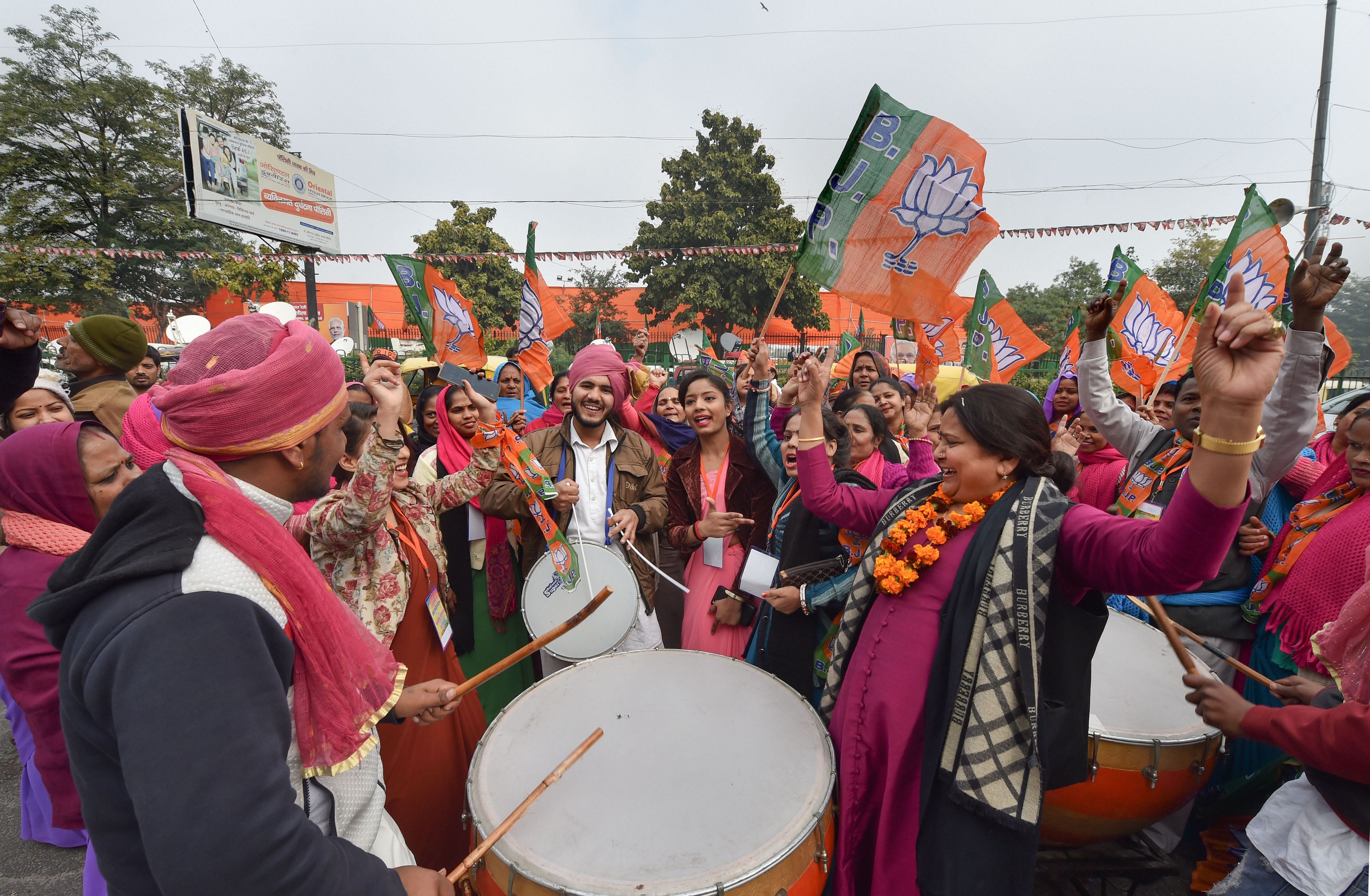 BJP supporters during Prime Minister Narendra Modi's rally at Ramlila Maidan, in New Delhi, Sunday, December 22, 2019.
PTI
---
New Delhi
|
Published 22.12.19, 10:13 AM
|
---
Opposition Congress and 'urban naxals' are spreading rumours that all Muslims will be sent to detention centres, Prime Minister Narendra Modi said on Sunday, accusing his rivals of stoking fears among people and misleading Muslims over the amended citizenship law.
'They (urban naxals) are spreading rumours that all Muslims will be sent to detention centres. I am amazed that even the educated people are asking what is a detention centre,'  Modi said, adding that people should refrain from falling for such rumours.
'Yeh Jhooth hai (This is a lie),' shouted the Prime Minister thrice as the crowd loudly applauded and chanted his name. 
The Prime Minister reiterated that the government is not against any religion, and asserted that the Centre's schemes have never done any discrimination on the basis of religion.
Modi, who was addressing a rally at Ramlila Maidan in New Delhi, said the Citizenship (Amendment) Act, 2019 (CAA), and the proposed National Register of Citizens (NRC) have nothing to do with Indian Muslims.
He said that migrants facing religious persecution tries to find government officials and gives interviews explaining his ordeal, while 'infiltrators' forge documents and stay away from interviews and government officials.
A lie is being spread that this government had brought the law to snatch people's rights, the Prime Minister said and dared rivals to find anything discriminatory in his work.
Unable to challenge him in elections, Modi asserted, his rivals have resorted to dividing the country through rumours.
Without naming the rival parties, he said people were incited by those in high positions, who shared fake videos.
The Prime Minister also trained his guns at Rajasthan chief minister Ashok Gehlot and West Bengal CM Mamata Banerjee.
He said that Gehlot used to plead for granting asylum to Hindus and Sikhs when he was the chief minister earlier. Gehlot had been the CM of Rajasthan from December 1998 to 2003 and from 2008 to 2013.
Now, he is against the issue as it affects his party's vote bank politics, Modi asserted.
He then slammed Banerjee saying that the chief minister had appealed in Parliament to stop immigrants coming from Bangladesh and help those who are religiously prosecuted.
Taking a dig at the Trinamul Congress chief, the Prime Minster asked: 'Didi, why you have changed?.... why are you afraid?'
Modi also attacked the Left parties saying they are inlduing in vote bank politics.
CPM veteran leader Prakash Karat had appealed to help those religiously persecuted, said Modi, adding that now his party is against giving citizenship to them.
Police were held accountable for acting against those who torched a bus, Modi said referring to the recent police crackdown on students of Jamia Millia Islamia following a violent protest.
'We have seen how they (Opposition parties) spread rumours on the incident of torching a bus. They held Delhi police accountable,' he said.