UP elections: Voters grill BJP MLA on unfulfilled promises
Umesh Malik had gone to Sohjani Tagaan village under Mansoorpur to hold a meeting on Sunday evening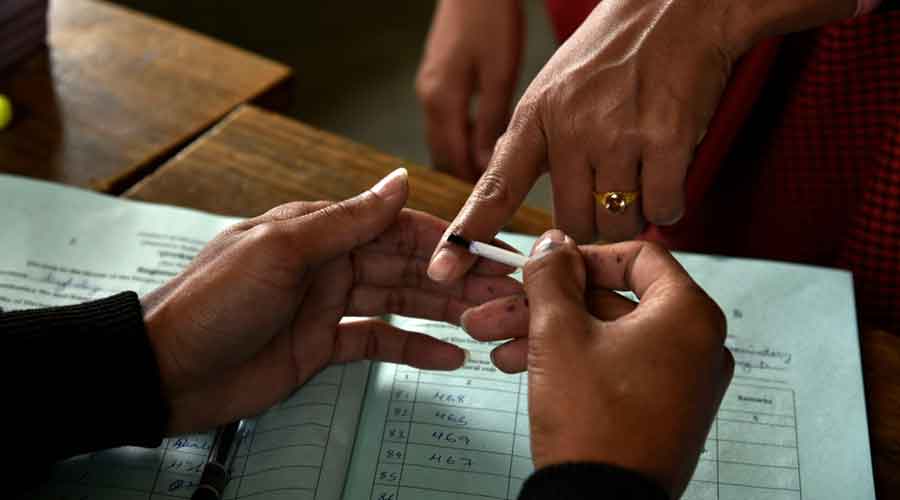 Representational image.
Shutterstock
---
Lucknow
|
Published 25.01.22, 01:31 AM
|
---
A sitting BJP MLA and the party's nominee from Uttar Pradesh's Budhana seat had to face a barrage of questions on unfulfilled promises from residents of a village where he had gone to hold a meeting on Sunday evening.
MLA Umesh Malik had gone to Sohjani Tagaan village under Mansoorpur.
"Malik was addressing a gathering on the premises of Sri Siddh Baba Sahab temple when a villager stood up and told the MLA that the village road was not constructed in the last five years. When the MLA tried to continue speaking, another youth stood up and reminded him that pure drinking water was still not available even though he had promised in 2017 that he would fix the problem after winning the election," an eyewitness said on condition of anonymity.
"The MLA tried to continue, but a third youth interrupted and asked why he was not replying to their questions. All of a sudden some followers of the politician, who were standing behind him, started threatening the youths and said they would be taken to task if they didn't stop disrupting the meeting. The angry villagers declared that they wouldn't vote for the MLA and some of them announced that they were boycotting the meeting. After that, 80 per cent of the villagers left the site," the eyewitness added.
Rajveer Singh, a villager, said people were angry with Malik because he didn't fulfil the promises of constructing a bypass and an overhead water tank.
"The villagers didn't like his speech and openly told this to the MLA who grinned and said he would take up the projects soon. However, he left when there was no one to listen to him. Those who remained in the audience were his own associates," Singh added.
Malik claimed the meeting was "very successful". "There were one or two rival party members who tried to disrupt my meeting, which was very successful," he said.
On Saturday, some residents of Kesaria village in Sirathu constituency closed their doors on deputy chief minister Keshav Prasad Maurya when he went to meet them.
Local people told the media that Maurya had gone to meet the family members of Rajesh Maurya, a zilla panchayat member missing for one week.
"The police had refused to register a missing person report. The deputy CM didn't help us at that time but came to console us when we organised a dharna and the police finally registered the case on Friday," said a relative of Rajesh.
A purported video that has surfaced on social media shows some villagers chanting slogans against the deputy chief minister and asking him to go back and the women closing their doors on his face.
Maurya said: "The Opposition is spreading false rumours against me. I was welcomed in the village."
Polling will the held in Sirathu in the fifth phase on February 27.
On January 19, villagers of Manawwarpur in Khatauli  constituency of Muzaffarnagar had chased away sitting BJP MLA Vikram Singh Saini.
According to those present at the spot, when the MLA started talking about the work done by Prime Minister Narendra Modi, and the way in which Muslims were sidelined from the mainstream because of chief minister Yogi Adityanath, a youth interrupted Saini and asked what he had done for the constituency. When Saini replied that people should think nationally, some started chanting slogans against him and the BJP.
Saini later claimed only two youths had misbehaved with him and that other villagers were with him.
"They were supporters of the Samajwadi Party-Rashtriya Lok Dal candidate Rajpal Saini. Other villagers were my supporters and they will vote for me only," the MLA had said.
Budhana and Khatauli will vote in the first phase on February 10.