UP farmers fume at stubble burning whip
Uproar against crackdown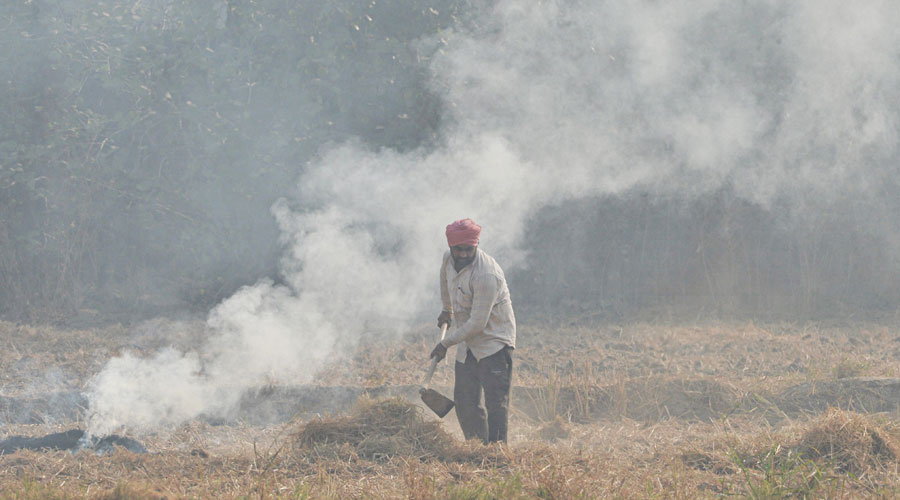 ---
|
Lucknow
|
Published 07.11.20, 03:34 AM
---
A crackdown on stubble burning by Uttar Pradesh police has infuriated farmers, underlining the challenge the government faces in implementing the anti-pollution measure at a time the agricultural community is livid with the Centre over new farm laws.
Scenes of officers dragging some of the accused farmers by their collar has led to the crop growers' frustration boiling over, with farmer leader Harnam Singh accusing the government of treating the community "like criminals".
Pradeep Pal, a farmer arrested from Kishani in Mainpuri district, accused the authorities of "harassing" the community to discourage farming so they would eventually hand over their land to corporate houses.
Congress politician Dwijendra Tripathi highlighted that the state government was allowing the bursting of the air-polluting crackers on Diwali between 6pm and 10pm.
"The government cannot check this (source of pollution) but is victimising farmers without giving them a solution," he said.
The state police have booked at least 500 farmers in the past fortnight on the charge of burning the stubble of wheat and other crops and arrested over 100 while imposing fines of Rs 10,000 on many others. Officers said the offending farmers were being identified through satellite imagery.
For the past few years, the Supreme Court has been prodding the Centre and state governments to stamp out stubble burning, especially in Haryana, Punjab, Rajasthan and western Uttar Pradesh, which aggravates air pollution in Delhi every October-November.
The Uttar Pradesh crackdown comes after the Centre issued an ordinance last week prescribing five years' jail and/or a Rs 1-crore fine for people violating anti-pollution norms like the stubble-burning ban in the National Capital Region. (On Friday, the apex court objected to the punishment being the same for all and said it would examine the ordinance after Diwali.)
The Yogi Adityanath administration has, however, launched the crackdown across Uttar Pradesh under ordinary penal code and pollution law provisions that mandate a maximum punishment of three months' jail and a Rs 10,000 fine.
On Thursday, officers were seen grabbing farmers by the collar in Mainpuri and dragging them into a jeep. A similar scene was witnessed in the Sadar tehsil of Fatehpur district when eight farmers were arrested and 42 others fined Rs 10,000.
In Topri village of Saharanpur district, 16 peasants were allegedly beaten up with batons before being arrested on Wednesday. Local police inspector Umesh Roria denied the charge of caning.
"A police team led by sub-divisional magistrate Ram Sakal Maurya and deputy director of agriculture D.V. Singh arrived at our village and told me I was under arrest. An officer held me by the collar of my kurta and dragged me to a vehicle. They also slapped and threatened to shoot me," Bhure Singh, a farmer from Kishani, told reporters at the local police station.
Pal said: "Burning the stubble is the only option we have. Uprooting them costs us Rs 8,000 per bigha, with 10 labourers working two days at a wage of Rs 400 a day. Selling the stubble as fodder brings just Rs 400."
He referred to Prime Minister Narendra Modi's promise of doubling farmers' income by 2022 and said that instead, the government had "destroyed us".
"It's clear the government is harassing us to discourage farming. Eventually, it will force us to hand over our land to corporate houses to grow crops on," Pal said.
Farmers countrywide have alleged that the new farm laws passed recently would facilitate their exploitation by big companies.
Ajit Singh, officer in charge of Kishani police station, said: "We have instructions to arrest farmers involved in burning stubble, using force if necessary."
Maurya, the sub-divisional magistrate, said: "The farmers were arrested and sent to jail for defying the government's order and polluting the environment."
The state government had banned stubble burning through an executive order in 2018 and had made a few arrests in the past two years for violations.
On Sunday, Pappu Yadav, a farmer from village Jogiyapur in Varanasi, the Prime Minister's constituency, was arrested on the charge of stubble burning.
"We traced him through satellite imagery from the control room in Lucknow," Varanasi district agriculture officer Subhas Maurya said.
"We booked him under Section 188 of the penal code and Section 39 of the Air (Prevention and Control of Pollution) Act, 1981."
Section 188 deals with disobeying a public servant's order while Section 39 prescribes up to three months' jail and/or a fine up to Rs 10,000 for pollution violators, with repeat offences bringing an additional fine of up to Rs 5,000 for every day of the violation.
The state government had told the Supreme Court in January that stubble burning had decreased in Uttar Pradesh, from 6,623 incidents in 2018 to 4,230 in 2019.
It had added that 104 officials and employees of the agriculture, administration and police departments had been suspended in 2019 for failing to check stubble burning.
It said 167 farmers had been arrested in 2019, with total fines of Rs 270 lakh imposed and Rs 97 lakh collected.
Police records show the registration of about 3,000 stubble-burning cases this year and the arrest of 224 farmers.
The government had also told the apex court that it was making stubble-removing machines and other equipment available to the farmers at an 80 per cent subsidy.
But farmer leader Harnam Singh said that "not a single real farmer has got subsidised equipment" and that middlemen were securing the subsidy and renting out the machines to farmers at high rates.
He had a litany of complaints against the government. "We want more mandis where the government can buy our produce but this demand has been denied. We are selling rice and wheat at half the support price fixed by the government because the transport charges are higher than the production costs," he said.
"The government has failed to provide us with irrigation, 24-hour electricity or quality seeds but is watching us through its satellites and treating us like criminals."
State agriculture minister Surya Pratap Shahi said: "We are concerned about the farmers but people should cooperate with us as burning stubble is a crime under the law."
Congress general secretary Priyanka Gandhi Vadra appeared to suggest that the government should first crack down on polluting industries.
"Is the farmer alone responsible for pollution? When will action be taken against those really guilty of spreading pollution?" she tweeted.
"The farmer's vote is legal. The farmer's rice is legal. But the farmer's stubble is illegal?"