UP Assembly polls 2022: Congress phone and scooty offer to girls
On Wednesday, Priyanka had spoken to several school and college girls after police had stopped her on her way to Agra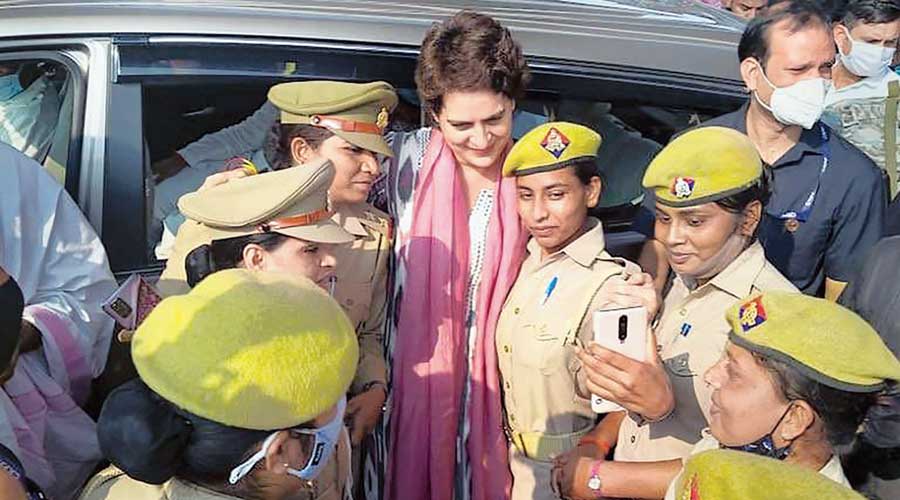 Priyanka Gandhi Vadra
File picture
---
Published 22.10.21, 01:44 AM
|
---
Priyanka Gandhi Vadra has said the Congress, if voted to power in Uttar Pradesh, will give smartphones to girls who clear the Class XII exams and electric scooters to graduates.
"I met some girl students yesterday (Wednesday). They said they needed smartphones for their education and safety. I am happy that the UP Congress has decided, with the consent of the declaration committee (of the party), to give smartphones to girls clearing the intermediate exams and electronic scooties to graduate girl students if the Congress forms the government," Priyanka tweeted in Hindi on Thursday.
कल मैं कुछ छात्राओं से मिली। उन्होंने बताया कि उन्हें पढ़ने व सुरक्षा के लिए स्मार्टफोन की जरूरत है।

मुझे खुशी है कि घोषणा समिति की सहमति से आज UP कांग्रेस ने निर्णय लिया है कि सरकार बनने पर इंटर पास लड़कियों को स्मार्टफोन और स्नातक लड़कियों को इलेक्ट्रानिक स्कूटी दी जाएगी। pic.twitter.com/hoW5DfhS3f

— Priyanka Gandhi Vadra (@priyankagandhi) October 21, 2021
On Wednesday, Priyanka had spoken to several school and college girls after police had stopped her on her way to Agra. "She asked about us. We told her that we didn't have phones, which was needed for our safety," one of the girls told reporters.