'Unparalleled in democratic history of world': Dhankhar on SC striking down NJAC in 2015
The Vice President said parliamentary sovereignty and autonomy are quintessential for the survival of democracy and cannot be permitted to be compromised by the executive or judiciary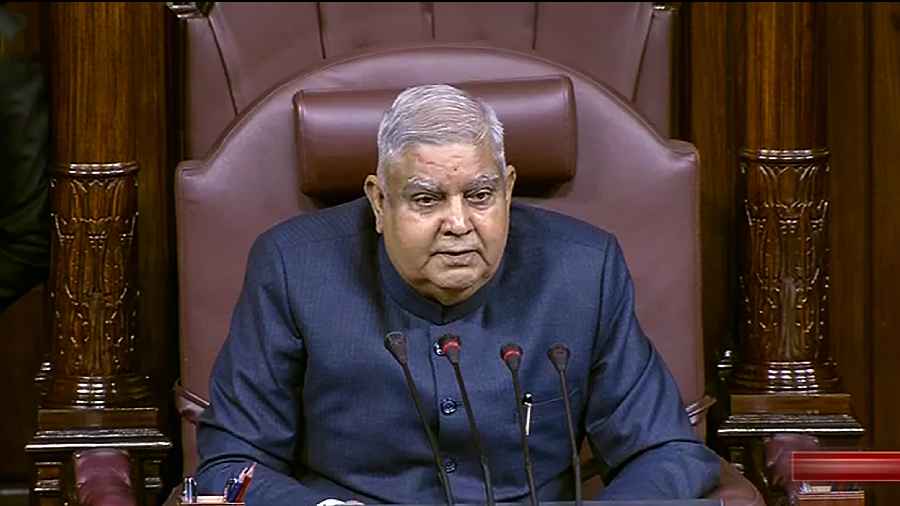 Jagdeep Dhankhar
File picture
---
Jaipur
|
Published 11.01.23, 05:43 PM
|
---
Vice President Jagdeep Dhankhar on Wednesday said the judiciary striking down the National Judicial Appointments Commission (NJAC) Act in 2015 was "a scenario perhaps unparalleled in the democratic history of the world".
He said parliamentary sovereignty and autonomy are quintessential for the survival of democracy and cannot be permitted to be compromised by the executive or judiciary.
While referring to the Supreme Court scrapping the NJAC in 2015 -- which was enacted by the NDA government for appointments in higher judiciary -- the vice president said, "Such kind of a scenario is perhaps unparalleled in the democratic history of the world".
"The executive is ordained to be in compliance with the constitutional prescription emanating from Parliament. It was obligated to adhere to the NJAC. Judicial verdict cannot run it down," he said at the 83rd All India Presiding Officers Conference (AIPOC), "Parliamentary sovereignty cannot be permitted to be diluted or compromised by the executive or the judiciary," he further said.
His statement come in the backdrop of a raging debate on the issue of appointment in higher judiciary with the government questioning the current Collegium system and the Supreme Court defending it.
Dhankhar said no institution can wield power or authority to neutralise the mandate of people. He told the presiding officers at the conference that it is an obligation of Parliament and legislatures to protect the sovereignty of the people.
Discussing the 1973 Kesavananda Bharati case, Dhankhar talked about "basic structure" of the Constitution and said in a democratic society the "basic of any basic structure has to be the supremacy of mandate of people".
On Parliament disruption, Dhankhar, also the Rajya Sabha Chairman, said there is "disappointment and anguish" among people at the lack of decorum and discipline in proceedings in parliament and legislatures.
He further said disruptions and adjournments cannot be a political tool.
Before attending the conference, the vice president visited the newly constructed Constitution Park at the Raj Bhavan and described it as unprecedented.
A Raj Bhavan spokesperson said that Dhankhar saw the sculptures, photographs, models etc. related to the creation of the Constitution, the proceedings of Constitution Committees and the historical journey after the formation of the constitution till its implementation.
He also saw the artefact related to the country's culture created by the famous artist Nandlal Bose of Santiniketan.
After visiting the Constitution Park, he met Governor Kalraj Mishra and congratulated him for this initiative. He said this was possible only because of the governor's efforts.
The park was recently inaugurated by President Droupadi Murmu.
Except for the headline, this story has not been edited by The Telegraph Online staff and has been published from a syndicated feed.