30 constables selected, to be given 2 months' training
Centre approves women CRPF for VVIP security duty
The central force provides security cover to 62 such dignitaries, including Amit Shah, Manmohan Singh, and Sonia Gandhi among others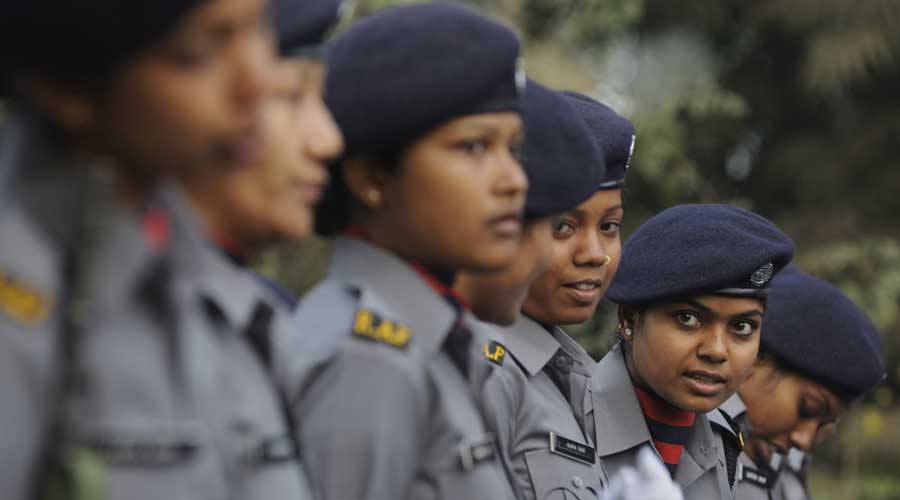 ---
New Delhi
|
Published 18.09.21, 01:22 AM
|
---
The Union home ministry has given its go-ahead to the Central Reserve Police Force to deploy its women constables for VVIP security duty, sources in the country's largest paramilitary force said.
"This is the first time the CRPF will deploy women constables for VVIP duty. We have initially selected 30 women constables and they will be given two months' training before being deployed for VVIP duty," said a senior CRPF official.
The CRPF provides security cover to 62 VVIPs, including Union home minister Amit Shah, former Prime Minister Manmohan Singh, Congress working president Sonia Gandhi and party leaders Rahul Gandhi and Priyanka Gandhi Vadra, among others.
In December 2018, a parliamentary panel had asked the government to speed up the process of handing over VIP security to the special security group of the Central Industrial Security Force (CISF) and relieve other paramilitary forces of their responsibility of guarding high-profile dignitaries.
"The home ministry had then said two paramilitary forces — the CRPF and the Indo-Tibetan Border Police (ITBP) — would be phased out of VIP duties and the task assigned to the CISF special security group specially created for such responsibilities. But nothing happened after that and the two paramilitary forces continue to provide VVIP security cover," said a CRPF official.
The parliamentary panel recommended that the home ministry should progressively assign security of all VIP protectees, apart from high-risk protectees, to the CISF's special security group. The committee had said that the ministry should implement this plan at the earliest and put an end to the issue of multiple forces being assigned the task of VIP security.
Central paramilitary forces, including the CRPF and the National Security Guard (NSG), have over the past year urged the Centre to take them off VIP security duties and reduce their workload.
Earlier in 2002, a group of ministers had recommended that the CISF be ideally assigned the task of VIP security and suggested that the ITBP, the CRPF and other security agencies be relieved of VIP duties so they could focus on the tasks they had been created for.
VIP security has four categories — "Z-plus" (38 guards), "Z" (24 guards), "Y" (11 guards) and "X" (two guards).
On an average, VIP security costs the exchequer nearly Rs 390 crore a year.
"VIP culture continues no matter which party is in power. The home ministry has failed to act on the parliamentary panel's recommendation and so far has not pulled out central paramilitary forces from such duties," an NSG official said.
The home ministry provides security to individuals depending on assessments of threat to their lives and the cover is continued, withdrawn, downgraded or upgraded based on periodic reviews.