Uddhav son meets Bihar ruling allies
Aaditya arrived at the state capital in the afternoon and straightaway went to meet Tejashwi at the residence of his mother and former chief minister Rabri Devi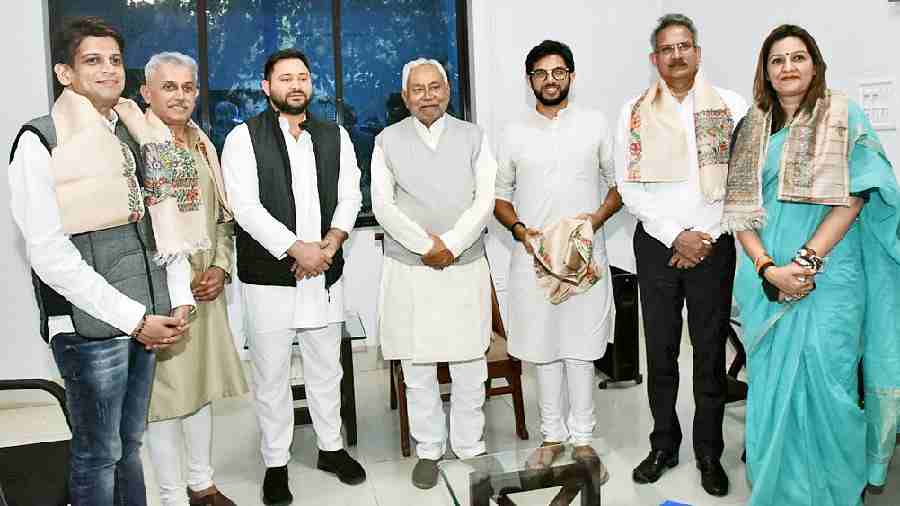 Shiv Sena leader Aaditya Thackeray with Bihar chief minister Nitish Kumar, deputy chief minister Tejashwi Prasad Yadav and others in Patna on Wednesday.
Sanjay Choudhary
---
Patna
|
Published 24.11.22, 03:38 AM
|
---
Shiv Sena chief and former Maharashtra chief minister Uddhav Thackeray's son Aaditya Thackeray paid a short visit to Patna on Wednesday, which rang political bells all around.
He met Bihar chief minister Nitish Kumar and deputy chief minister Tejashwi Prasad Yadav.
Rajya Sabha members Anil Desai and Priyanka Chaturvedi accompanied him.
Aaditya arrived at the state capital in the afternoon and was received by senior Rashtriya Janata Dal (RJD) leaders at the airport. He straightaway went to meet Tejashwi at the residence of his mother and former chief minister Rabri Devi.
Tejashwi extended a warm welcome to him and after an exchange of pleasantries, shawls, gifts and books, the two leaders sat down for a meeting that lasted for around 45 minutes.
Meanwhile, Tejashwi scheduled an appointment with Nitish. He and the Shiv Sena leaders moved to the chief minister's 1, Aney Marg residence and sat together for another meeting.
"Nitish Ji is working very well in Bihar and we can see progress in the state. So we thought that it would be a good time to meet him and Tejashwi. We all discussed various things like the environment, industries, development and several other issues," Aaditya said after emerging from the meeting with Nitish.
Tejashwi was present by his side.  
Aaditya, who served as a minister for higher education, environment and tourism in his father's cabinet from December 2019 to June 2022, pointed out that the major thing discussed at the meeting was the youths. 
"If all the youths who want to work for the country, the Constitution, employment and against inflation keep talking with each other, they will be able to do something good," the Shiv Sena leader added.
Aaditya asserted that politics was not discussed at the meeting because such talks keep being held between the political parties. 
"The most important thing was that a meeting was necessary. There have been good relations between the two families (Thackeray and RJD chief Lalu Prasad's families). There was never any bitterness. I believe that this will continue and this friendship (with Tejashwi) will continue," Aaditya said.
He added that such meetings would keep happening and the two leaders would keep visiting each other's states. He also termed Tejashwi as a leader who was doing good work and was a lambi race ka ghoda (in for a long haul) in politics.
As reporters lobbed questions related to fair treatment to people from Bihar and other north Indian states, who previously faced violence at the hands of the Sena and its splinter groups in Maharashtra, Aaditya said everybody was treated equally during the two-and-a-half year rule of Maha Vikas Aghadi led by Uddhav Thackeray