'Trump sarkar' shadow on bipartisan record
The US president's 2020 campaign team was in no doubt that Modi endorsed Trump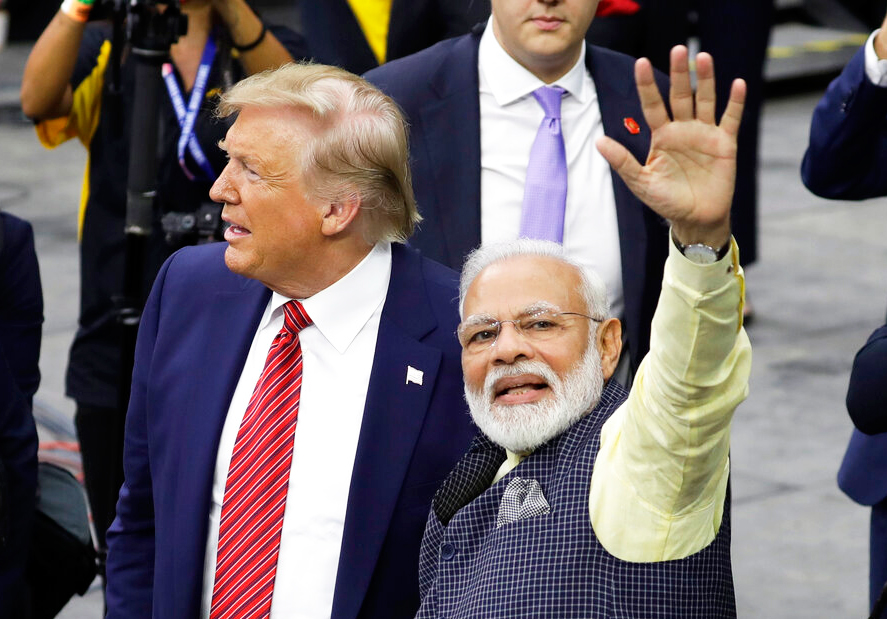 ---
---
Donald Trump's campaign managers clearly see Narendra Modi's Houston event as an endorsement for their man, triggering concern that the Prime Minister may have jeopardised the bipartisan support India enjoys in Washington with his effusive praise for the US President in an election year.
One former Indian ambassador, Meera Shankar, expressed concern and advised India should "be very careful" in future while another, M.K. Bhadrakumar, said Modi's "blatant interference in the US election" had "jeopardised the bipartisan support".
A third former diplomat, former foreign secretary Nirupama Rao, however, insisted it was only a "momentary blip'' that would not affect the equilibrium.
While Indians debated if Modi — who had declared "Abki baar, Trump sarkar" at Sunday's diaspora event — had actually endorsed Trump, the President's 2020 campaign team was in no doubt.
"President @realDonaldTrump received the endorsement of Indian Prime Minister Narendra Modi as they shared a stage in Houston, walking hand in hand... to address more than 50,000 Indian Americans!!'' tweeted Kayleigh McEnany, national press secretary for @realDonaldTrump 2020 campaign.
Team Trump, "the official Twitter for the Trump campaign", posted: "President @realDonaldTrump received the endorsement of Indian Prime Minister Modi!''
Both tweets quoted a Bloomberg article titled "India's PM endorses Trump to Indian Americans'' with a picture of Modi and Trump in a bear hug.
Shankar, India's ambassador to the US from 2009 to 2011, told The Telegraph that "it is important for India to remain bipartisan in such an important bilateral relationship'' while pointing to the presence of both Democrats and Republicans at the event.
When the remarks from the Trump campaign stables were flagged to her, she said: "India has to be very careful going forward that it does not convey the impression that New Delhi is backing any particular candidate.''
Bhadrakumar, former ambassador to Turkey and Uzbekistan, said Modi was clearly endorsing Trump and telling the Indian Americans "here is your man''.
"This is blatant interference in the US elections and a foolish thing to do in an election that is wide open. He has jeopardised the bipartisan support India enjoys in Washington,'' he said.
Rao, however, argued that Trump's gesture had required Modi to reciprocate.
"I think a good deal of bonhomie and spontaneous camaraderie was displayed by both leaders at the event. They endorsed each other. The event demanded it. The US President reached out and made the gesture of being present to share the stage with our Prime Minister. The PM reciprocated with warmth and magnanimity," she said.
"US-India relations are in a relatively good place. Both political parties in the US know that. I don't believe the Houston event alters thinking in the Democratic Party on the essential value and worth of this bilateral relationship. The sky will not fall. There is no 'Houston, we have a problem' here."
The Congress underlined that Modi had "violated the time-honoured principle of Indian foreign policy of not interfering in the domestic elections of another country''.
The party likened it to the way Israeli Prime Minister Benjamin Netanyahu had "ruined Israel's bipartisan relationship with the US''.
Twice last week the foreign ministry leadership had underscored the bipartisan support that the India-US relationship enjoys in Washington.
Speaking on the bilateral relationship, foreign minister S. Jaishankar had said on September 17: "It has gone through repeated changes of administration. It was Democrat (Bill) Clinton, then George (W.) Bush, then (Barack) Obama, then Trump and the trajectory was always upwards and even today, even as we are planning for an event like Houston, the thinking from our side is actually very bipartisan and from their side also their approach is also very bipartisan.''
Three days later, briefing journalists, foreign secretary Vijay Gokhale had said with reference to the "Howdy, Modi" event that "the senior democratic leadership of the United States will also be at this event".
"This includes several elected congressional representatives from both parties and I think their presence there reflects the high standing and influence of the diaspora in the United States and the bipartisan support that the Indo-US relation enjoys in the political leadership of the United States."