Trump labels India 'filthy', puts 'friend' in a spot
Modi's foreign policy under fire after second putdown by US President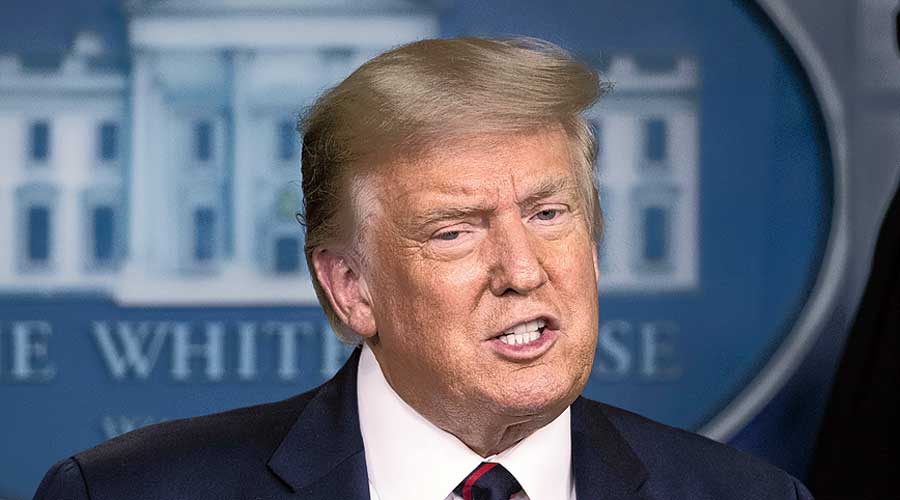 ---
---
US President Donald Trump has put his "friend" Narendra Modi in a spot once again by calling India "filthy" and placing the country in the same league as China for the second time in less than a month at a time when New Delhi and Beijing are at loggerheads.
Speaking on climate change during the final presidential debate on Thursday at Nashville, Tennessee, Trump said: "Look at China. How filthy it is. Look at Russia. Look at India. It's filthy. The air is filthy."
No sooner had Trump made the comments than social media platforms went into a tizzy at the mention of India in the same club as China and Russia, with which the US is currently engaged in a "great power competition" in the words of secretary of defence Mark Esper.
More so because of the amount of effort Modi has invested in his relationship with Trump, whom the Prime Minister has described as "my friend". Modi has hosted two community events for the President in the run-up to the US elections — in Houston last year with the diaspora turning out in strength and in Ahmedabad this February in the presence of a lakh-plus crowd. Gujaratis make up a sizable section of the NRIs in the US.
Although India has maintained that neither event was related to the elections, the Trump campaign has from the beginning viewed these as an endorsement from Prime Minister Modi of Trump's re-run for the White House. A video released by the Trump campaign to woo the Indian diaspora amplified that view.
Against this backdrop, Trump calling India "filthy" — even if followed by the qualification that the "air is filthy" — was used by Modi's detractors to criticise him and his foreign policy, given how his bromance with President Xi Jinping, too, had come apart this summer with the Chinese aggression along the Line of Actual Control.
There were many who pointed out that Trump was being factual about India's air quality, considering the national capital is already dealing with smog though winter is yet to arrive in full swing.
Others like Congress spokesman Jaiveer Shergill said: "India is filthy and India's air is filthy are two separate statements with two distinct meanings and both were said by President Trump. Bhakts defending the 'filthy air' comment, as air pollution is bad, are conveniently forgetting the first comment. Now where is Bharat Mata ki Jai?"
Some others also pointed out that this was the second time in less than a month that Trump had been critical of India. Earlier, in his first presidential debate, he had questioned India's statistics on Covid deaths. Even in that instance, Trump had clubbed India with China and Russia.
"When you talk about numbers, you don't know how many people died in China. You don't know how many people died in Russia. You don't know how many people died in India. They don't exactly give you a straight count," Trump had said.
Bringing this up, Congress MP Kapil Sibal tweeted on Friday: "Trump: Fruits of Friendship (1) Questions India's Covid death toll (2) Says India sends dirt up into the air…. (3) Called India 'tariff king'. The result of 'Howdy Modi'!"
Priyanka Chaturvedi of the Shiv Sena said: "What an unfortunate comment to make about India, @realDonaldTrump. Reminder: India stands committed to climate change goals, US chose to withdraw, much against the wishes of many Americans. Thank you."
What added to the government's discomfiture was that Trump made the remark just three days before India and the US are to hold their third 2+2 ministerial dialogue for which secretary of state Mike Pompeo and Esper are flying into New Delhi on Monday.
Briefing mediapersons in Washington on Thursday, Dean Thompson, principal deputy assistant secretary in the Bureau of South and Central Asian Affairs, had said: "The 2+2 format is reserved for our closest friends and partners and reflects our belief that the United States and India are stronger, more secure, and more prosperous when we work together."