Trial casts doubts on malaria drug's ability to prevent Covid
'Hydroxychloroquine does not prevent development of coronavirus disease any better than a placebo vitamin'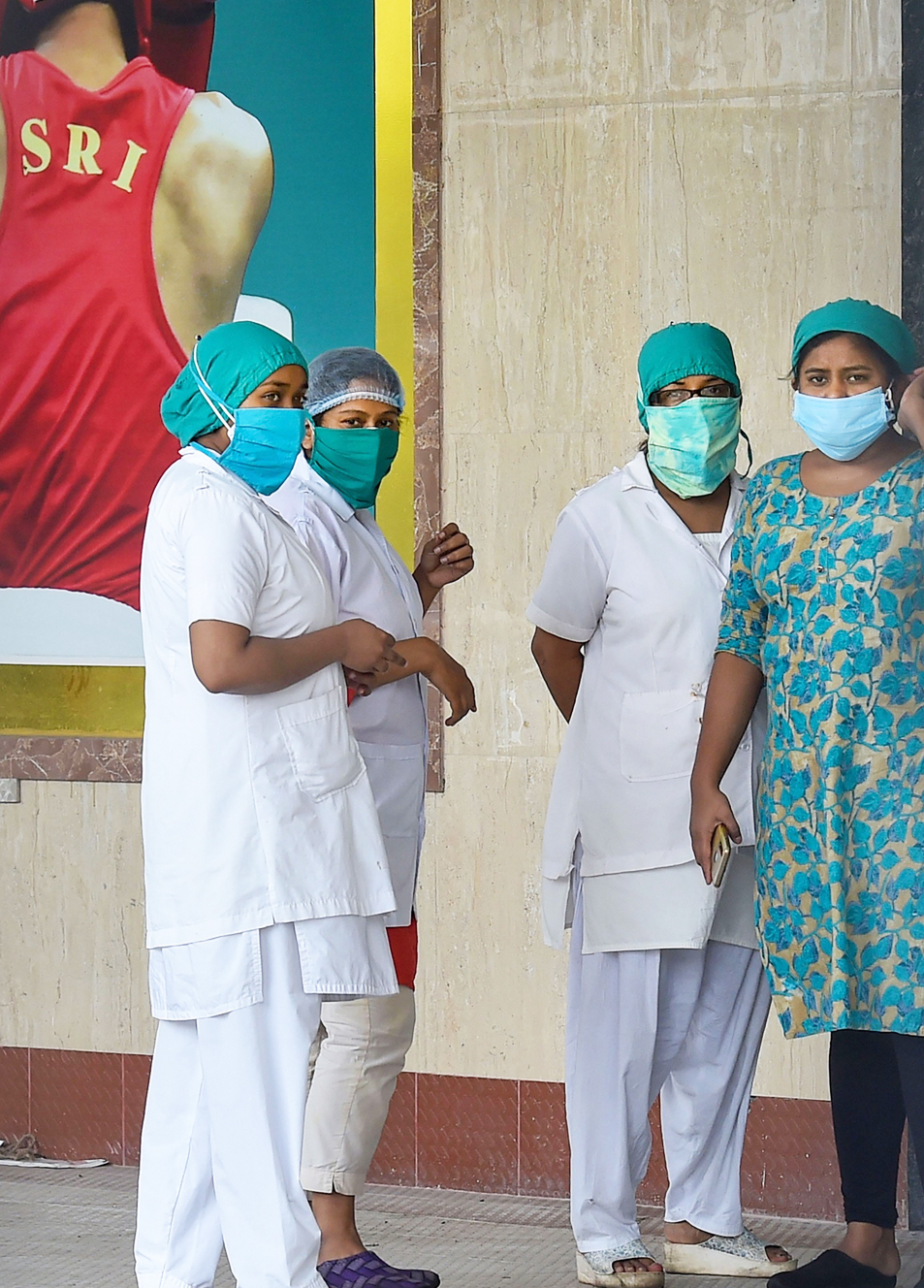 Health workers stand outside a quarantine facility at Dumerjola stadium, during the ongoing Covid-19 nationwide lockdown, in Calcutta, Thursday, June 4, 2020.
(PTI)
---
New Delhi
|
Published 05.06.20, 01:19 AM
|
---
The anti-malarial drug hydroxychloroquine cannot prevent coronavirus infection, US and Canadian researchers said on Wednesday after the first rigorous trial that has cast fresh doubts on India's decision to recommend it as a shield for persons at high risk.
Their trial, published in the New England Journal of Medicine, found that hydroxychloroquine did not prevent development of coronavirus disease any better than a placebo vitamin in healthy persons exposed to patients with Covid-19.
The University of Minnesota Medical School researchers gave hydroxychloroquine to roughly half of 821 people after they were exposed to someone with Covid-19 and folate vitamin to the rest.
Around 12 per cent of those who received hydroxychloroquine developed Covid-19 compared to 14 per cent of those who received the vitamin. The researchers say this is not statistically significant to justify the use of the drug as a post-exposure preventive medication.
The trial also found that 40 per cent of those on hydroxychloroquine developed non-serious side-effects such as nausea, stomach upset or diarrhoea compared to 16 per cent of those who took the vitamin pills. But it did not observe any serious side-effects such as cardiac complications, a potential risk factor associated with the drug.
"While we are disappointed that this did not prevent Covid-19, we are pleased that we were able to provide an answer," David Boulware, professor of medicine and infectious diseases at the university said. "Our objective was to find an answer."
The results are significant enough to influence practice, Boulware told The Telegraph via email.
Medical researchers in India said the trial should prompt the Indian Council of Medical Research to rethink its recommendation of hydroxychloroquine to healthcare workers in all hospitals, police personnel on Covid-19 duty and household contacts of positive cases.
The ICMR had recommended the drug to these high-risk individuals as a preventive medication citing laboratory studies and observational studies in three Delhi hospitals.
"This new US-Canadian study has been done very well — it is a rigorous study and involving a large number of participants and it shows no benefit of hydroxychloroquine," Nirmal Kumar Ganguly, former director-general of the ICMR, told The Telegraph.
The ICMR had itself last Sunday published its own questionnaire-based study that independent researchers have pointed out yielded "inconsistent results" — three doses of hydroxychloroquine were worse than no dose, and six doses appeared to offer the highest protection.
The US-Canadian study was a double-blind randomised control trial in which neither the participants nor researchers knew who received the drug and who received the vitamin. They were followed up for two weeks to see who developed Covid-19.
"India could have done a similar randomised control study — the ICMR had prescribed this drug to healthcare workers and household contacts of positive cases two months ago," said Shriprakash Kalantri, professor of medicine at Mahatma Gandhi Institute of Medical Sciences, Wardha.
"We could have had our own results now," Kalantri said.