Travellers arriving from countries with high Covid caseloads must carry negative test reports
Mask up in crowds, but don't panic, say doctors as Coronavirus overwhelms China, surges elsewhere in the world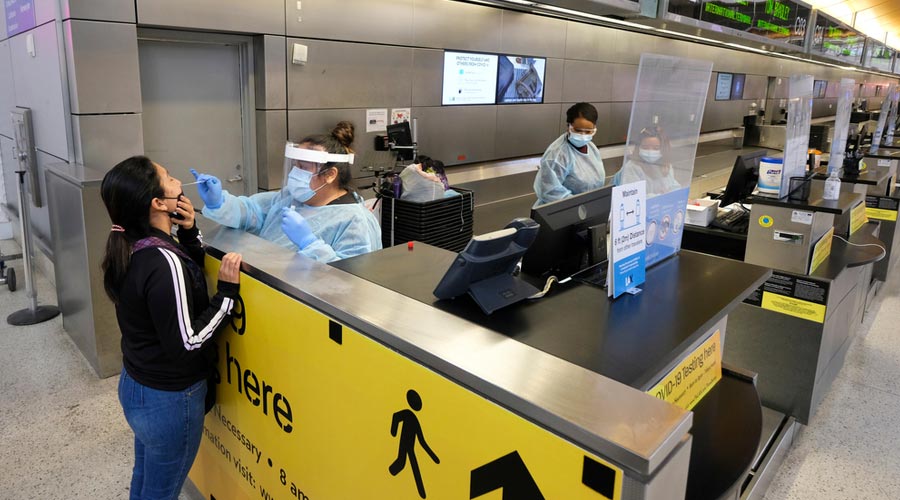 Representational image
File image
---
Published 24.12.22, 09:34 AM
|
---
India is ramping up its Covid-19 precautions and will make negative test reports mandatory for passengers arriving from countries with high coronavirus caseloads, the health minister, has announced. Also, India will start to randomly test 2 per cent of international travellers arriving from abroad for Covid-19 from Saturday.
Health Minister Mansukh Mandaviya said that the government will identify countries with high caseloads during the coming week. "People from there who come to India will have to upload their (COVID-19) RT-PCR reports and only then come" and they will also have to undergo thermal screening after landing, he said. The announcement came as the minister met with his state counterparts to discuss the country's readiness with Covid-19 caseloads rising round the world.
Doctors say there's no reason to hit the panic button amid worries about another tsunami of Covid-19 spreading out into the world from China but there are grounds for taking precautions against the virus.  
Caution, yes; knee-jerk reaction, no
Experts who were quick to raise the alarm over the last two years now are sounding relatively relaxed. "As of now, it doesn't seem like there's a need to worry. So, caution and preparedness? Yes. Knee-jerk responses? No," says Anurag Agarwal, the dean of Biosciences and Health Research at Ashoka University.
Adds virologist Gagandeep Kang: "At the moment, India's doing fine. We have a few cases, but we have had the BF.7 and XBB variants for a while and they have not shown an upsurge in India. In the absence of an even more highly infectious variant, I don't expect a surge."
BF.7 is believed to be the main Omicron subvariant spreading in China and it's the most infectious yet with a shorter incubation period. The symptoms, primarily respiratory, are like other Omicron variants – fever, cough, sore throat and runny nose – but it can be dangerous for older people with weakened immune systems. So far, there's no evidence that these new variants cause more severe disease than previous variants, doctors say.
BF.7 not spreading in India
The important point to highlight from an Indian perspective though that while the first case of the BF.7 variant was identified in this country in July it didn't spread. We don't know why BF.7 is believed to be spreading so quickly among China's 1.4 billion population and not elsewhere. But experts say it may be due to low immunity levels among the Chinese from previous Covid infections and also possibly because their vaccine wasn't considered as effective as others. 
The Chinese are being typically cagey about infections and deaths from their Covid storm, having largely abandoned mass testing and limited the way the country defines Covid mortality. But the Chinese government did release figures Friday estimating that almost 37 million people got infected in a single day this week. As many as 248 million people, or nearly 18 per cent of the population, are believed to have come down with the virus in the first 20 days of December.
No surge in XXB cases
XBB, also an Omicron subvariant, is another variant believed to be doing the rounds in China that's of concern because it renders some antibody treatments ineffective. Studies suggest that XBB is also best at evading immunity generated by Covid vaccines or infection with earlier Omicron offshoots. But data from Singapore which has had high XBB case counts, shows the subvariant did not result in a big surge in hospitalisations or deaths. XBB is also present in India but there has been no surge in cases. In fact, the health ministry said the positivity rate has been declining week-by-week with only 0.14 per cent positivity in the latest week.
Meanwhile India's Covid cases are still at comfortably low levels. On Thursday only 131 cases were recorded around the country. In one state, like Tamil Nadu, there were only two cases during the same time frame. The day before that, 154 cases were flagged nationwide. 
Concern over China numbers
The numbers can, of course, shoot up very rapidly. And the numbers that are expected In China are understandably causing alarm around the world. The Seattle-based institute for Health Metrics predicts the Covid-19 death toll will hit 323,000 in China by April 1, 2023. Global experts have a low opinion of Chinese Sinopharm vaccine. Also, since there have been very few cases over the last two years due to its just-abandoned zero-tolerance policy, the population hasn't had much chance to develop immunity. However, virologist Kang points out that data from Latin America where the Sinopharm vaccine was used shows it prevented "severe disease and death".
Kang also adds that there's no sign of any new variants in China and she says that China has capacity to sequence and keep track of anything new that emerges.
Agarwal also downplays the situation and says: "Because it is China and because stories are coming about hospital stress, people are getting very excited and thinking of the Delta wave once again. But these are completely different situations." Delta was also more severe in its effects than Omicron.
Hybrid immunity
The fact is that many parts of India have high levels of hybrid immunity acquired both from the vaccine and because a large chunk of the population has had the infection.
Fortunately, too, India does not have large pockets of resistance to vaccines. In the US for instance, about a quarter of the population is estimated not to be vaccinated.
Kang adds that XBB and BF.7 are, "like all Omicron variants, are very good at infecting people because they escape the immune response that prevents the infection, but are not causing more severe disease." One good thing is that multiple studies have shown that Omicron replicates rapidly in the upper airways but is just not very good at infecting lung tissue.
Mask up and be safe
But while the latest Covid-19 variants now may be less severe for most people, nobody wants to get it. That's why doctors say people need to continue to wear face masks at hospitals and in crowded and contained places. 
Basic ground rules, Kang says, are that "if you have any respiratory infection, stay home. If you need to go out, go masked. If you are vulnerable, stay masked in unfamiliar company or if someone around you is obviously ill. If there is a lot of infections/cases in the community, staying masked in crowds is good." 
Karnataka Health Minister K. Sudhakar has already announced plans to make masks mandatory in indoor, closed and air-conditioned places.
One big worry
The big worry, though, is that dangerous variants could come out of the infection surge in China, so genome sequencing to track the potential emergence of such a threat is vital, experts say. The Union Health Ministry has urged all states to increase genome sequencing of positive samples to keep track of newer variants.
"Surveillance should be ensured to "detect signal of any changes in the behaviour of the virus," says Kang. The worry with China is "not just the tragedy unfolding for them as they undergo what we have already experienced, but that high levels of replication mean increased opportunity for new variants to emerge," she says.
Kang expressed concern that random testing at airports might not be effective at containing the virus's spread.  "Testing incoming travellers needs a (strategic) risk-based framework, but 'X per cent' sampling also means that you accept that every incoming case will not be detected," she says.