Transport brake to keep millions home for coronavirus
Trains, Metro, inter-state buses off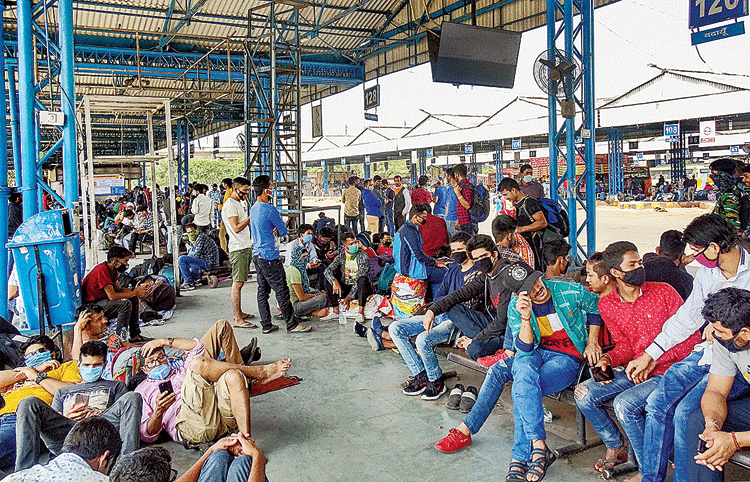 ---
---
The Centre has cancelled trains, inter-state buses and Metro services from Monday till the end of March to battle the spread of the coronavirus.
Cabinet secretary Rajiv Gauba chaired a high-level meeting of chief secretaries where it was decided that all train services, including suburban and Metro rail services, and inter-state bus services would be suspended till March 31. Goods trains and vehicles carrying goods by road will not be affected.
The decision means nearly 13,000 passenger trains will go off the tracks till March end.
Nearly 23 million people travel by these trains every day, railway ministry officials said. Passengers will get a full refund of their money over the next three months.
The suspension will affect nearly 7.5 million people who take the Metro every day in 12 cities: Delhi, Calcutta, Mumbai, Chennai, Bangalore, Hyderabad, Ahmedabad, Lucknow, Jaipur, Kochi, Gurgaon and Greater Noida.
State transport corporations run nearly 1.5 lakh buses while around 50,000 cluster buses provide inter-state services. Approximately 10 million people travel by these buses every day.
The suspension decision taken on Sunday exempts transport services available for airline passengers, hired taxis and buses that ply within a state.
Possibly the worst affected by Sunday's decision are those who had gone on pilgrimage and had booked return tickets coinciding with this period; Bhubaneswar residents Nagendra and Puravi Mohanty, for instance.
The two, both senior citizens, had visited Vaishno Devi in Jammu and Kashmir earlier this month and were supposed to return on Tuesday by train after halting at a relative's place in Amritsar. Now the couple don't know when to plan their return.
"While cancelling trains, the government should have looked at the concerns of pilgrims and senior citizens. At least some special train services should have been arranged for a day or two," a relative of the Mohantys said.
Another affected segment is the working class who travel by suburban trains. In Mumbai, for instance, nearly six million people travel by suburban trains every day to their workplaces and back.
Students who are still in hostels will also have limited options of going back home.
A release issued by the Press Information Bureau said state governments had been advised to issue orders to allow essential services to operate in the 75 districts that have reported confirmed Covid-19 cases or casualties. The state government may extend the list, depending on an assessment of the situation, the PIB release said.
In Delhi, nearly 2.5 million people travel every day by Metro — a lifeline for the capital with its over 300km network.
In a press release, the Delhi Metro Rail Corporation said Sunday's decision was aimed at controlling the spread of the virus by encouraging people to stay home.