Time right for India, Canada to strengthen business ties, says Cameron McKay
I would like to deepen trusted partnership between two countries: Envoy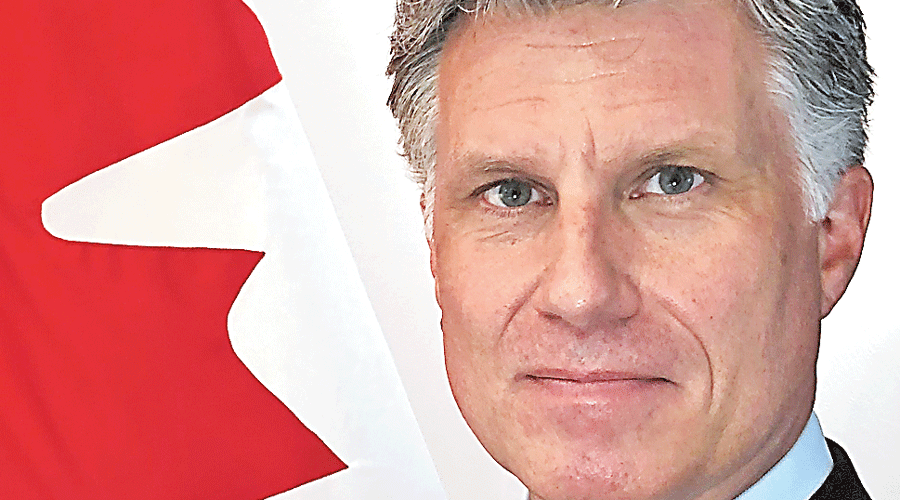 Cameron McKay.
File photo
---
Calcutta
|
Published 29.08.22, 01:42 AM
|
---
The time is right for India and Canada to strengthen trade and business relations as there are "tremendous opportunities" for growth for both countries, said Cameron McKay, high commissioner of Canada in India.
"Geopolitically and geoeconomically, these are very turbulent times... But I think now is the time to strengthen trade and business relations between the two trusted
partners. I would like to deepen the trusted partnership between India and Canada," the Canadian envoy told The Telegraph earlier this month during an official visit to the city.
On his first visit to Calcutta, he said he was excited about the opportunities in Bengal and was keen to visit the state again next February during the Bengal Global Business Summit, the annual investment show of the state government.
Asked about Bengal's investment potential, McKay said: "I think businesses invest where it makes sense to invest. If the policy mix is right, investors will come." 
Policymakers in both India and Canada — both important members of the elite league of G-20 nations — think that the full potential of the economic relationship between the countries has not been explored yet. Though the Covid-induced slowdown and the impact of Russia-Ukraine war on the global economy have cast a shadow on the growth forecasts for India, McKay was hopeful of a brighter future for Canada-India economic partnership.
"One of the ways we can do that is through negotiations in trade and investment treaty, strengthen the bonds between us and open new opportunities for business so that both the countries can be more prosperous," he added.
Canada, an economy with expertise in advanced manufacturing products, can help improve Indian productivity and competitiveness and help realise New Delhi's "Make in India" dream. Besides, the country can support India's food security needs by sharing its capabilities in agri-food and agri-tech sectors. 
According to McKay, India and Canada have a $100-billion commercial relationship, out of which around $5 billion is bilateral direct investment, which will grow further if the barriers to trade are removed through dialogues.
During the course of the conversation, the Canadian envoy stressed the need for liberalisation of trade and investment in every sector and a larger role for the private sector.
"We see that it's not the role of the government to pick favoured sectors, businesses should be making those decisions... The government is not in a good position to know today where are the business opportunities in five years or 10 years. Let the businesses do business," he said. 
Carrying forward the argument in favour of a liberal regime, he said the priority of the Canadian government was diversity, tolerance and inclusion.
"Societies that are open, diverse, tolerant and inclusive are also more stable and prosperous," he said. 
A major component of the India-Canada commercial relationship is institutional investment, to the tune of $70billion, by Canadian pension funds and big private portfolio investors like Fairfax Financial Holdings and Brookfield Asset Management.
"Canadian portfolio investment is long-term investment... The investors do a lot of due diligence and that's why Canadian money is not hot money," said McKay.
According to him, India has a very high profile in Canada, which has a considerable Indian diaspora. "Over 1.5 million Canadians have Indian roots and they are prosperous in every aspect of Canadian society and life. The Canadian government cares very much for India and we would like to see India even more prosperous and secure," McKay said.