Three upper caste youths beat up 16-year-old Dalit girl in Amethi
Priyanka Gandhi Vadra threatened an agitation against the government of poll-bound Uttar Pradesh if the accused were not arrested within 24 hours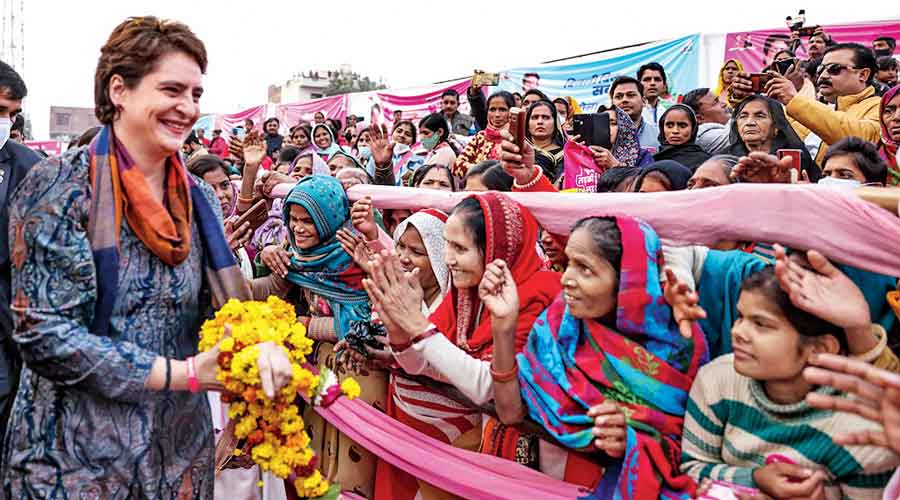 Priyanka at a rally in Firozabad on Wednesday.
PTI Photo
---
Lucknow
|
Published 30.12.21, 02:40 AM
|
---
Three upper caste youths beat up a 16-year-old Dalit girl in Amethi on Sunday, police have acknowledged after a widely circulated video showed a girl being pulled by her hair, kicked and hit with a baton on her soles.
Congress general secretary Priyanka Gandhi Vadra on Wednesday threatened an agitation against the government of poll-bound Uttar Pradesh if the accused were not arrested within 24 hours.
The girl is seen in the video lying on the floor of a room while being beaten. Hitting a person on the soles of their feet with a baton is a torture method the police are accused of using.
In the video, a woman watches the scene while another purportedly shouts: "Tell us quickly."
Police sources said the attackers had accused the girl of stealing a mobile phone.
"We have registered a case against Suraj Soni, Shiwam Soni and Shubham Soni aka Sakaal under the Protection of Children from Sexual Offences Act, SC/ST (Prevention of Atrocities) Act and some sections of the penal code on a complaint from the girl's father," Amethi deputy superintendent of police Arpit Kapoor said.
"We are conducting raids to arrest the accused."
The police sources said the incident had taken place in village Raipur-Phulwari.
"Suraj Soni faces attempt-to-murder and robbery charges and was externed from Amethi district for six months by the local administration two months ago. It's a matter of inquiry how he was living in the district," a police source said.
"Suraj's mobile phone was missing and he thought the Dalit girl, who works in his family's fields, had stolen it. They called her to their home and beat her."
Union minister Smriti Irani is MP from Amethi, which had been a Nehru-Gandhi fief for decades. The local MLA is Garima Singh of the BJP.
Priyanka on Wednesday tweeted that the incident was "condemnable".
Tagging chief minister Yogi Adityanath, she wrote: "On an average 34 incidents of crime against Dalits and 135 against women take place every day under your rule. Still your law-and-order machinery is sleeping."
She added: "The Congress will start a big movement to wake you up if the criminals are not arrested within 24 hours."
Dwijendra Tripathi, a Congress politician, underlined the silence of the state government and the BJP to accuse them of "supporting the criminals who tortured the Dalit girl".