The price of ' galat' comment in UP
Teenager says he was picked up, tortured and charged with hacking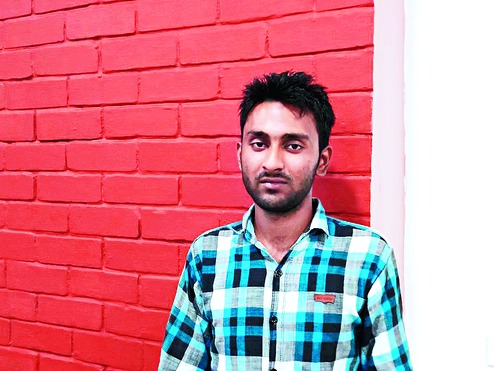 ---
Published 11.10.17, 12:00 AM
|
---
A teenaged Muslim boy was arrested for a Facebook wisecrack on a high court ruling on the Ganga that the Supreme Court has stayed, and a jibe at the BJP's temple politics. He was charged with "hacking" and allegedly tortured in lock-up.
He was also booked for cheating for using a murdered policeman's image as his profile picture as part of a campaign to seek justice for the officer. Sedition charges were allegedly added after he received bail. Here's what he told The Telegraph on Tuesday:
Factory worker Zakir Ali Tyagi, 18, was walking home on April 2 night after attending a soiree of Urdu poetry at a madarsa in Muzaffarnagar when he realised he was being tailed by a police jeep.
No sooner had he sat down to dinner than sub-inspector Dharmendra Singh walked in, saying he wanted to talk. When Zakir fetched water from the fridge for him, the officer said the constables waiting in the jeep outside were thirsty too.
As soon as Zakir stepped out, he was whisked away over the protests of his employer, who he lives with. He returned only on May 13.
Zakir was among a handful who on Tuesday addressed a meeting of the Bhim Army Defence Committee at the Press Club of India in Delhi, describing their plight under Yogi Adityanath's rule in Uttar Pradesh.
The committee was formed a month ago to arrange the legal defence of Bhim Army chief Chandrashekhar Azad and other arrested activists, and highlight the alleged injustice suffered by Dalits, Muslims and others in the heartland state. More such public meetings will follow.
Zakir said he was targeted for questioning the logic of granting "legal person" status to the Ganga.
Uttarakhand High Court had hung this tag on the Ganga and the Yamuna in March, making the state liable to protect the rivers as if they were humans with rights. The state's BJP government opposed this and obtained an apex court stay in July.
Zakir's facetious comment was: "The Ganga has been declared a living entity; will criminal charges be initiated if someone drowns in it?"
The FIR cites " galat tareeke ke (wrong type of) comments" on his Facebook wall and alleges violation of Section 66 of the Information Technology Act, which deals with hacking and prescribes three years in jail.
Police officers associated with the case were not reachable or unwilling to comment. Additional superintendent of police (Muzaffarnagar City) Omvir Singh, who took charge in June, claimed ignorance of the case.
Wasiq Nadeem Khan, a Delhi-based activist who got Tyagi legal aid, has an explanation why Zakir has been charged with, of all things, hacking.
"The police had initially registered the FIR under Section 66A, which prescribes three years' jail for offensive posts, unaware that the Supreme Court had struck it down as unconstitutional in March 2015. When they realised the mistake, they merely dropped the letter 'A'," he said.
Zakir had also written that the Haj subsidy actually subsidised Air India. Another post said: "The government's promise on the Ram Mandir was nothing but a gimmick, which will be made before the next polls again to lure voters, like the promise to send mullahs to Pakistan."
Zakir was also booked under Section 420 of the penal code, which deals with cheating, because his profile picture showed sub-inspector Akhtar Khan who was killed in action by brigands in Greater Noida last year.
"Many people have put up his image for over a year to demand justice for him, as some have done with Rohith Vemula," Zakir said.
Lawyers say that action can be taken only if the person shown or his family objects, or if this has been done to con someone.
"I was locked up at Kotwali Nagar police station. Later that night, a man in a yellow T-shirt, jeans and shoes entered the cell and asked which of us was Zakir. When I raised my hand, he kicked and punched me till I lay writhing on the floor.
"He abused me and said that people would stone my house and call me a terrorist as I had written against the government. I was never taken to a doctor but a medical report was produced in court saying I was in good health."
Last month, Zakir's lawyer was informed that the offence of sedition had been added to the chargesheet.
Khan, the activist, said: "At his first bail hearing, the magistrate arrived late and postponed it to the following week. At the second hearing, the bail plea was dismissed on the ground that the 'matter is serious'."
He said Zakir would approach Allahabad High Court to quash the case.
Zakir said that in jail, 2,800 inmates had been cramped into space meant for 800. "We even took turns sleeping in the toilet. We had to pay bribes for everything, from using the loo to eating to meeting visitors."
Deoband cleric and rape accused Masood Madani, lodged in the same jail, took pity on the teen and paid his expenses. No one from Zakir's Meerut-based family came to meet him: his father died in 2013 and his mother feared that if any of his three brothers visited the jail, they might be arrested too.
"Only my employer, Waris Rajpoot, who is a local Congress official, would come. His steel works factory closed after the introduction of the GST and I lost my job. But I still live in his house as I'm under trial in a Muzaffarnagar court," Zakir said.
The teen is pursuing a bachelor's degree through correspondence from Swami Vivekanand Subharti University, Meerut.
"I'm interested in politics and read everything on NewsHunt and Amar Ujala Online. I also read the Azizul Hind Urdu newspaper. I continue to share news on Facebook, but haven't told my family," he said.
"My family votes Samajwadi but I like all secular politicians. The one I like the most is Rajnath Singh. Did you know that he once got a BJP councillor arrested when Congress leader Raj Babbar complained? If he were chief minister, things might have been different."