The next cricket bat: Carved by algorithm, cheaper than English willow
Two academics at the University of British Columbia have designed the bat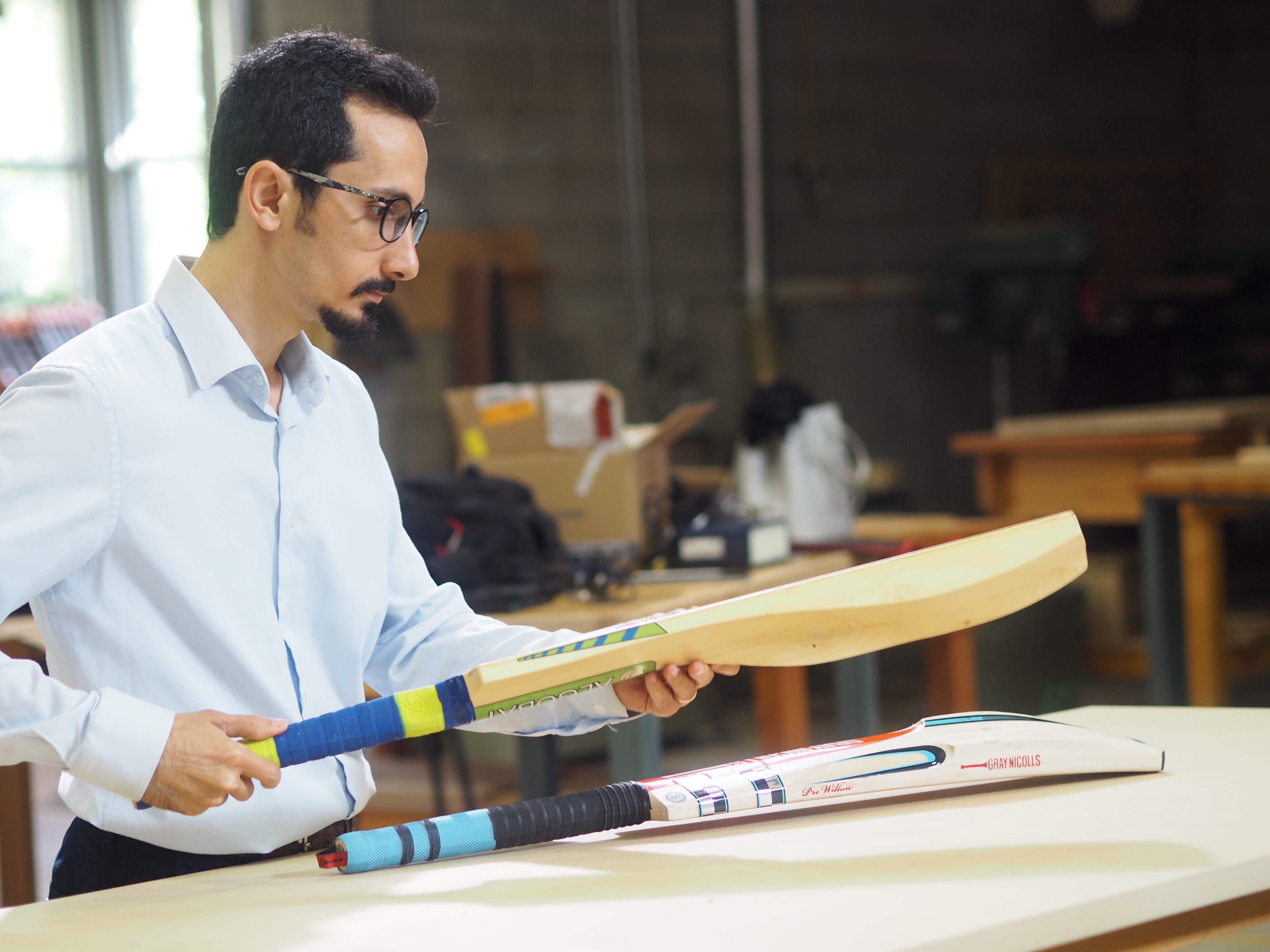 Sadegh Mazloomi with Algobat
University of British Columbia Website
---
New Delhi
|
Published 18.07.19, 09:58 AM
|
---
Thousands of cricket-crazy children in India dream of tonking high sixes and can't wait to have enough money to buy their first leather-ball bat. 
Two academics at the University of British Columbia (UBC) in Canada may have the answer to their dreams. They have made the Algobat. 

Using the laws of physics, machine learning, genetic algorithms and the properties in the wood of the bat, Phil Evans and Sadegh Mazloomi have developed a cricket bat, which will be a cheaper option to the expensive English willow that considered the best in the business.

The bat has been named the Algobat by the makers because it is "algorithmically optimised".
"At least a million people play cricket and 2.5 billion people watch the game, making it the world's second most popular sport after football," said the leader of the project, UBC forestry professor Phil Evans, in a statement made available on the university website.
"But for young kids just starting out, the cost of a high-quality bat can be prohibitive," Evans, a fan of the game since his early days while playing cricket in England, said.
The bat somwhat resembles the conventional cricket bat in the market but can be made more economically using cheaper materials, according to the statement. Evans and colleague Mazloomi used machine learning and genetic algorithms to teach a computer to maximize the performance of a cricket bat. The result was a bat that closely resembles some of the finest bats on the market that sell for hundreds and sometimes thousands of dollars and are made of English willow.
"The back of the bat is uniquely shaped so that it does what it's supposed to do — it minimises the vibration and maximises the rebound energy when it makes contact with the ball, allowing the batsman to transfer full power to the shot," said Mazloomi, a PhD researcher who wrote the algorithms. "It's fascinating that our cricket bat, which was designed based on physics and machine learning techniques, actually resembles the best commercial bat designs, which evolved by trial and error over hundreds of years," he added.
According to the researchers, using their technique, a bat can be made from cheaper wood options of Kashmir willow or poplar and still be effective. "English willow is the best wood for bats, but there is room for alternatives, as long as the bat performance stays the same. Manufacturers could optimise the design of the bat to match the unique characteristics of a particular species of wood — and our technique can make that possible," said Evans.
Before Indian kids wield the Algobat on cricket pitches, the researchers will test a prototype and check its performance against the hghi-end commercial bats.