The Kanhaiya paradox: riveting yet onerous
Across the pit from Kanhaiya are formidable adversaries — Tanweer Hassan of the RJD and BJP's Giriraj Singh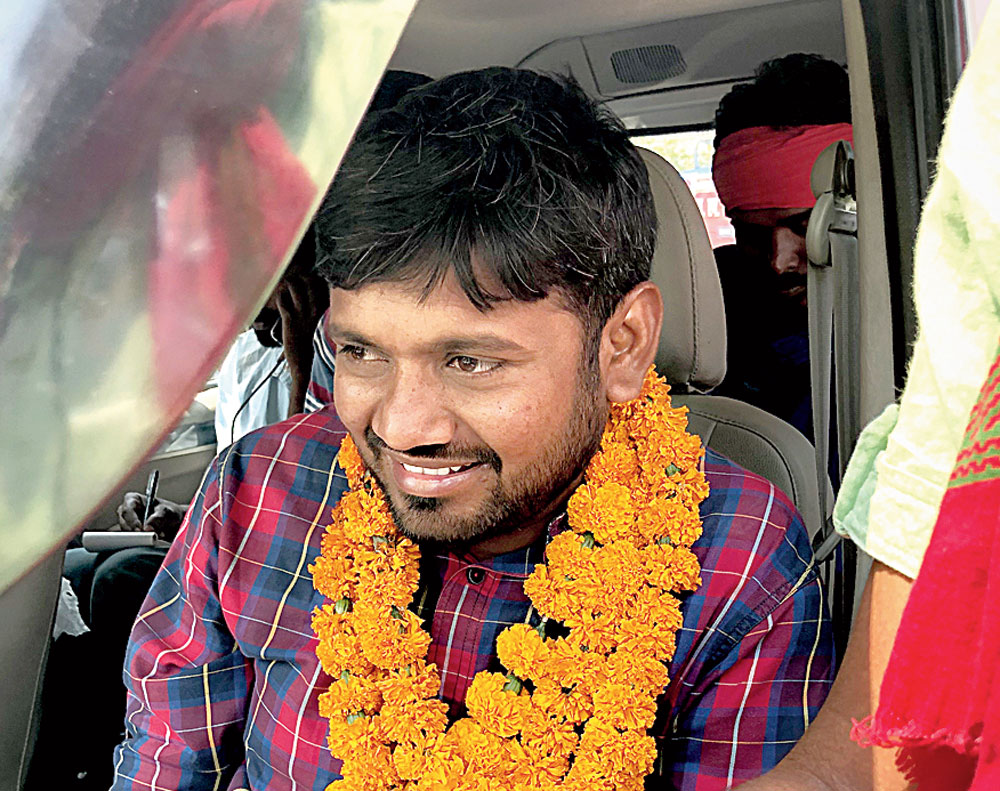 ---
Begusarai
|
Published 25.04.19, 02:20 AM
|
---
They begin to ripple like the intimation of a tide, those red plastic flags and those excitable hands holding them. Then rises the hubbub of anticipation, like the spur of a wind. "Aa raha hai, aa raha hai, aa raha hai, dekhiye, dekhiye aa gaya, aa chukaaa! Kanhaiyaaaaa! Kanhaiyaaaaa Zindabad!!"
The tide itself astride an SUV, a tide struggling to proceed against its own current. It's not possible to see Kanhaiya Kumar although he is in the front seat, judging by where the eye of the storm has formed. The vehicle has been swallowed up — heads, hands, any limb that can get there reaching for the man inside. "Kanhaiya! Kanhaiyaaa!"
A party of bikers awaits at the culvert a little ahead, to lead Kanhaiya onto the day's road show. But Kanhaiya has been stranded by his own. Some break into dance, mid-road, some into shrill cries of "azadi!"
What azadi, I wonder to one of them and the youngster turns to say, "Azadi from lies, from false promises, from unemployment, from divisive netas, azadi from what has kept us poor."
We are in Bachhwara, a deep-rural Assembly segment of Begusarai — you see the odd pucca house, you see broken mud trails, you see cattle and humans sharing the same bereft spaces, you see subsistence quantities of harvest, freshly cut and piled, you see many young unemployed. "Kanhaiya is the promise of delivery," the azadi chanter continues. "We have seen far too many netas promise and not deliver."
Cadres of the CPI, whose candidate Kanhaiya is, have by now taken over the road, and pulled away the throng; Kanhaiya's SUV is beginning to slide along. Ahead of it are many dozens of bikers, all sporting the CPI red, and many similar dozens from a long, flailing tail. Many who have arrived to catch a glimpse of Kanhaiya are merely walking along, trying to keep pace. Here and there, women and young girls have jostled to the roadside to wave at someone they can barely see; several of them have their phones brandished for pictures. So what if they cannot see Kanhaiya, they know for sure it is him passing by, THE KANHAIYA, a one-man tableau who is scripting the most exciting election in Bihar this season.
There is nothing quite as riveting as the sight of a debutant young challenger taking the arena to dare formidable challengers; there is probably nothing quite as onerous as carrying that dare through. Kanhaiya is daring that dare in Begusarai with little more than a reputation that is celebrity to some, notoriety to others.
To both sets, Kanhaiya is a name that has arrived home in Begusarai to want to be reckoned with. "This is not an ordinary time and not an ordinary election," he tells, over the din all around. "Fundamental things are at stake and fundamental corrections are required, that is what I am here for, to convince people to send to Parliament a person who will talk forthrightly about those things and fight for them. I always have."
He barrels through the countryside, amid swirling dust and clamour, revealing a campaign Begusarai has probably never seen the like of. It has been peppered with political heavyweights and star arrivals each day; it is being fed and fuelled by huge ranks of supporters who have come from far and away to contribute what they might — students, activists, civil society apparatchik, those whom politics excites and want a real piece of it. From reputed wing commanders like Shehla Rashid to anonymous entities like Sudip Dalvi, an environmentalist and musician from Goa who believes "everyone should contribute to sending a man like Kanhaiya to Parliament".
Kanhaiya already wears the air of much-sequinned enterprise, but that may not yet afford him a winner suit. That will have to be cut from local cloth and stitched with hard aggregation of numbers on the ground. Begusarai isn't easily sliced through and rearranged, although that clearly is Kanhaiya's effort: to break through the defences of adversaries in a manner never attempted before, to become that debutant who dared and eventually grabbed the shining armour.
It may once have been easier than it is now. Begusarai, the only patch of Bihar that can pretend to call itself an industry hub, was once a CPI fortress, such that it was called Bihar's Leningrad. But that was a long, long time ago. Bachhwara, where Kanhaiya is today, was the last Assembly seat the CPI held before it shrank and yielded the entire realm to players who boss the scene — the BJP, the JDU, the RJD, even in pockets the LJP. The CPI has nothing; what there is of the CPI has in fact been kindled to life by Kanhaiya.
Across the pit from Kanhaiya are formidable adversaries — Tanweer Hassan of the RJD, who lost the last election by a little over 50,000 votes, and Giriraj Singh of the BJP, which effectively means Narendra Modi. Giriraj came to Begusarai a reluctant candidate but was probably immediately gleeful to find a constituency already rallied on returning Modi as Prime Minister. Neither Giriraj nor Tanweer will be pushovers; they come with established cadres and loyalties. And Kanhaiya, if he has to make a match of it, will probably need to ransack both their vote banks — ranks of his Bhumihar brethren and backward voters from the BJP, huge chunks of Muslims from the RJD.
While his challenge is energetically frilled out enough not to grab prime notice, it's the hard plating of numbers that Kanhaiya requires to turn winner gladiator. The jury on that remains out, despite the spectacular act Kanhaiya has unpacked on the Begusarai battleground. A stellar campaign, as we learnt from Arvind Kejriwal's swashbuckling challenge to Modi in Varanasi five years ago, often doesn't add up to enough. Kanhaiya, smart son of this soil that he is, may know that better than most.
On the journey back we ran into tortuous roadblocks — one near the GD College in the centre of Begusarai, another at a highway crossroads called Bathua Chhota. BJP president Amit Shah has been choppering overhead the same geography and both logjams had been caused by spillovers from his campaign stops. The echo heaving off both mired venues was "Modi! Modi!!"